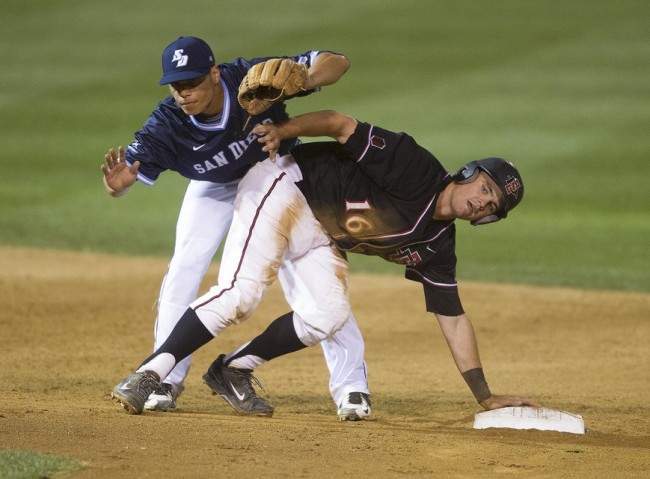 When asked to name the best shortstops in all of college baseball last season, fans would be quick to call out guys like Alex Bregman and Dansby Swanson, and perhaps even Richie Martin. They probably wouldn't, however, mention San Diego's Kyle Holder, and that's a shame because the Toreros' shortstop was just about as good as anyone last season in hitting .348/.418/.482 and fielding his position at a .977 clip.
Now, of course, Holder is playing in the Yankees organization, and one would think that it would be a nearly insurmountable loss for the program, at least in 2016. But that might not be the case, thanks to the return of Bryson Brigman, a freshman phenom from a year ago for USD.
Brigman manned second base for much of last season, and while it's not quite as taxing as shortstop, he handled the position ably, fielding .972 for the season. He filled in at shortstop from time and time and heading into 2016, head coach Rich Hill and staff have to feel pretty good about his abilities at either position.
At the plate, his numbers aren't quite what Holder's were, but they're not far off. He hit .339/.395/.436 and showed good discipline, as he struck out just 23 times on the season.
Over the summer, he had the chance to play for Collegiate Team USA and in the Cape Cod League both, and he took advantage of the opportunities presented. He hit .314 with Team USA and .333 on the Cape, proving that his tools in that facet of the game easily translate when facing elite competition.
Once the summer was over, in a piece on prospecting Team USA, D1Baseball.com's Aaron Fitt noted that he sees Brigman potentially going in the first five rounds of the draft as early as the 2016 draft as a draft-eligible sophomore.
Before Brigman heads off into pro ball, tough, if his 2015 season and summer are any indication, the Toreros will get to enjoy at least one more season of outstanding play from him.
To make sure you're up to date on our countdown, head over to our index page here.