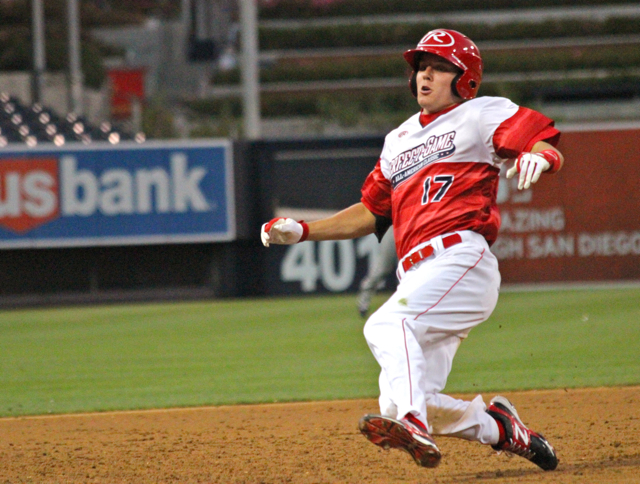 Heading into last season, Nebraska baseball was riding high, and understandably so. They were coming off of a 40-win season and their first regional appearance under Darin Erstad (and first overall since 2008), and they had a large percentage of their top contributors from that regional team returning.
Things just never quite got going in the same way that they had in 2014, however. The Huskers finished the season a respectable 34-23, but their full resume just simply wasn't good enough to get them back into a regional.
If they are going to make a return in 2016, you can all but guarantee that they got a big season out of star outfielder Ryan Boldt.
Boldt has put up two quality seasons in a Nebraska uniform so far.
As a freshman in 2014, he hit .311/.382/.437 with 12 doubles and 6 triples on the way to being named a Louisville Slugger Freshman All-American.
Then, in 2015, the Huskers falling short of getting into the postseason couldn't be put on his shoulders because he put up another top-notch campaign. He hit .344 with a .429 on-base percentage. The performance was good enough to earn him Second Team All-Big Ten honors.
If we're going to nitpick, his power was a little bit down, as he had just ten extra-base hits on the season, but given that he hit .344, much of that could just be chalked up to the fact that his hard hits rolled right to outfielders rather than finding gaps. Certainly, it wouldn't be a surprise if his 2016 average was closer to where it was in 2015, but with his power numbers closer to those he put up in 2014.
He won't be alone on offense for the Huskers, however, as a number of solid contributors return alongside him. Tanner Lubach and Blake Headley are in pro ball now, but Jake Schleppenbach, Ben Miller, Luis Alvarado, and Scott Schreiber are all back to help build up the offense around Boldt.
The Big Ten these days is far from a cakewalk, but with the type of talent head coach Darin Erstad has returning to Lincoln, led by the electric Ryan Boldt, the Cornhuskers should be back in the mix once again in 2016
Using the link here, navigate over to our index page to get completely caught up on our college baseball countdown as we near opening day.