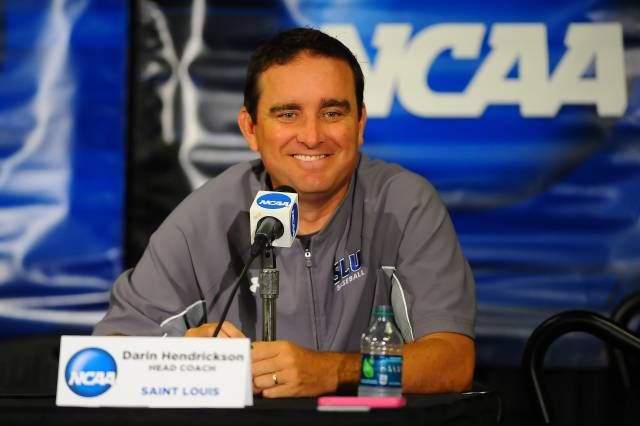 Don't look now, but somewhat quietly, Saint Louis University has established itself as one of the most consistent mid-major programs in the entire country.
They've won 34 or more games in each of the last four seasons, capturing the Atlantic 10 crown each time. In those four seasons, their cumulative conference record is 68-29. Life is tough in a one-bid league, so the Billikens have just one regional appearance to show for those four seasons, but that doesn't take anything away from their development into a league power under head coach Darin Hendrickson.
These achievement are all the more impressive when you consider where the program was just a matter of years ago. We've discussed the turnaround in this space before, but it bears mentioning again.
The Billikens have been to the regionals twice under Hendrickson (2010,2013). Prior to his tenure, the program had been to two regionals since 1966. During the Hendrickson years, the team has had two players taken in the top ten rounds of the MLB Draft (Grant Nelson and Alec Sole). Prior to that pair, SLU hadn't had a player taken that high since 1982.
All of this success has put Hendrickson in rarified air among college coaches. His 15 years of winning at SLU puts him in the top ten among active D1 coaches in terms of winning percentage. Coming in ninth, he is just a couple of spots behind coaching legends like Augie Garrido and Jim Morris and ahead of top-flight coaches like Jim Schlossnagle of TCU and Danny Hall at Georgia Tech.
Hendrickson, in a recent conversation with College Baseball Central, mentioned how proud he was of where his program is today, but was quick to point out that he's not satisfied.
To make sure you're fully caught up on our college baseball countdown, work your way over to our index page here.
"I feel like we've been a pretty steady model inside of our league, winning four straight titles, but the elusive prize is the NCAA Tournament and a chance to move on. You're certainly happy with the growth, but at the same time, you're yearning for more. I think the program is as healthy as it's ever been. It's been a 35-win program four of the last five years, and I don't know many mid-majors that can say that. I also know that we're wanting to grow it," Hendrickson said.
Growth is the key word there, and that's precisely what the SLU program has been doing of late, both on the field and off of it. On the field, the Billikens are far removed from the program that won no more than 18 games for four out of five seasons between 2003 and 2007. They are now making a habit of reeling in top-100 recruiting classes, and D1Baseball.com recently named them one of the top 100 programs in the country. All of this growth was very much a part of Hendrickson's vision for his program, but once again, he is still looking for more.
"We've had two straight top-100 recruiting classes. For who we are, that's very honorable and we don't take that lightly. I'd like to get a top-50 class. When I look back and think about where our program started and where it's at now, it needs to go beyond the pinnacle phase and get beyond where we say that 'we're just the Atlantic 10 champs and we're just competing for a championship.' We want to compete in the national tournament," he said.
Off the field, steps have been made as well. Recently, SLU completed construction on an indoor facility, complete with new locker rooms. In a place with tough winters, as St. Louis winters can be, this is no small thing.
"We use it almost every day that we're allowed to by rule. We talk about student success and making your program better; that's a classic example of something that gets us better every day. Whether it be indoor mound work, tee work, video work, or cage work. Then you add a locker room to the place. Locker rooms are sacred places. Guys will remember a lot of things in their life, but they will remember those four years they had in the locker room with those special moments that are unspoken. You can't put price tags on those. That's what some people who have never played the sport don't understand. They'll never get it, they never will. The locker room is a sacred place, and it's a place that's unique, it's a place that holds a lot of memories," he said.
Now, in another step forward, the program is adding a turf playing surface to their facility, giving the team a fighting chance to play and practice in conditions that wouldn't have allowed them to do so previously.
With all that has been accomplished during his tenure, when asked what he is most proud of, it would be easy for him to pick one on-field accomplishment or another. Instead, he first points to something else altogether.
"I'm most proud of my players because in a place like Saint Louis, over 95% have graduated. That's number one. The longer I coach, the older I get, the more I realize that," he said.
Of course, there really is plenty to be proud of on the field also, and he acknowledges that part as well.
"I'm proud of where we've come from. I'm proud of our culture change. I'm proud of the fact that Saint Louis is a top-100 job. I'm proud of the fact that we're making strides that we wouldn't have made 20 years ago," he said.
Heading into 2016, there's little reason to believe that a downturn is imminent. With several key pieces back both in the lineup and on the mound, the Billikens should once again be a major player in the Atlantic 10 race.