On Friday night, the Louisville Cardinals and Miami Hurricanes put on a show that was not only fitting of the high rankings of both teams, but also one that hinted that the rest of the series was going to be a lot of fun as well.
Tied 4-4 in the bottom of the ninth, Willie Abreu strode to the plate with the bases loaded and launched a ball off the parking structure out beyond right field for a walk-off grand slam.
Saturday's win was perhaps less exhilarating for the home crowd, but resulted in a comprehensive 6-3 Miami victory nonetheless, behind an outstanding performance from UM lefty starter Michael Mediavilla.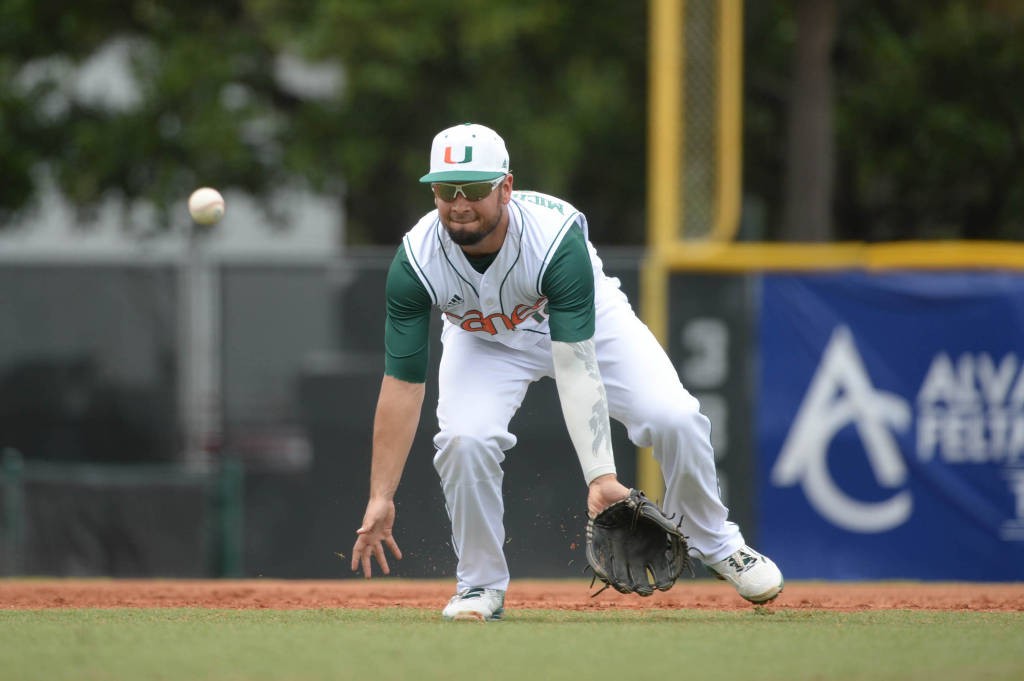 On Sunday, Louisville fought back to notch a 4-3 win in the finale, behind a solid start from Drew Harrington (5.2 IP, 2 H, 3 R, 2 ER, 3 BB, 6 K) and a 2-for-4 day from Blake Tiberi.
It was a weekend full of action in Coral Gables, all taken in from the comfort of my couch. In this installment of our Couch Surfing series, here are my notes and analysis on this big ACC weekend.
This series loss is the first Louisville has suffered as part of the ACC. Granted, this is just their second full season in the league, but that's still pretty impressive. In a major conference like that, everyone slips up from time to time, but the Cardinals just hadn't up until this point.
Kyle Funkhouser struggled a little bit again on Friday night, and it has to be a concern for Dan McDonnell and staff. In five innings of work, he gave up four hits and three earned runs with five walks and four strikeouts. Command continues to be an issue (as evidenced by the five walks), and according to reports, his velocity was down into the low-90s for the majority of his outing.
Jim Morris and his pitching coach J.D Arteaga have evidently become masters at moving relievers into the starting rotation with great success. Last year, it was Thomas Woodrey. This season, it looks like they've got another one in lefty Michael Mediavilla. On Saturday, he did a number on the Louisville lineup, throwing seven innings, giving up five hits and one run with one walk and four strikeouts. Perhaps the best way to hammer home how well he pitched is to point out that he struck out Louisville leading hitter Corey Ray twice, the first time on three pitches to lead off the game, with the second coming on a breaking ball down and out of the zone.
Most teams would be happy having a single catcher they can count on to provide some offense, but Louisville might have two on their hands in the duo of Will Smith and Colby Fitch. The former went 3-for-3 on Friday with a double, while the latter was 3-for-4 with two RBI and two doubles on Saturday. Then, Smith came back on Sunday and went 1-for-2 with a walk and a hit by pitch. Smith, the veteran, will still continue to get most of the time back there, but with Fitch hitting over .500 after his big day on Saturday, it's going to be tough to keep him out of the order.
On the latest edition of our podcast, I mentioned that Miami would love to get Willie Abreu and Jacob Heyward hot (or at least I think I mentioned that and didn't just think it), and it sure looks like they're headed in that direction. Abreu had two home runs on Friday (including that walk-off grand slam), along with seven RBI, and he added a pair of doubles on Saturday. Heyward went 2-for-4 on Friday and 2-for-3 on Saturday, including a monster home run that cleared the scoreboard in left-center field. With those two hitting well, there really is no break in the UM lineup.
With steady reliever Cooper Hammond on the shelf for at least several weeks, defining bullpen roles moving forward is of the utmost importance for Miami, and it feels like they took a step forward in that regard this weekend. On Friday, freshman Andrew Cabezas threw 2.1 scoreless innings to bridge the gap to closer Bryan Garcia. Then, on Sunday, Cabezas and fellow freshman Frankie Bartow combined to throw four scoreless in relief. It's clear that, if nothing else, the coaching staff is looking to the trio of Bartow, Cabezas, and Garcia to lead the way.
This may not be a popular opinion among my fellow college baseball writers out there, what with their various deadlines to meet and all, but I wish more programs played Saturday night games. The atmospheres for them down at Miami always seems lively, and it's much the same at LSU for their Saturday night games. Sure, those are two of the most successful programs in college baseball's recent history, and both are well-supported by their fans, but it's just something I'd like to see more teams try.
I talked about this a little bit on the podcast before the weekend, but as good as Thomas Woodrey was last season in the rotation, you wonder if they are going to end up having to try something else if he continues to struggle. On Friday night, he gave up eight hits and four earned runs in 5.2 innings of work, pushing his season ERA to 6.15. With Jesse Lepore pitching well in midweek games, perhaps Morris and Arteaga have a ready-made alternative. And with UM's need for additional bullpen depth with Hammond on the shelf, maybe Woodrey moving into the 'pen to help out there and to get straightened out would be a win-win situation.
The Cardinals coming back to win the finale 4-3 on Sunday speaks to their makeup. It might seem like a small thing, but simply avoiding getting swept in weekends like these is huge, particularly when you consider that this single win will provide a reasonable boost to the RPI eventually, given that it's a road win against a team that's expected to be highly-ranked in the RPI come the end of the season.