Indiana's Kyle Schwarber Named Big Ten Co-Player of the Week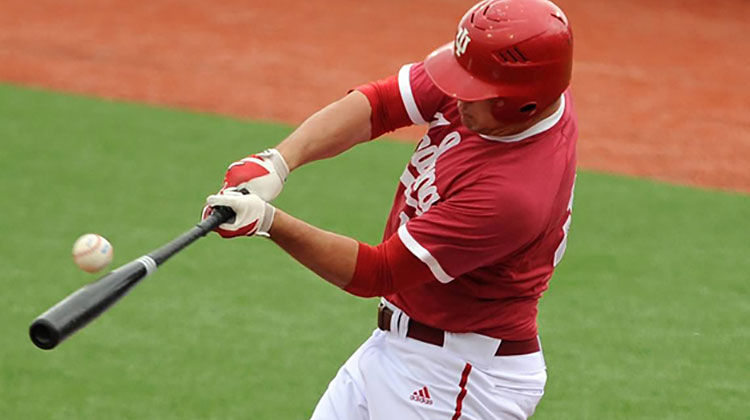 BLOOMINGTON, Ind. – Indiana University Baseball is racking up the player accolades. After Joey DeNato was named Big Ten Pitcher of the week on Feb. 18, Kyle Schwarber jumps in to the trophy case this week being anointed Big Ten co-Player of the Week today (March 3). Schwarber shares the honor with Illinois' slugger Ryan Nagle. Schwarber receives his second honor of the kind after obtaining the award back on March 11, 2013.
After reaching base seven times in 12 visits to the plate Saturday, Schwarber went postal registering a 5-for-5 performance against No. 9 Louisville. Accumulative, the junior backstop box scored eight runs, scoring five and knocking in three throughout Indiana's nonconference broom over Toledo and Louisville. Schwarber has capitalized on multiple hits in four of nine games to bring his batting average up to a robust .342 this year.
Known for his power, Schwarber took a lead-off pitch against Toledo – his first lead off pitch ever – and crushed it in to left field, the ball plowed it's way in to the padded outfield wall like a scene from "The Natural" and was ruled a ground–rule double. Sam Travis then proceeded to knock Schwarber in with an RBI ground ball.
Schwarber continued the onslaught during the second game at Jim Patterson Stadium. After drawing a walk to start things off, Schwarber would eventually come home. Then to top things off he adds more insurance to the scoreboard in the top of the ninth frame when he stole home.
Schwarber was placed on the Golden Spikes Preseason Watch List earlier in Feb., an award given each year by USA Baseball to the nation's greatest amateur baseball player. If things keep going how they're going Schwarber is a shoe in for that award.
Big guy, big bat, big plays, big awards, Schwarber is the Big Ten's "Big Ticket".