College Baseball Countdown: 68 Days to Go- Oregon State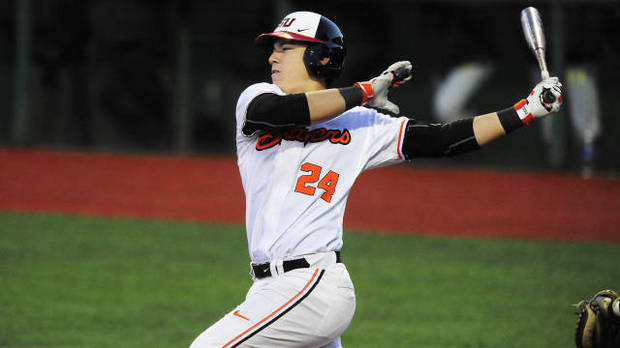 Last year, the Oregon State Beavers basically arrived a year early. Coming into the 2015 campaign, a bit of a rebuilding season was predicted after much of the core from teams that had gone 52-13 and 45-14 in back-to-back seasons moved on. When that core includes guys like Michael Conforto, Ben Wetzler, Jace Fry, and Dylan Davis, that's a big deal.
The Beavers could have taken a step back and spent 2015 as an average or slightly above average team in the Pac-12 as their young team matured and no one would have criticized them or been surprised by it.
To get caught up on our college baseball countdown, head over to our index page here.
But instead, this young OSU team had other plans and settled on being very good. Their 19-10-1 record in league play was good for second in the conference standings, behind only UCLA, and at 39-18 overall, they nearly put together their fourth consecutive season of 40 or more wins.
Certainly the presence of holdovers like Jeff Hendrix and Gabe Clark on offense and Andrew Moore on the pitching staff helped, but young stars emerged as well. After a tough freshman campaign at the plate, Trever Morrison stepped up as a quality contributor on offense, hitting .317 with a .412 on-base percentage. Diminutive outfielder Kyle Nobach pitched in with a .317 batting average of his own with 15 doubles.
K.J. Harrison, however, was the biggest star to introduce himself to the nation. He started his freshman season on a tear, never looked back, and finished up with a .309/.401/.527 slash line with 12 doubles, 10 home runs, and 60 RBI. He certainly has the look of a player that will challenge for Pac-12 honors for at least the next two years.
On the mound, Drew Rasmussen was the breakout freshman. He finished the season 7-4 with a 2.80 ERA. In 106 innings of work, he struck out 82 and opposing batters hit just .223 against him. On March 21, we really found out what he is capable of when he's on his game. It was on that day that he tossed a perfect game against Washington State, striking out ten along the way. Just about every year, we see a pitcher from a major program toss a no-hitter or perfect game in midweek action against an overmatched opponent from a smaller conference. That's impressive enough, but to do it against a conference foe is on another level.
On a quick aside, the guy most upset by Rasmussen's performance had to be WSU's Joe Pistorese, the pitcher who opposed him on that day. He threw eight innings, giving up just one earned run and it was all for naught.
Going into the 2016 season, OSU isn't going to sneak up on anyone. They return a significant number of contributors from that team last season and head coach Pat Casey and staff continue to recruit well. Rebuilding, it would seem, is just not a word in their vocabulary.