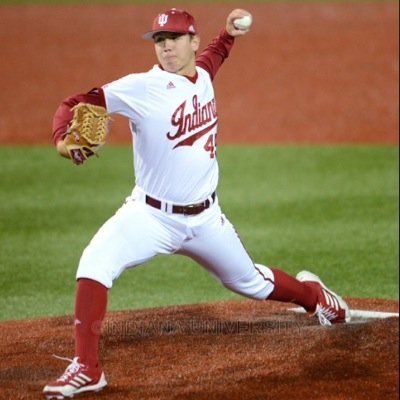 PORT CHARLOTTE, Fla. – Indiana rode Christopher Lowes first career hit and Caleb Barager's pitching to a 3-2 win over St. Josephs at North Charlotte Regional Park on Saturday.
Lowe got his first career at-bat in the seventh inning and pinch hitting, smashed an RBI single to right field to bring home Austin Cangelosi from third in what would prove to be the game-winning run for IU.
In Baragar's first career start he struck out nine batters, while helping IU record their fourth consecutive victory while putting up 10 hits as a team for the sixth time in seven contests.
SJU would commit a costly error permitting Cangelosi to get to second base on a failed pickoff attempt to first. Will Nolden's sacrifice fly left Cangelosi poised to score the winning run.
The Hoosiers have won five of six overall and took a 2-0 lead in the fifth frame. Casey Rodrigue hit his team-leading 12th RBI of the year on his first double of the season, permitting Cangelosi to also score Indiana's first run from third. Craig Dedelow's sac-fly drove in Ricky Alfonso, who reached first on a base hit previously in the frame.
Baragar's nine K's is the most by an Indiana hurler this year, the staff as a whole tallied14, which parallel is the most in 2015 for the Hoosiers. Baragar pitched five shutout innings, giving up just two hits.
IU's Kent Williams (1-0) gets the win sitting down the last hitter in the sixth frame after SJU tied the game at two with a two-run home run to right. Luke Harrison notched his second consecutive save, and did not allow a hit in the last inning. Ryan Halstead gave two innings of relief allowing zero runs, one hit and striking out a season-high three hitters.
Indiana concludes play at the Snowbird Baseball Classic on Sunday, March 8, at 10 a.m. ET vs. in-state rival Ball State.