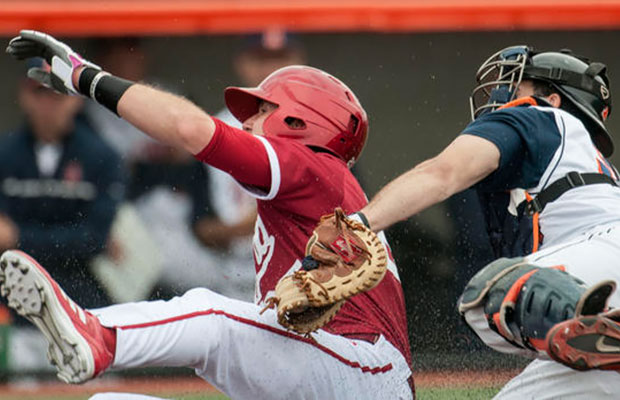 TAMPA, Fla. (CBC) – This week's Big Ten Player of the Week goes to Brad Hartong, the Indiana Jr., OF/C, (Long Beach, Calif. /Cypress College). Hartong racked up 10 RBIs and took advantage of all four of his games played to register multiple hits, while basically walking point guiding No. 21 Indiana to midweek victories over Ball State, and a scrappy Illinois team that has been on a run as of late.
The 6-feet-5 inch 210 pound Hartong batted .500 or better in every game of the Illinois series (3), knocking three runs in to the plate in the series opener in advance of victimizing the Illini for two RBIs in the final game of the series.
The junior college All-American for Cypress College in 2012 put together a 2-for-5 outing in midweek action leading the Hossiers to a win over Ball State. Hartong delivered five RBIs, three of those coming off a three run homer and the other two after he belted a two-run single.
Hartong is very adept. As a sophomore at Cypress College he threw out 26 of 32 runners that attempted to steal base, and hit for a .380 average as well as nine RBIs and 12 stolen bases. Now as a junior for the cream and crimson, he has managed to win his first career Big Ten Player of the Week award.
Preceding the four contests this previous week, Hartong was batting .247 with two home runs and 12 RBI for the year current.
IU is in first place in the Big Ten standings holding a three game lead on Illinois and Nebraska in second place with nine conference contests outstanding.
The Hoosiers have really been a permanent fixture in the weekly awards department. This Big Ten honor marks Indiana's ninth of the season.
Indiana heads to Miami (OH) on Wednesday for a non-conference encounter starting at 6:05 p.m. ET in advance of coming back home to welcome in-state rival Purdue for a weekend series.
Indiana's Big Ten Weekly Awards This Season
Feb. 18 - Joey DeNato (Co-Pitcher)
March 3 - Kyle Schwarber (Co-Player)
March 17 - Kyle Hart (Pitcher)
March 24 - Casey Rodrigue (Co-Player)
March 24 - Kyle Hart (Pitcher)
March 31 - Dustin DeMuth (Player)
April 8 - Sam Travis (Player)
April 21 - Joey DeNato (Co-Pitcher)
April 28 - Brad Hartong (Player)
Last Indiana Big Ten Player of the Week: Sam Travis (April 8, 2014)