Harrison Musgrave, Jordan Piche' Dominant in Big 12 Outings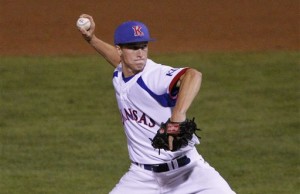 West Virginia's Harrison Musgrave and Kansas' Jordan Piche' were dominant with neither pitcher allowing an earned run in Big 12 competition Friday night. WVU continues its' climb toward an NCAA Regional bid as Musgrave fans eight leading the Mountaineers to a win over defending Big 12 champion Kansas State 10-1 Friday night. Not to be outdone, Kansas starter Jordan Piche' throws a complete game, one-hit shutout as the Jayhawks win 1-0 at Baylor.
Musgrave improved to 4-3 on the season while pitching eight scoreless innings allowing three hits and a walk while hitting two batters in the win Mountaineers' win. Musgrave had streaks of six, five and seven consecutive retired batters in the outing.
Piche' struck out five while surrendering two walks and a hit batsman while evening his season mark to 5-5. Piche' allowed a single to lead-off the game before getting the next nine hitters out finishing the game by retiring the last 10 hitters he faced.
No. 15 Oklahoma State and No. 10 Texas expected a pitching duel and both pitching staffs delivered as Longhorns' starter Parker French and reliever Chad Hollingsworth combined on a two-hit shutout leading Texas to a 3-0 win. Cowboys' starter Jon Perrin allowed an earned run over 4.1 innings and Vince Wheeland pitched 3.2 innings, allowing a pair of eighth inning earned runs in the losing effort. French improved to 5-3 and Hollingsworth grabbed his first save while Perrin drops to 5-3.
TCU's ace Brandon Finnegan threw 2.2 scoreless innings with a hit and a strikeout before leaving the game for precautionary reasons, yet the Horned Frogs' pitching staff that has allowed only seven runs over the last 11 games didn't miss a step as Trey Teakell (3-0)and Alex Young allowed only an earned run over the last 6.1 innings to lead TCU to a 6-2 win over Cal State Northridge. Young would get his first save of the season.