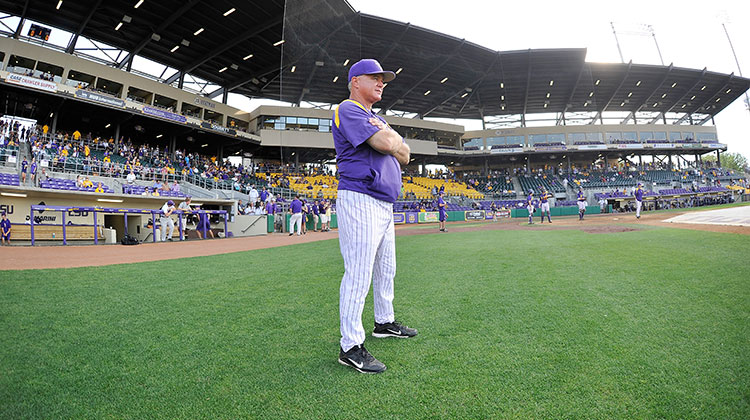 For a long time, LSU baseball has been synonymous with offense.
Back in the 1990s, they were the poster program for what was deemed "Gorilla Ball," or locally, "Geauxrilla Ball." For example, in the 1998 South II Regional in Baton Rouge, LSU scored 18, 15, 13, and 14 runs on their way to going 4-0 to win the regional.
And although we're in a much different era of college baseball, the physical offense LSU put on the field in 2015 was just about as feared. The team collectively hit .314 and featured eight regulars who hit .300 or better. Nine different players had ten or more doubles on the season. As if that wasn't enough, they also flashed quite a bit of speed. The Tigers stole 130 bases as a team, with four players stealing 23 or more. In short, there was no break in the LSU lineup. Everyone in the order could beat you.
The 2016 season, then, will likely be quite an adjustment, as a vast majority of the team's top hitters departed after being drafted or exhausting their eligibility. On top of that, Grayson Byrd and Danny Zardon, two players who likely would have been in line to move up into bigger roles this coming season, transferred out in the offseason.
As it is, Jake Fraley (.307, 11 doubles, 5 triples, 23 SB) is the lone regular who will be back. No other returning player had more than 56 at-bats or 12 starts last season.
For the first time in a while, fans are going to need to buy a program over opening weekend just be able to identify some of the players on the field. That means that there are going to be some serious growing pains for the LSU offense, but it also means that there will be some intense battles for playing time that will play out over the course of the season.
There are some holdovers who made cameos last season that appear poised to step up. Michael Papierski, who appeared in 32 total games last season largely as a late-inning replacement behind the plate, profiles as a natural successor to Kade Scivicque. Additionally, the Jordan brothers, Bryce and Beau, who appeared in 21 and 20 games last season, respectively, are likely to slot into the lineup.
Kramer Robertson is another familiar name the Tiger faithful will see a lot of in 2016. Robertson, a second baseman, has started 42 games over his first two seasons at LSU, but he's never quite been able to put it all together at the plate and take the bull by the horns as a full-time starter. He'll get another crack at playing every day in 2016 in hopes that it will be his breakout season.
There are also some new faces who will battle for regular roles right away. Freshman Trey Dawson, a 32nd-round pick of the Detroit Tigers in the most recent draft, could be the natural successor to Alex Bregman at shortstop. In the outfield, fellow freshman Antoine Duplantis potentially brings a power/speed combination that could make him an immediate star in the SEC.
With a pitching staff that features proven stars like Jared Poche, Alex Lange, and a host of veteran bullpen arms, LSU is going to be in the mix for the SEC crown yet again, but how close they get to the top of the standings will have a lot to do with how quickly all of the inexperienced players in the starting lineup get up to speed.