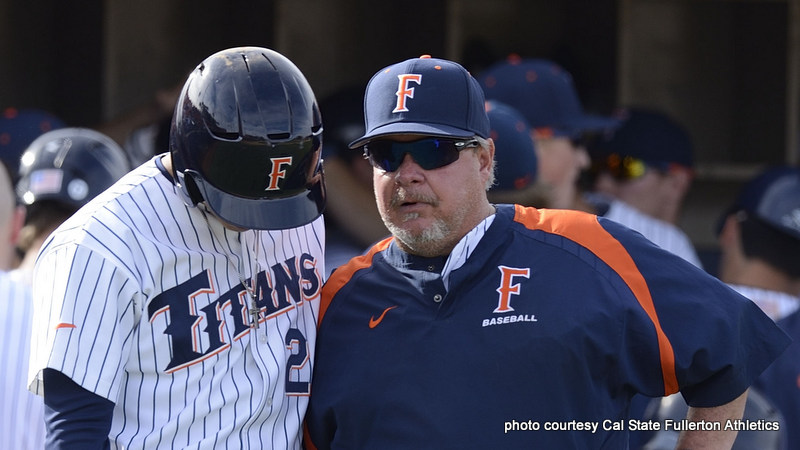 Earlier in the offseason, we published a list of some of the best series on the 2016 schedule. The early-season series between the Indiana Hoosiers and the Cal State Fullerton Titans, taking place in Fullerton on the second weekend of the season, did not make the list, but it certainly deserves recognition as a fantastic early out-of-conference series.
The Titans will be looking for a little revenge. Last season, this series was played in Bloomington in mid-March, and the Hoosiers took all three games on their home field. At the time, that series looked like a defining moment for two programs whose seasons were heading in opposite directions.
For Indiana, the series sweep seemed to prove that the program was still a player on the national stage, even a season after losing their head coach (to Arizona State) and sluggers Kyle Schwarber and Sam Travis (to professional baseball). That turned out to be the case, as Indiana went 36-23 on the season and ended the season in the Nashville Regional.
Coming off of the sweep, Cal State Fullerton looked like a team that might not get to the postseason at all. They were sitting at 10-9, and they sure didn't look like the improved club most assumed they would be in 2015. Truthfully, it would only get worse, as the Titans really struggled all the way through mid-April, but in the end, they shook it off, got hot down the stretch, and ended up in the College World Series in Omaha.
Both teams have some rebuilding to do thanks to the draft and graduation, but as quality programs do, both teams have built up enough depth to expect to compete at a similar level once again in 2016.
The Titans have the most high-profile departures to deal with in the losses of starting pitchers Thomas Eshelman and Justin Garza and closer Tyler Peitzmeier to pro baseball. With Garza having missed significant time last season, pitchers like John Gavin (7-3, 3.66) and Connor Seabold (5-4, 3.26) were given the opportunity to get their feet wet as freshmen, and that will serve them well as they move into larger roles in the coming season. In the bullpen, guys like Miles Chambers (2.17) and Maxwell Gibbs (3.18) have already proven to be quality pieces in relief.
Offensively, the loss of their one elite power threat, David Olmedo-Barrera, is big, but the Titans return a large percentage of their other top offensive contributors from a year ago.
Indiana has some rebuilding to do on the mound as well. Scott Effross was a versatile guy who could do a little bit of everything. Ryan Halstead was a quality closer who could be dominant at times. Luke Harrison was a great setup man in the bullpen. And while Christian Morris had a difficult 2015 season, he was a First-Team All-Big Ten starting pitcher in 2014.
Like CSF, the Hoosiers will be playing with a cupboard far from bare, however. Most notably, Jake Kelzer is back to lead the starting rotation after being drafted by the Cubs in the 14th round of the most recent draft. A season ago, Kelzer sported a 3.95 ERA in 17 games (11 starts), but the thinking goes that his numbers haven't quite matched up to his considerable raw talent yet. Certainly, head coach Chris Lemonis and staff are hoping 2016 proves to be his breakout season.
Regardless of who holds down what role and which players, new and old, step into bigger roles, though, college baseball fans are in for a real treat with this inter-regional series.