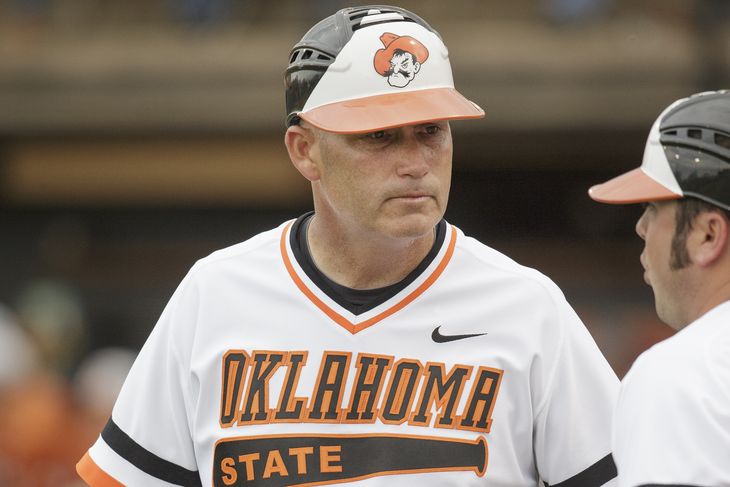 With all due respect to a once-proud Washington State baseball program, the Cougars have been also-rans in the Pac-12 for some time. Under most recent head coach Donnie Marbut, they made back-to-back regional appearances in 2009 and 2010, but since then, they've finished no better than seventh in the Pac-12 standings. Their best overall record in that time was their 28-28 mark in 2012. And it's not like the program was humming right along leading up to 2009. Prior to that '09 appearance in the regionals, Wazzu hadn't been in the NCAA Tournament since 1990, under the late Chuck "Bobo" Brayton. Simply put, this is a program in need of a jolt.
With the hiring of Oklahoma State assistant coach and former Oregon State assistant coach Marty Lees, I, for one, am betting on the Cougars getting their needed jolt.
Perhaps Lees isn't such a big name to casual college baseball fans that he will make people immediately sit up and take notice, but he is just the right guy for the WSU program.
The item on his resume that jumps out at you the most is his 11 years as an assistant coach under Pat Casey at Oregon State. Those years overlap nicely with the most successful years in the history of the Beavers' program, and it's tough to just pass that off as coincidence. All of those future pros that have come through Corvallis in the last 15 years? Lees had a hand in grooming just about all of them, and he was instrumental in recruiting most of them as well. According to his Oklahoma State bio, each of the recruiting classes he brought to Corvallis as the program's recruiting coordinator were ranked inside the top 25.
They've been so successful since the mid-00s that it's easy to forget that there was a time when Oregon State was where Washington State is now. Prior to their 2005 appearance in the NCAA Tournament, the precursor to their back-to-back national championship seasons in 2006 and 2007, the Beavers hadn't been in the tournament since 1986. Lees had a huge hand in getting that program where it is now, which is among the most consistent programs not only on the west coast, but in the entire nation. If it's been done in Corvallis, it can certainly be done in Pullman.
His three seasons as an assistant under Josh Holliday at Oklahoma State help as well. Generally, I tend to argue that good recruiters are going to recruit well in any part of the country, even if they don't have any experience recruiting that area, but it can't hurt that Lees spent a few years recruiting the lower midwest and Texas, among other areas, as part of the Cowboys staff.
The fact of the matter is that there isn't that much high-end talent in the Pacific northwest, and what high-end talent exists is already well-recruited, with rivals Oregon, Oregon State, and Washington recruiting the same area. The Cougars are going to have to win some recruiting battles against those programs to be successful, but they may also have to dip into other areas as well.
There is one potential pitfall with hiring Lees as a head coach, though, and that is that he doesn't have any prior head coaching experience.
Enter Dan Spencer.
On Thursday, it was officially announced that Lees' first staff hire was Dan Spencer as his top assistant. Spencer has spent the last three seasons as an assistant under Ray Birmingham at New Mexico, but prior to that, he spent four seasons as the head coach at Texas Tech.
With a 115-112 overall record in Lubbock, his tenure as head coach wasn't a rousing success, but it also wasn't a disaster by any means. And truthfully, his value to Lees' staff as a former head coach doesn't come from his win-loss record, but rather, it comes from his experience in handling all of the behind-the-scenes duties that come with being a head coach that assistant coaches don't have to deal with. No experience as an assistant coach can 100% prepare someone to be a head coach, but with Spencer on staff, Lees will have someone who can help walk him through some of those things.
And on top of that, Spencer was also an assistant at Oregon State under Casey at the same time Lees was on staff there.
The rebuild at Washington State is probably going to take some time. There aren't a ton of overnight successes in major conferences in college baseball, and Washington State is starting largely from square one. But with Lees and Spencer leading the way in Pullman, it's not hard to imagine big things at WSU when things do get turned around for good.