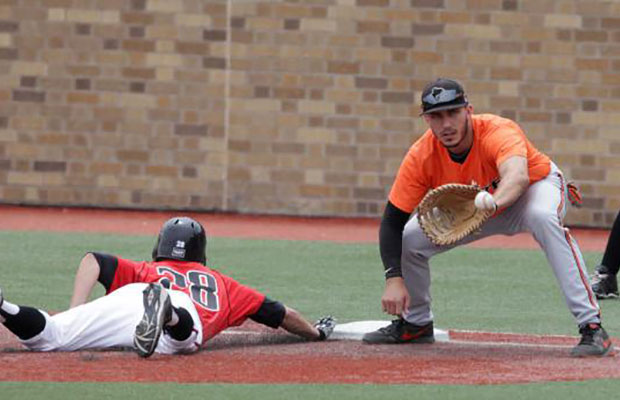 STILLWATER, Okla. - Tanner Krietemeier topped off a great series with a 3-for-3 game that included a home run, two runs scored and three RBI in leading No. 16 Oklahoma State to a 14-12 win over Arizona State to complete an RPI boosting series sweep Sunday at Reynolds Stadium. Krietemeier also hit a double and drew a walk in the game as the top-ranked Cowboys pounded out 18 hits.
Krietemeier opened the day with a two-run homer to right field as part of a three-run first inning to tie Arizona State at three apiece. Krietemeier singled and scored in the second inning and then hit an RBI double in the third as the Cowboys built a 8-4 lead that would evaporate as the Sun Devils scored seven in the fourth to take the 11-8 lead.
Krietemeier drew a fifth inning walk as the Cowboys cut the lead to one run in the fifth. Oklahoma State would score three more runs in the sixth to recapture the lead for good at 13-11 on a pair of RBI singles and a sac fly. Bryan Case scored three runs and hit a homer while Donnie Walton scored three times with two RBI and Gage Green scored a run while driving in three runs in the big offensive day for the Cowboys.
On the series, Krietemeier was 9-for-15, hitting .600 with six runs scored and seven RBI with three homers, a double and a sac fly with a 1.267 slugging percentage and .625 on base percentage for an OPS of 1.892 on the weekend.
Big 12 Baseball Scores
LAWRENCE, Ks. - Frank Duncan hurls a complete game allowing an earned run and five hits while fanning seven hitters leading Kansas to a 4-1 win over No. 20 Texas Tech and wrapping up a series sweep. Colby Wright paced the Jayhawks' offense with a 3-for-4 day scoring a run and driving in two more.
FORT WORTH, Texas - Dylan Fitzgerald goes 4-for-5 scoring four runs and driving in four RBI to lead TCU on a day when their pitching failed to throw a shutout to a 21-7, six inning win to sweep Kansas State. TCU piled up 10 runs in the sixth as Boomer White went 3-for-5 scoring twice and driving in five to push TCU's winning streak to 12 games.
MORGANTOWN, W.Va. - Taylor Munden hit a two-run homer on a three run, three RBI game to lead West Virginia to a series-clinching win over No. 12 Texas 12-6 on Sunday in the final game to be played at Hawley Field. Jackson Cramer added a pair of runs and RBI to the offensive effort for the Mountaineers.
NORMAN, Okla. - Baylor doubles up Oklahoma 10-5 to clinch the series win as Grayson Porter homered and drove in six RBIon the day. Adam Toth went 5-for-5 with two runs scored and two RBI in the Bears' win.