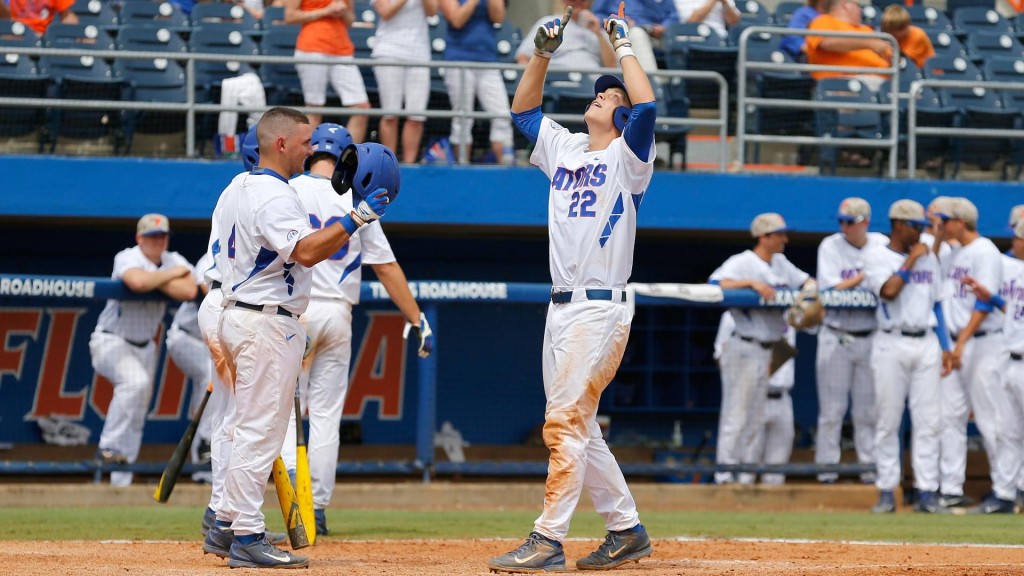 Most teams at all levels of baseball would be happy to just have a catcher who can handle the rigors of the position, manage a pitching staff reasonably well, and catch and throw a little bit. Any offensive contributions on top of that would be considered gravy for many.
It's a huge bonus, then, when you get a catcher who can really mash. And it's nearly unfair if you are somehow able to have more than one catcher who can hit on your roster at any given time.
That's precisely what the Florida Gators have in their duo of J.J. Schwarz and Mike Rivera.
Schwarz, as a freshman a season ago, is already among the best power hitters in all of college baseball. He hit .332/.398/.629 with 16 doubles, 18 home runs, and 73 RBI last year. The biggest moment of his season, at least in terms of the headlines it grabbed, was the four-homer, ten-RBI game he had against Stetson in April. As you well know, college baseball doesn't always get a ton of love from the mainstream sports media, so it was a big deal when the story of his big game made it to places like The Big Lead and CBSSports.com.
At the end of the season, he was showered with accolades, including being named the NCBWA Freshman Hitter of the Year and the Louisville Slugger co-Freshman of the Year. Not surprisingly, he was also picked to be a part of Collegiate Team USA over the summer. Expectations for him will be very high coming into the season, and it will be interesting to see if he can find yet another gear.
Rivera, when making an unfair comparison to Schwarz's monster season, didn't have quite the same type of season in his freshman campaign, but he was still a plus offensive contributor. He hit .271 with 11 doubles, three homers, and 48 RBI. There are dozens upon dozens of DI programs that would love to have a catcher who could give them that level of contribution on offense. He, too, received accolades at the end of the season, including being named a Louisville Slugger Freshman All-American. But still, there's room for more from Rivera. A highly-touted prospect, Rivera was a big bopper during his high schools days in Venice, Florida, and with a strong, compact frame, he looks the part.
The Gators come into the 2016 season absolutely stacked in all facets of the game, including on offense, where this pair of catchers will be a huge part of their success moving forward.