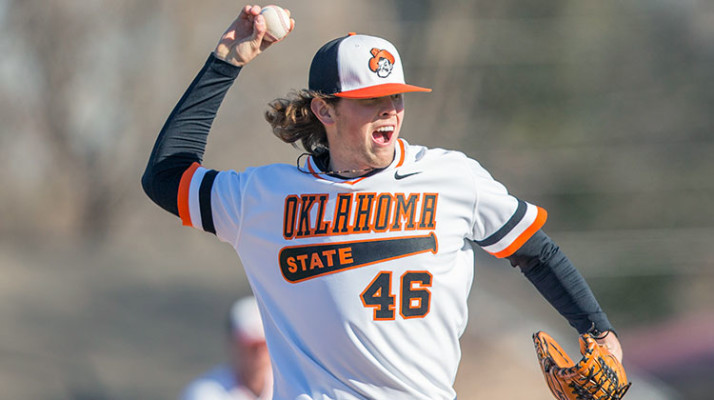 MANHATTAN, Kan. - No. 11 Oklahoma State's Jon Perrin struck out 10 hitters in a complete game shutout as the Cowboys took the opening game in a key Big 12 series with an 8-0 win over Kansas State on Friday at Tointon Stadium. Perrin allowed a walk and four hits in the winning effort improving his record on the year to 6-3.
The junior allowed a runner to reach second base three times in the game and only faced one real scoring threat with runners on first and third in the seventh before striking out Blair DeBord to end the threat. The righty retired the first and last seven Wildcats he faced on a dominant night for the Cowboys' hurler.
Kansas State's starter Levi MaHorvis was knocked from the game with two-outs and a man on first in the third inning after surrendering five earned runs on eight hits and a walk falling to 5-7 on the season.
Tanner Krietemeier got things started for Oklahoma State offensively with a first inning RBI triple and then scored as Gage Green reached on a fielding error for a 2-0 first inning lead. Bryan Case hit an RBI double in the second and then a pair of RBI singles in the third by Zach Fish and Conor Costello extended the Cowboys' lead to 5-0.
Tim Arakawa hit a two-run homer in the fifth to extend the lead to 7-0 on a 2-for-3 night as Oklahoma State extends its' winning streak to seven games.
Other Big 12 Baseball Action
FORT WORTH, Texas - Cody Jones and Garrett Crain each had a three hit night leading No. 20 TCU to its' 13th consecutive win in a 10-2 defeat of Oklahoma. Jones and Crain each scored twice and drove in two more runs and Dylan Fitzgerald added a solo shot in the Horned Frogs' 13 hit effort. Brandon Finnegan got the win to improve to 8-2 on the year in an uncharacteristic outing in which he lasted only four innings allowing seven hits and two walks yet limiting the damage to two earned runs.
LAWRENCE, Kansas - Kansas' starter Jordan Piche' out-duels West Virginia's Harrison Musgrave as the Jayhawks notch their seventh straight Big 12 win with a 5-3 victory Friday night. Piche' allowed two earned runs over seven while Musgrave allowed three earned of seven and one-third innings as neither starter would figure in the decision. After Connor McKay hit an RBI double to tie the game in the eighth, Tucker Tharp hit a game-winning two-run homer in the next at bat for the Kansas win.