College Baseball Countdown: 93 Days to Go- Bryce Montes de Oca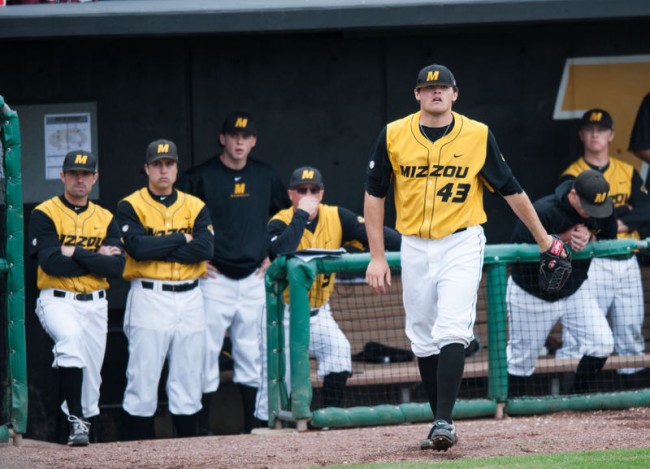 We're about a week into it at this point, but in case you're just joining us, you can read an introduction to our 100 days countdown here.
There are a lot of reasons that the Missouri Tigers faithful should be excited about the 2016 season. The 2015 team got the program turned back in the right direction, Reggie McClain and Tanner Houck provide a solid foundation for the rotation, Ryan Howard appears to be on the verge of becoming an elite college shortstop, and a significant percentage of their total offensive production from last season is returning.
He may have only played a small role last season, but go ahead and add Bryce Montes de Oca's name to the list of reasons for optimism. After a successful summer in the Cape Cod League, the big righty looks poised to take on a larger role in the upcoming campaign.
In fact, how well he takes to a bigger role will likely have a lot to do with whether Mizzou ends up being a good team in 2016 or a great one.
Montes de Oca already more than looks the part. At 6'7″ and 271 pounds, he cuts an imposing figure on the hill. With a fastball that sits in the mid-to-upper 90s, he gets the most out of his frame as well. Of course, stuff alone won't get it done, and that's where he has some room to grow. Command was an issue in his outings last season, and although he had a good summer as a member of the Falmouth Commodores, he still had his battles with location. In 36 innings of work, he struck out 30, but he also walked 28.
There are a couple of roles that he could slot into come the start of the season.
Head coach Tim Jamieson would probably love more than anything to be able to slide Montes de Oca in behind McClain and Houck in the weekend rotation. Perhaps a Houck, McClain, Montes de Oca rotation, in that order, would provide a tough contrast of styles for opposing offenses throughout the weekend, with the two power arms bookending the crafty McClain. With his vast potential, I fully expect him to get plenty of opportunity during spring practice to claim his place as a part of that group.
Of course, an arm like his would really play well at closer also. If he is able to maintain velocity in the mid-90s during his starts, as he reportedly was able to in his starts on the Cape, it would be easy to see him routinely lighting up the radar gun in the high-90s during one or two-inning outings out of the bullpen. It also just so happens that Missouri has a hole to fill at closer in 2016 after the departure of Breckin Williams. The flip side of that, though, is that a closer with command issues can be a dicey proposition. If you're nursing a one or two-run lead, the last thing you want to see from the guy on the mound is walks.
Jamieson has done a lot of great work during his time in Columbia, but consistently developing raw, young pitchers into quality college pitchers, and eventually, MLB prospects is at the top of the list. Something tells me they'll find the right role for Montes de Oca and he'll shine.