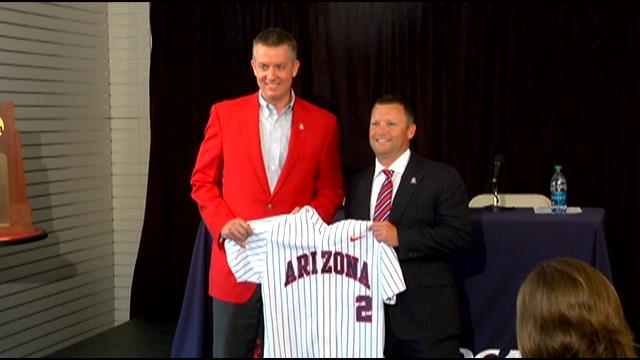 For a team that has missed out on the NCAA tournament for the last three seasons, the Arizona Wildcats sure do have a ton of interesting storylines surrounding their program.
Already, their absence from postseason play over the last several seasons, immediately after winning a national title, had created some conversation. When you add the retirement of legendary head coach Andy Lopez and the hiring of former Nevada head coach Jay Johnson to the mix, you get quite the collection of talking points about the Wildcats.
Recently, I had the chance to talk about all of those things and more with Jason Bartel (@jasonbartel on Twitter) of Arizona Desert Swarm, Arizona's SB Nation community.
Below is our Q&A.
Joseph Healy: What was the reaction around the University of Arizona community to the retirement of Andy Lopez? 
Jason Bartel: I think the casual fan was shocked, but the more hardcore fans weren't really, given that at the end of the 2014 season, he said he would either get things turned around or he would retire. Things didn't get turned around, and sure enough, he left the dugout. He has had many health problems recently, most notably having open-heart surgery, but it was still a little surprising that he left. On the flip side, Arizona fans don't take missing the tournament three-straight seasons lightly.
JH: What are your early thoughts on Jay Johnson as Lopez's replacement? What's your impression of him as a "fit" for Arizona?
JB: I was not a fan of his hire when it happened, and I'm still not at this point. His only head coaching experience was two years at Nevada. I thought Greg Byrne would bring in someone with more of a track record like UC-Santa Barbara's Andrew Checketts or Pepperdine's Steve Rodriguez, who was picked up by Baylor, or someone with ties to Arizona. I don't know how Johnson fits, given that he has no ties to the school, but Byrne's track record with hiring coaches has been good to this point, so I guess we'll just have to wait and see.
JH: With a program as proud as this one, it's no secret that seasons like the last several just won't cut it. What are the expectations for the 2016 team? Is it a rebuilding year as the program gets going under Johnson or will they make a move toward getting back into the postseason?
JB: It better not be a rebuilding year. Bobby Dalbec will be a junior, and is a legit threat for the Golden Spikes in my opinion. Then you've got JJ Matijevic, who performed extremely well in the second half of the Cape Cod season this year. Yes, a lot of the pitching staff is gone, and almost all of the top recruits either signed pro contracts or decided to go to junior college. But Jay Johnson and his new staff better hope they at least make a regional, or there will be serious questions surrounding everything. There's talent on the roster. It's just a matter of getting the most out of it.
JH: What is the perception of the program as it stands today among the faithful? On one hand, the national championship season isn't that far in the rear view mirror, but on the other hand, there seems to be a little bit of unrest in light of the struggles of the last couple of seasons.
JB: The national championship feels like decades ago at this point. The thing that's most baffling here at Arizona is that softball and baseball are both struggling to find any traction the last few years. Baseball got a huge shot in the arm by moving off campus to Hi Corbett in 2012, and that move has really helped the program as far as attendance and the excitement level. But I just don't know how long that holds until this team makes itself a contender again. I think the coaching change will gain interest early on next year, but if the team's not winning, all of the sudden, baseball might not be mattering so much in Tucson.