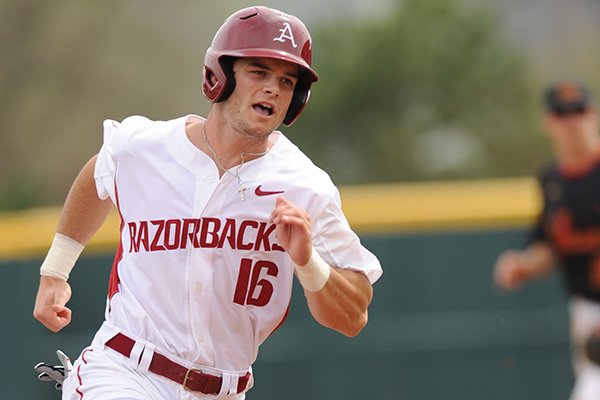 For me, one of the best parts about college baseball, and college athletics in general, is the constant roster turnover, and in turn, seeing how coaches deal with rebuilding a team after losing various pieces of their core each offseason. Don't get me wrong, I love pro sports as well, but as a fan, it can be kind of a bummer to go into the start of the season already knowing so much about a team's makeup.
For example, an NFL fan knows that, as long as they stay healthy, having Tom Brady, Aaron Rodgers, and Andrew Luck on the roster is going to keep the Patriots, Packers, and Colts, respectively, near the top of the standings almost regardless of everything else going on around them. The same is true in the NBA with the Cavaliers and LeBron James and in the MLB with the Dodgers and their co-ace tandem of Zack Greinke and Clayton Kershaw. Those guys aren't going anywhere.
But in college, nothing is guaranteed. Sure, there are always returning superstars. Florida, for example, will return a one-two punch as good as any in Logan Shore and A.J. Puk in their starting rotation. But that can only last so long. Eventually, those guys are going to end up being drafted or exhausting their eligibility.
Of course, what makes this exciting for fans puts grey hairs on the heads of coaches. And that's why those coaches who can weather huge personnel losses and keep their program humming along deserve so much praise.
Today, we'll be taking a look at the personnel losses that will put the most aforementioned grey hairs on the heads of SEC baseball coaches by listing the five biggest sets of shoes to fill across the conference.
But first, a disclaimer. Not only is this list subjective, obviously, but I also took into account the particular program's history and likelihood of filling the role, in addition to the amount of talent leaving. So, for example, Alex Bregman leaves a huge hole at shortstop for LSU, but with the talent that head coach Paul Mainieri brings in annually and their track record for filling holes, his departure won't be listed here. Is it likely that LSU immediately finds another guy to play shortstop who will eventually get drafted second overall? No, but the odds that they find someone to immediately step in and do a serviceable job are pretty good.
Andrew Benintendi- Arkansas
Benintendi was undoubtedly the breakout star of the SEC in 2015. After a pedestrian 2014 season, he broke out to the tune of .376/20/57 in 2015 on the way to being named the SEC Player of the Year. Veterans like Tyler Spoon, Bobby Wernes, and Joe Serrano had nice seasons, but it was clear that Benintendi made them go. Without him, the Hogs aren't coming close to getting to Omaha, as they did last season.
Replacing him, needless to say, isn't going to be easy. In fact, with a superstar like him, it's basically impossible. There really aren't any obvious ready-made replacements in terms of production, as Spoon, Wernes, and Serrano are gone as well.
Predicting who will step into a bigger role is always a tough exercise (few would have predicted the breakout season for Benintendi, after all), but sophomore Luke Bonfield is a name to watch. He was a 21st-round pick of the Mets in 2014, and a top-100 recruit nationally according to some services, but he never really got going as a freshman, hitting .177 with just one extra-base hit (a double) in 62 at-bats.
It's a big if, but if the Razorbacks can find a way to replace at least some of the missing production from the lineup, they can be dangerous again in 2016. Building a pitching staff around Keaton McKinney, Dominic Taccolini, and Zach Jackson is certainly a nice place to start.
Alabama's Middle Infield
Over the last few years, you could just about set your watch to the Alabama middle infield of second baseman Kyle Overstreet and shortstop Mikey White. Both were slick defensively, both were quality hitters, and they had great chemistry, thanks to a relationship that dated back to Little League.
This one hurts twice as badly for the Tide because they're essentially losing an entire defensive unit. If you lose one of your middle infielders, you can always lean on the returning player at the other middle infield position to provide leadership and bring along the new starter. But with both guys going into pro ball, head coach Mitch Gaspard doesn't have that luxury.
He does, however, have the luxury of welcoming in at least one blue-chip player who might go a long way toward filling that void. Cobie Vance, a diminutive second baseman out of North Carolina, spurned an offer from the Indians as the team's 16th-round pick to come to Tuscaloosa. It certainly wouldn't be a huge surprise if he is plugged into the lineup right away.
Ka'ai Tom- Kentucky
After the 2014 season, UK's A.J. Reed likely would have been on this list, but the presence of Tom on the 2015 roster helped mitigate the effects of his departure. He didn't put up the raw power numbers of Reed, but he put together an outstanding .375/.443/.528 slash line with 16 doubles, 5 home runs, 51 RBI, and 15 stolen bases. It's safe to say that he did a little bit of everything.
With the Wildcats returning their entire weekend rotation from last season, they have a pretty good chance of being better in 2016 than in 2015, but how well their offense performs without Tom in the middle of it will have a lot to do with how much success they ultimately have.
At least until other major contributors emerge, the Wildcats will lean heavily on JaVon Shelby, who had an impressive 2015 season in his own right. He flashed a .312/.442/.525 slash line with 12 doubles, 9 home runs, and 44 RBI. With those numbers, it's going to be tough to ask him to do even more, but given the glowing reviews of his talent coming out of his time in the Cape Cod League this summer, perhaps another step forward should be expected.
Breckin Williams- Missouri
A lot of attention last season was paid to the Missouri starting rotation of Reggie McClain, Tanner Houck, and Peter Fairbanks, and rightfully so. But closer Breckin Williams might have had as much to do with Missouri's surprising run toward a postseason berth in 2015.
All he did was sport a 1.98 ERA and save 13 games on the season. Perhaps most importantly for a Tigers team that didn't have a ton of depth in the bullpen, he was a workhorse. In 12 appearances (of 25 total), he threw more than one inning.
Closer can be a tough position to replace because generally a team only has one of them at any given time. It's not like there is usually a proven replacement already on hand. But with that being said, Mizzou had coach Tim Jamieson will have some options. Bullpen stalwarts from last season such as Lake Dabney and Austin Tribby will return, as will Alec Rash, a premium arm (and former second-round pick) who has never quite put it all together in Columbia. He spent the summer with Brewster on the Cape and looked solid in putting up a 2.18 ERA in a mixed starting and relief role over 12.1 innings. He has always been pegged as a starter in the future, but perhaps his stuff would lend itself to being a shutdown closer.
It's also worth keeping an eye on Bryce Montes de Oca. He, too, is a premium arm that has been predicted to be a starter one day. He spent the summer with Falmouth on the Cape, where he continued to work on controlling his plus stuff. If he doesn't end up winning a spot in the starting rotation to begin the season, perhaps the back end of the bullpen is another option.
Ultimately, Jamieson has earned the benefit of the doubt when it comes to pitchers. Say what you will about his tenure at Missouri, and I know he has his detractors, but there's no doubting that he has an eye for finding mound talent and developing them into complete pitchers once he gets them to campus. I can't say for sure who the next closer will be, but history says they'll find someone to do the job effectively.
Vanderbilt's Co-Aces
It's not that I don't have confidence in Vanderbilt and head coach Tim Corbin finding quality pitchers to replace Carson Fulmer and Walker Buehler, because I absolutely do. We've seen that program replace starting pitcher after starting pitcher over and over again, and there's no reason to believe they can't do it again.
But with that being said, that's a tall, tall order. Those two were about as good as anyone in college baseball, and Fulmer was particularly dominant in 2015. With the likes of Philip Pfeifer and Tyler Ferguson also moving on, it makes the available options to replace that duo a little thinner.
John Kilichowski, who was a swingman for the team last year, is one able replacement already on hand. Even if he's not as electric as Fulmer or Buehler, he's experienced and has shown the ability to get out SEC hitters. And let's face it, just like Jamieson at Mizzou, Corbin has earned the benefit of the doubt on things like this. It's asking a lot to ask him to immediately find replacements for two first-round draft picks, but if anyone can do it, it might be him.
Honorable mentions: 
The league's elite shortstops: Richie Martin- Florida, Alex Bregman- LSU, Dansby Swanson- Vanderbilt
Bret Marks- Tennessee
Kyle Martin- South Carolina
Blake Allemand- Texas A&M