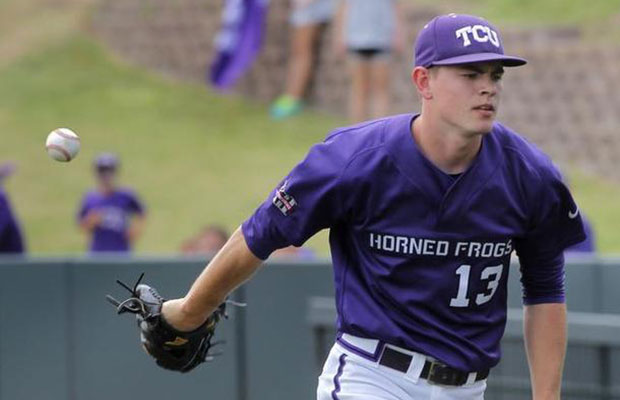 FORT WORTH, Texas - Tyler Alexander threw seven solid innings allowing only an earned run as TCU continues its' win steak with a 3-1 win over Kansas State clinching the Big 12 series. Alexander allowed a solo home run to Ross Kivett to lead off the game and from there the offense was silent, mustering only four hits as the Horned Frogs win their 11th consecutive game.
Alexander struck out five Wildcats and retired 10 consecutive hitters in the mid game before giving way to the pen. Trey Teakell came on to strike out the only two batters he face in the eighth after Alexander surrendered a lead off single to start the inning. Riley Ferrell would end the inning with a Kivett fly out and then thew a perfect ninth for his 11th save.
TCU's offense would be paced by Dylan Fitzgerald who went 3-for-3 with a walk, a run scored and an RBI as the Horned Frogs did all their scoring in the fourth inning. Boomer White led-off the inning with a single and scored on Fitzgerald's two-out single to right field. Keaton Jones smacked a two-run triple to right field that scored Fitzgerald and Jerrick Suiter who had drawn a walk to reach base.
The win pulls TCU within a half game of first place Oklahoma State.
Big 12 Baseball Action
STILLWATER, Okla. - Donnie Walton hit a two-out, bases loaded, walk-off single in the 11th inning that scored Saulyer Saxon as Oklahoma State clinches the series win over Arizona State with a 6-5 victory. Tanner Krietmeier and Tim Arakawa continue their hot hitting in the series as Krietmeier went 3-for-6 with a homer to go along two runs and two RBI while Arakawa went 4-for-6 with a run and two RBI.
MORGANTOWN, W. Va. - Nathan Thornhill, Chad Hollinigsworth and John Curtiss combine to allow 11 hits and two walks as Texas shuts out West Virginia 2-0 to even the series at a game a piece. Ross Vance pitched well allowing two earned runs over eight and one-third innings but couldn't stop C.J. Hinojoso who scored and had an RBI for the Longhorns in the win.
LAWRENCE, Ks. - Blair Beck and Dakota Smith each had a two-run hit to lead Kansas to a 6-4 win over Texas Tech as the Jayhawks clinch the series and will look to sweep on Sunday. Beck's two-run double paced a three run second inning and Smith's two-run single drove in the go-ahead run in the fifth. The surprising Jayhawks move into a three-way tie for third in the Big 12 with the Red Raiders and Texas with the win.
NORMAN, Okla. - Sheldon Neuse went 3-for-5 with a homer, a double and two runs scored as Oklahoma pounds Baylor 13-7 to even the series. Anthony Hermelyn went 4-for-5 with a triple and a homer while Hector Lorenzana added a third homer for the Sooners on the day. Daniel Castano was roughed up for 12 hits and nine earned runs over three and one-third innings of work as he falls to 5-3.