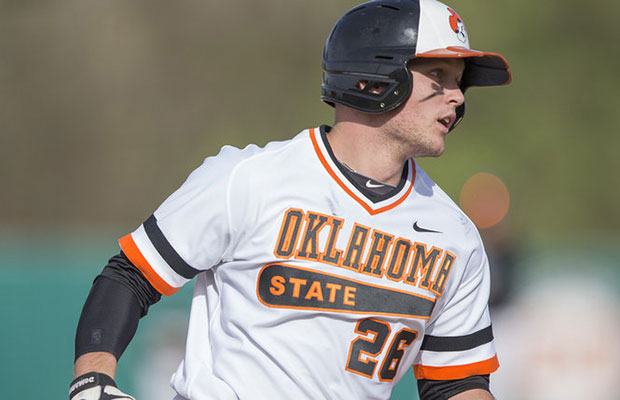 OKLAHOMA CITY, Okla. - Zach Fish hit a grand slam to key a six-run sixth inning as No. 7 Oklahoma State blasted Oklahoma 13-4 as the Cowboys take the Big 12 Conference Tournament win. Fish drove in six runs on the day while Donnie Walton and Gage Green each chipped in three hit days for Oklahoma State as it tries to win both the regular season and conference tournament crown in hopes that it can scratch out a National Seed in the process.
Jackson Cramer hit a three-run homer as West Virginia rallied for eight runs in the seventh inning in its' 10-9 upset win over Kansas. Kansas scored four runs in each the fifth and sixth innings on a pair of RBI doubles by Tucker Tharp to build an 8-2 lead that the Mountaineers erased in the seventh before going on for the victory.
Jordan Kipper threw seven scoreless innings with seven strikeouts and Keaton Jones drove in three runs as No. 19 Texas Christian defeated Baylor 8-5 in tournament play. Riley Ferrell notched his 12th save of the season in the win as TCU attempts to nab a National Seed in the upcoming NCAA Regionals.
Mark Payton hit a two-run double as No. 20 Texas scored five runs in the inning to grab an 8-3 upset win over No. 23 Texas Tech in the nightcap on Wednesday. Ben Johnson added a pair of RBI single to the Longhorns' effort as both squads try to get into a Regional Host position for the NCAA Regionals.
Kansas and Baylor open up play on Thursday with an elimination game followed by the same for Oklahoma and Texas Tech. The Jayhawks and Red Raiders each swept their Thursday opponents during the regular season.
The afternoon winner's bracket match-ups will see WVU face off with TCU and Oklahoma State battling Texas. TCU swept the season series the Mountaineers while Oklahoma State took two-of-three from Texas during the season.