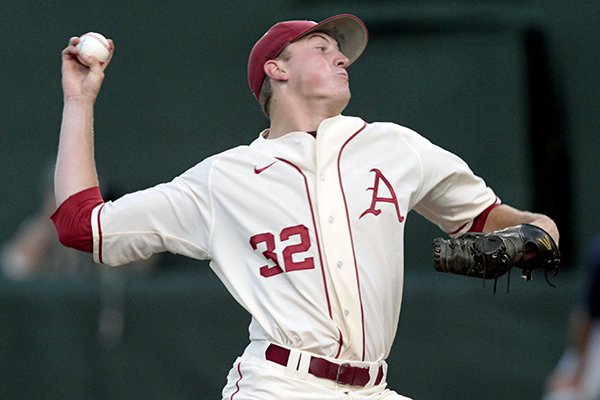 To navigate to the index page of our college baseball countdown, click here. Last year, Arkansas made a run to the College World Series, largely on the back of the season-long outstanding performance of SEC Player of the Year Andrew Benintendi and some veteran offensive pieces around him such as Tyler Spoon, Bobby Wernes, and Joe Serrano.
That group's success was able to take a little bit of pressure off of a young and mostly unproven pitching staff. Trey Killian was expected to return and take over as the staff ace, but beyond him, they were leaning on the likes of Dominic Taccolini in what would be his first season as a starter and freshman Keaton McKinney in his first taste of SEC baseball.
For the most part, that group got the job done, even if Killian in particular never really got going like they had anticipated. By the time the postseason rolled around, though, they were very thin on the mound. Taccolini was shelved late in the season with injury, McKinney battled a hip injury for much of the latter part of the campaign, and just before the College World Series, key swingman James Teague was ruled out due to an elbow injury.
In 2016, we may find that script flipped for the Razorbacks, as the pitching staff returns largely intact, while the offense will undergo some rebuilding.
Their respective 2015 campaigns could be described as up and down in a lot of ways, but overall, Taccolini and McKinney enjoyed considerable success last year. McKinney was 6-2 with a 3.21 ERA in his first season in Fayetteville. He wasn't blowing hitters away, but he was tough to square up, as evidenced by the .225 batting average against him. Taccolini was 6-4 with a 4.32 ERA and a similarly solid .240 batting average for opposing hitters.
Don't overlook the aforementioned Teague, either. Last season, while serving as both a starter and a reliever as needed, he had a 3.36 ERA. He'll likely be a part of plans for 2016 as well.
Then, of course, there is Zach Jackson, who did everything for the staff last season. In 27 appearances, he threw 60 innings. He had a 2.10 ERA, 9 saves, 89 strikeouts, and a .196 batting average against him. Given how successful he has been at the back end of the bullpen, it will be tempting for head coach Dave Van Horn and staff to leave him there, but on the other hand, a rotation of Taccolini, McKinney, and Jackson, in some order, sounds pretty good. That will be an interesting decision to watch unfold come spring practice.
No matter how it all shakes out, don't be surprised if it's the Arkansas pitching staff, and not the offense, that leads the team into the postseason this time around.