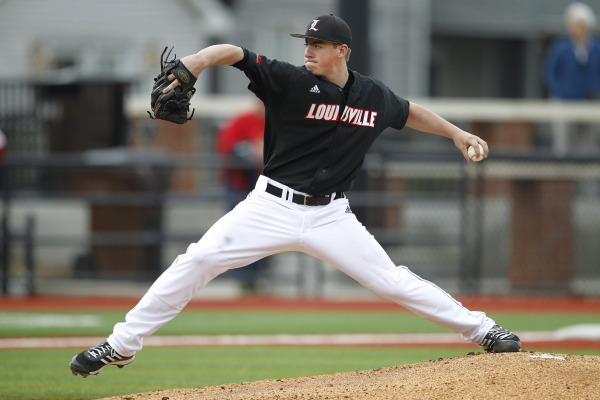 To catch up on our college baseball countdown, head to our index page here.
Coming into last season, LouisvilleĀ seemed to be pretty set in the starting rotation. Kyle Funkhouser (more on him in a future post in the countdown, by the way) was returning to serve as the staff ace, and the duo of Josh Rogers and Anthony Kidston would file in behind him nicely. When Kidston struggled to open the season, though, they were left with a hole to fill.
Enter Brendan McKay.
After starting his freshman season as a lights-out reliever for the Cardinals, and earning four saves along the way, McKay worked his way into the weekend rotation in mid-March. In his first start, he threw seven shutout innings against Boston College, and he never looked back. By the end of the season, he had gone 9-3 with a 1.77 ERA. In 96.2 innings, he struck out 117 and opponents hit a paltry .159 against him.
That alone would have put him among not only the best freshmen in the nation, but among the best players in the nation, period.
But he contributed far more than that.
At the plate, he hit .308/.418/.431 with 14 doubles, 4 home runs, and 34 RBI. As was the case on the mound, he didnā€™t play a huge role right away, but he quickly forced his way into being a key piece of the offensive puzzle. Over the first ten days of the season, he only had three at-bats, but his role quickly expanded from there, and he ended up making 58 starts in the Louisville lineup.
Not surprisingly, the accolades came flowing in after the season. He was named Freshman of the Year by Baseball America, Collegiate Baseball, Perfect Game, and D1 Baseball. He was named a First-Team All-American by D1 Baseball, the NCBWA, Baseball America, and Perfect Game. Louisville Slugger and Baseball America made him a member of their Freshman All-American teams as well. He was the ACC Freshman of the Year, a member of the All-ACC First Team as a pitcher, a member of the All-ACC Second Team as a utility player, and he was chosen nationally as the John Olerud Two-Way Player of the Year.
Given all that he accomplished last year, itā€™s almost unbelievable to think that he could get better, but he absolutely could. And that should strike fear into the hearts of the rest of the ACC.