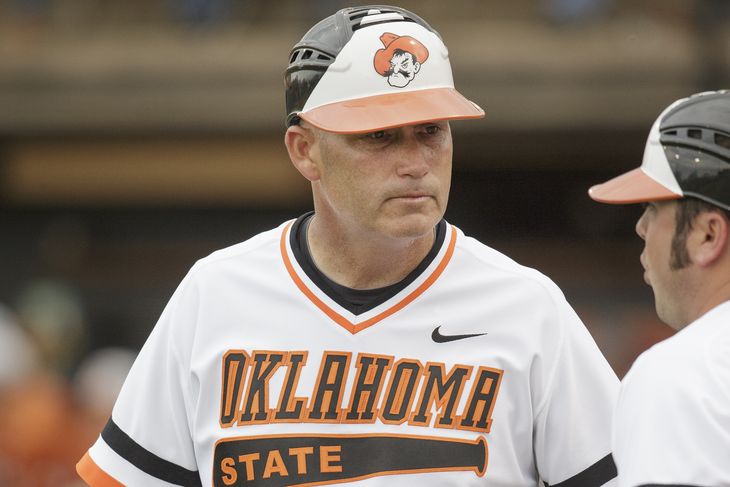 Last week, we examined the challenges ahead of about half of the new head coaches in DI baseball. If you missed that, you can catch up and read it here. Today, we finish things up by taking a look at the rest of the new head coaches across the country.
Edwin Thompson- Eastern Kentucky
The challenge for Thompson is really in two parts. First, like Eastern Illinois, he will need to get the EKU program to be more consistently competitive within the OVC. Beyond that, his larger challenge will be to recreate the success that the program enjoyed in the mid-to-late 80s. The Colonels won the OVC tournament title five times between 1984 and 1989. The OVC isn't such a powerhouse conference at this point that a similar run of success is outside of the realm of possibility.
Marlin Ikenberry- James Madison
From a program standpoint, it's on Ikenberry to return JMU to something resembling the form they showed several years ago. Between 2006 and 2011 under former head coach Spanky McFarland, the Dukes made two NCAA Tournament appearances and won 38 or more games in a season on three occasions.
At the same time, Ikenberry will have to prove some doubters wrong about his ability to turn JMU into a consistent winner. As the head coach of VMI between 2004 and 2014, the Keydets enjoyed just two seasons of 30 or more wins and two seasons of a better than .500 record in conference play.
T.J. Bruce- Nevada
Bruce, who arrived in Reno after stops as an assistant at Long Beach State and UCLA, will be faced with the tough task of showing that Nevada's window for success didn't close when Jay Johnson took the job at Arizona and the likes of Austin Byler, Ryan Howell, Adam Whitt, and Kewby Meyer moved on to pro ball.
That's asking a lot considering the heights the Wolfpack reached last season, but the Mountain West is kind of a wide-open league these days, and that's a power vacuum that perhaps Nevada can ably fill.
Blake Dean- New Orleans
LSU alum Blake Dean, first and foremost, will look to get some excitement and energy going within the program. UNO just never got out of neutral after their brief flirtation with dropping down to Division III, even as program patriarch Ron Maestri returned to his old post. There's a healthy appetite for college baseball in Louisiana, as evidenced by the emergence of programs like Louisiana-Lafayette, and even to a certain extent, Southeastern Louisiana, in the face of competition from programs with greater successes on their resumes, such as LSU and Tulane. There is certainly room for another, like UNO, to break through.
Dean will also be aiming to get the Privateers back to where they were under Tom Walter. In 2007 and 2008, they won 38 and 43 games, respectively, good enough to get into regionals both times. Sure, the UNO faithful would rather see a return to the days when the program was a mainstay in the regionals and even a College World Series participant (in 1984), but let's focus on baby steps first.
Spencer Allen- Northwestern
Simply put, Allen is going to work to get Northwestern up to speed in the new Big Ten. No longer is it a league of programs that only pay lip service to supporting baseball. With the results of the last several years, the Big Ten has shown that it's now a conference full of teams with big-time aspirations, and Allen should know that as well as anyone. He spent the 2015 season as an assistant on Dan Hartleb's staff at Illinois, just in time for what was almost certainly the best season in the history of the program.
Mike Neu- Pacific 
Neu will be looking to upgrade the talent at Pacific and make the Tigers more competitive within the West Coast Conference. In only one season since 2004, Ed Sprague's first season on the job, has Pacific had a winning record in conference play, and in four of the last five seasons, they haven't eclipsed 20 total wins.
The West Coast Conference isn't quite as stacked as the Big West, Pacific's former home, but it's still a good baseball conference filled with programs with better historical track records than Pacific. Interestingly, that's not too different than Cal in the Pac-12, which was Neu's previous coaching stop. The Bears' conference mates often had better facilities, better track records, and they most certainly faced less uncertainty about the future of their program, but in the face of all of that, Cal succeeded.
Rick Hirtensteiner- Pepperdine
It's easier said than done, just like in the case of Matt Heath taking over for Monte Lee at Charleston, but Hirtensteiner will be looking to provide a seamless transition after the departure of longtime head coach Steve Rodriguez.
Pepperdine just has the feel of one of those jobs that will be best done by a coach who truly understands the unique culture of that campus and program, and Hirtensteiner will have that part down pat. In addition to being a former player for the Waves, he served for 14 years as an assistant under Rodriguez.
Geoff Loomis- Portland
In the short-term, Loomis's job will be to just get the Pilots flying in the right direction once again (see what I did there?). The program seemed to have really stagnated under former head coach Chris Sperry, and when combined with recent renovations to Joe Etzel Field, it would appear that Portland is looking at this hire as a way to turn the page and get a fresh start.
In the long-term, Loomis will look to establish the Pilots as a solid third team in a state featuring two recruiting powerhouses in Oregon and Oregon State. Granted, in these examples, there are major differences geographically and in the number of high school prospects in the local area, but it's not too hard to imagine Portland being able to be to the state of Oregon what Sam Houston State is in Texas (surrounded by programs like UT, A&M, Rice, TCU, and Houston) or what Florida Gulf Coast is becoming in Florida (surrounded by Miami, FSU, and UF).
Marty Lees- Washington State
WSU will look to Lees to do what Pat Casey has done up at Oregon State. It's sometimes easy to forget that, before Casey took over at OSU, that job wasn't really all that desirable. And now, the Beavers have grown into arguably the most consistent program out on the west coast.
That's a tough job to get done, but if it's going to get done, the Cougars probably have the right guy in Lees. For 11 seasons, he worked right alongside Casey in turning OSU into the juggernaut they are today. His experience over the last three years as an assistant to Josh Holliday at Oklahoma State doesn't hurt, either.
John Pawlowski- Western Kentucky
Pawlowski will be tasked with doing for WKU what he did for College of Charleston about a decade ago. He coached at C of C for nine seasons. Three times the Cougars made the regionals on his watch (including a super regional in 2006) and in six of his seasons in charge, they won 36 or more games.
Certainly there is precedent for having success at WKU. The Hilltoppers were a very competitive program under Chris Finwood (now the head coach at Old Dominion) and made back-to-back trips to regionals as recently as 2008 and 2009.