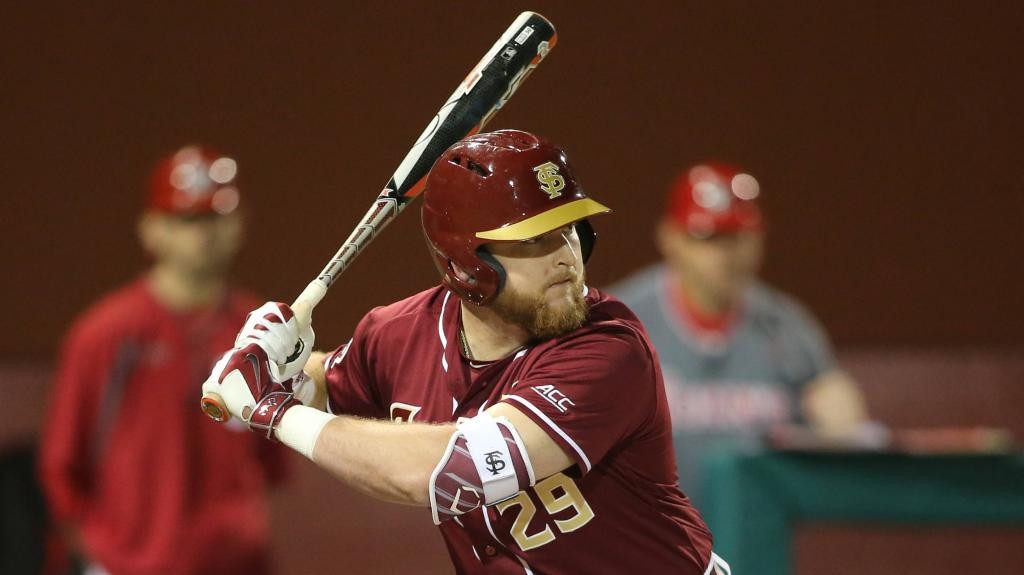 After the fourth weekend of the college baseball season, once again, the top portion of our rankings largely stayed the same. The top seven teams in the rankings are in the same place as they were at the beginning of the week after taking care of their business throughout the week and over the weekend.
Starting with the eighth spot, though, things got a little crazy. Our number eight team from the previous poll, NC State, fell to 14 after dropping two out of three at home to Boston College to open ACC play.
The team right behind them at number nine in the previous poll, Oregon, also fell, dropping to 18 after they were swept decisively by Mississippi State.
East Carolina also suffered a modest fall, from 23 to 25, after dropping two of three to Rice. In some weeks, that would have been enough to drop them from the rankings completely, but our number 25 team from last week, Georgia Tech, fell out of the rankings after being swept by Florida State and the rest of the top 25 bubble was a little bit soft, as it has been for a couple of weeks now.
The first big riser of the week was Florida State, after that sweep of Georgia Tech. They jumped from 12 to 8. Mississippi State, after that sweep of Oregon, jumps from 19 to 10, good enough for the Bulldogs to be the biggest riser of the week.
Making their debut in the rankings are the Arizona State Sun Devils, at 22, after a 5-0 week that included a midweek two-game sweep of Cal State Fullerton and a weekend three-game sweep of UC-Davis.
Just missing the cut were the Houston Cougars, after a series win on the road at Alabama and the aforementioned Boston College Eagles, after their series win over NC State.
1. Florida Gators (17-1)
Last week: 1
Results: North Florida W 6-2, North Florida W 5-4, Harvard W 16-5, Harvard W 9-2, Harvard W 3-0
2. Louisville Cardinals (13-2)
Last week: 2
Results: Longwood W 10-1, Notre Dame W 4-3, Notre Dame W 8-2, Notre Dame W 1-0
3. Vanderbilt Commodores (15-1)
Last week: 3
Results: Radford W 13-4, Radford W 12-0, Xavier W 7-0, Xavier W 14-3, Xavier W 5-2
4. Texas A&M Aggies (15-1)
Last week: 4
Results: Northwestern State W 7-6, Fresno State W 3-2, Fresno State W 4-3, Fresno State W 12-1
5. Oregon State Beavers (12-2)
Last week: 5
Results: San Francisco W 8-5, San Francisco W 4-0, San Francisco L 5-0
6. Miami Hurricanes (13-3)
Last week: 6
Results: Maine W 6-2, Stetson W 4-2, Virginia Tech L 14-3, Virginia Tech W 11-6, Virginia Tech W 7-2
7. North Carolina Tar Heels (12-2)
Last week: 7
Results: Gardner-Webb W 11-6, Pittsburgh W 14-2, Pittsburgh W 4-0, Pittsburgh L 5-0
8. Florida State Seminoles (13-3)
Last week: 12
Results: South Florida W 12-4, Toledo W 3-2, Georgia Tech W 8-2, Georgia Tech W 14-9, Georgia Tech W 8-3
9. TCU Horned Frogs (12-3)
Last week: 10
Results: UT-Arlington W 5-1, USC W 8-3, USC W 12-11, USC L 16-6
10. Mississippi State Bulldogs (12-3-1)
Last week: 19
Results: South Alabama W 7-3, Oregon W 10-4, Oregon W 9-3, Oregon W 5-2
11. California Golden Bears (10-4)
Last week: 11
Results: Texas Tech W 9-2, Texas Tech L 11-8
12. LSU Tigers (12-3)
Last week: 13
Results: Louisiana Tech W 6-3, Ball State L 7-1, Ball State W 9-3, Ball State W 10-6
13. Mississippi Rebels (15-1)
Last week: 14
Results: Southeast Missouri State W 10-2, Southeast Missouri State W 6-4, Grambling State W 15-2, Grambling State W 6-1, Grambling State W 7-3
14. North Carolina State Wolfpack (13-4)
Last week: 8
Results: Fairfield W 4-2, Fairfield W 4-0, Boston College L 7-0, Boston College W 3-2, Boston College L 1-0
15. UCLA Bruins (8-7)
Last week: 15
Results: Cal State Northridge L 20-12, Texas L 7-5, Texas W 5-4, Texas W 6-3
16. Virginia Cavaliers (11-5)
Last week: 16
Results: Wagner W 6-2, Wagner W 20-7, Duke W 6-0, Duke W 7-6, Duke L 3-0
17. Arkansas Razorbacks (13-3)
Last week: 17
Results: Gonzaga L 15-10, Western Illinois W 3-2, Western Illinois W 9-3, Western Illinois W 3-0
18. Oregon Ducks (8-5)
Last week: 9
Results: Mississippi State L 10-4, Mississippi State L 9-3, Mississippi State L 5-2
19. Louisiana-Lafayette Ragin' Cajuns (10-6)
Last week: 18
Results: Tulane L 5-3, Troy W 4-2, Troy L 4-1, Troy W 8-3
20. Clemson Tigers (11-3)
Last week: 20
Results: Winthrop W 4-3, Wake Forest L 6-4, Wake Forest W 6-5, Wake Forest W 13-8
21. Oklahoma State Cowboys (9-6)
Last week: 21
Results: Missouri State W 6-5, Abilene Christian W 8-2, Abilene Christian W 16-0
22. Arizona State Sun Devils (13-3)
Last week: NR
Results: Cal State Fullerton W 5-3, Cal State Fullerton W 2-1, UC-Davis W 6-5, UC-Davis W 4-3, UC-Davis W 3-2
23. Cal State Fullerton Titans (9-6)
Last week: 22
Results: Arizona State L 5-3, Arizona State L 2-1, Wichita State W 9-1, Wichita State W 5-0, Wichita State W 7-1
24. Coastal Carolina Chanticleers (10-7)
Last week: 24
Results: Wake Forest L 11-0, Wake Forest W 7-6, UNC-Greensboro L 4-2, Illinois W 4-2, Illinois W 12-4, UNC-Greensboro W 7-4
25. East Carolina Pirates (11-5)
Last week: 23
Results: George Mason W 8-1, George Mason W 6-0, Rice W 10-1, Rice L 7-2, Rice L 4-1
Out: Georgia Tech
Others Considered: Houston, Boston College