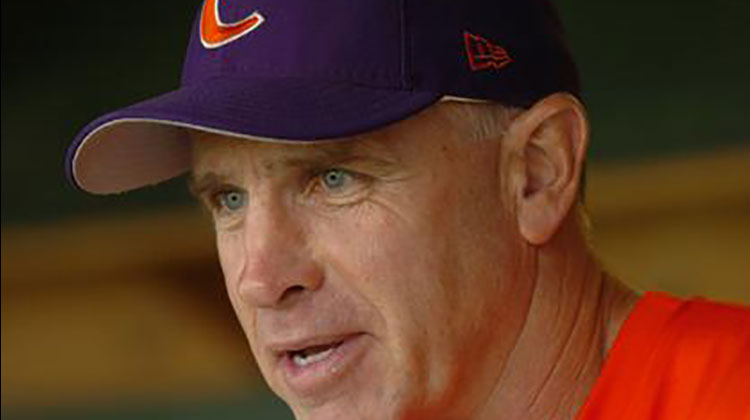 On Thursday, D1Baseball.com's Aaron Fitt broke the news that Clemson was going to part ways with Jack Leggett, its longtime baseball coach.
In a statement, shared by Baseball America's Michael Lananna on Twitter, Clemson AD Dan Radakovich begins by saying how difficult this decision was. Generally, statements like this from an AD are greeted with a heavy dose of cynicism, as the perception is that many of these decisions have been made long in advance.
In this case, though, I believe him. I'm sure this was quite a difficult decision to make, given the complexity of the situation.
On one hand, there's no denying that Leggett has had an incredible tenure at Clemson, and no matter what he chooses to do next, he's going to go down as one of the all-time greats in college coaching.
His Tigers teams were a mainstay in regionals, missing out on the field of 64 just one time during his tenure, and they got to Omaha six times. He also put a ton of ballplayers into pro ball, most notably guys like Kris Benson, Khalil Greene, and Brad Miller. And his keen eye for coaching talent might be the only thing that is better than his eye for on-field talent. The Jack Leggett coaching tree includes a number of recognizable names for college baseball fans, including Florida head coach Kevin O'Sullivan, Vanderbilt head coach Tim Corbin, Michigan head coach Erik Bakich, and new Western Kentucky head coach (and former College of Charleston and Auburn head coach) John Pawlowski.
At a certain point, though, as happens with most all longtime head coaches in college baseball, they become a prisoner of their own successes. That has certainly been the case with Leggett in recent years.
In three of the last four seasons, the Tigers have been a little too close for comfort when it comes to making the postseason cut, and in those same three seasons, they've been about a .500 team in ACC play.   Plus, Clemson is a proud enough program that they measure their success in trips to Omaha, and they haven't been since 2010. That doesn't sound like a particularly long time until you consider that the 2010 trip gave the program six CWS appearances in 17 seasons, or once every three years, basically. Given how  high the bar had been set, it's almost tough to blame the faithful for getting a little antsy.
The reasons thrown around for the dip in performance are varied. Parity is one possible explanation, as local programs like College of Charleston and Coastal Carolina, among others, have emerged as legitimate competitors, to say nothing of similar programs doing so across the country. Another theory is that his success in bringing in quality assistants has actually been a blessing and a curse, as few coaches have had to deal with assistant coach turnover like Leggett, thanks to his ability to find and develop coaching talent. One reason I haven't heard much of is that the game has passed Leggett by or that he has failed to adapt, and that's encouraging, as it shows that the coach is still well-respected around the game.
Whatever the reason, though, Leggett was getting his team to the postseason annually, and coaches who do that on a consistent basis generally aren't let go. We all know that once you're in the postseason, just about anything can happen, after all.
Clemson has chosen to take a chance, however, that a new voice in the dugout can take the foundation Leggett created and take the program back to heights they saw during his peak years with the team. I don't use the phrase "take a chance" lightly here, either, because this is a huge chance to take.
Given Clemson's pedigree, their fantastic facilities, their place in a major conference, and the talent that they still have on the roster thanks to the work Leggett and his staff put in, it wouldn't be a shock if a new coach comes in and has big-time success right out of the gate. Certainly this is the type of opening that will attract some highly-qualified candidates capable of doing so.
At the same time, it's always a risk when you remove a coach who is still, by most standards, successful, in an attempt to find someone who would be more successful. We've seen this type of scenario play out quite a bit across all college sports before, and we all know that sometimes you can't truly appreciate what you had until it's gone.
For that matter, this is a significant risk for Clemson to take, beyond the fact that they're parting ways with a successful coach, as there are some potentially sensitive issues at play as well. Leggett's coaching tree is expansive and impressive enough that there are no shortage of qualified coaches with Clemson ties who might normally be interested in the job. But according to Baseball America's John Manuel, some of the potential candidates with ties to Clemson and Leggett are put off by Leggett's dismissal.
That's certainly something to take into account as Clemson narrows its search, but if I were a betting man, I'd take my chances with the Clemson job being attractive enough that they won't have to search all that long and hard to find their man. Besides, the chances of success are pretty good, what with the new guy getting the keys to a proverbial Lamborghini, thanks to the man he will replace, Jack Leggett.