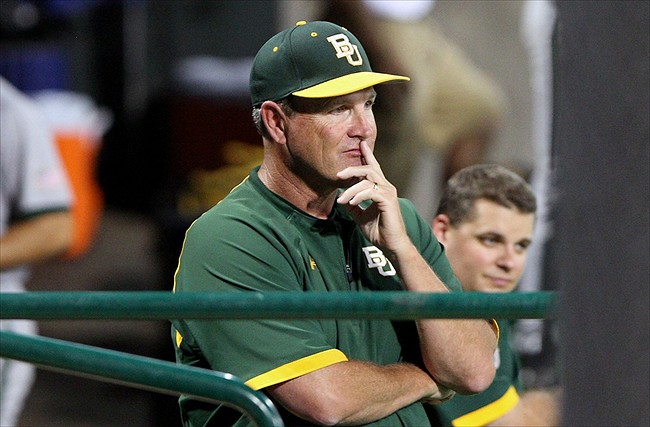 On Sunday, Baylor announced that head coach Steve Smith will not return for the 2016 season just a couple of days after the Bears completed a disappointing 23-32 campaign.
Because Baylor has had its ups and downs over the last six or eight years, it's easy to overlook just how big this news is, and frankly, how unlikely it seemed this day would come when the Bears' program was really humming along back in the mid-00s.
The Bears made a regional in 13 of Smith's 21 seasons at the helm, advanced to a super regional on four occasions, and got to Omaha in 2005. Under Smith, Baylor won the Big 12 three times (2000, 2005, 2012). Those are the tangible successes, but beyond that, for a period between 1999 and 2005, Baylor was about as consistent as any non-blue blood program in the country. They got into a regional in all but one season during this span (2004), and they made three of their four super regional appearances under Smith.
It was during this time that the program also became known as something of a pitching prospect factory, as they produced high draft picks like Kip Wells, Jason Jennings, Chad Hawkins, Kyle Edens, and Mark McCormick.
Over the last ten years of his tenure, however, the quality of play dipped. The team eclipsed the 40-win plateau just once, in Baylor's Big 12 title season of 2012, after doing so five times between 1995 and 2005, and they've missed the regionals in each of the last three seasons. The program only had two losing seasons under Smith prior to 2013, but now they've had three losing seasons in a row. Finally, no Baylor player has been taken in the first round or supplemental first round since McCormick in 2005.
Despite that, though, we shouldn't feel too sorry for the next coach in Waco. This is a program that has succeeded at the highest level before, and has the potential to do so again. Perhaps this isn't a job opening in the upper crust of all job openings, but it's pretty close.
Sure, the program is down right now, but they still have a lot going for them. They've obviously got the history, and that dates back even before Smith took over. He took it to the next level, but Baylor put a quality product on the field more often than not under the legendary Mickey Sullivan before him. They've got the facilities. Baylor Ballpark is a fantastic facility, and during the program's heyday, fans packed the place. Geography is a plus as well, as the state of Texas is a baseball talent goldmine.
You also can't overlook the fact that Baylor is a hot athletic program right now. The football team is on fire under Art Briles, the women's basketball team is a national contender, and the men's basketball team has been a consistent winner under Scott Drew. There's a lot of momentum within the Baylor athletic department right now and that can't hurt in recruiting.
Like any head coaching job, there are challenges, of course. For one, there's no way around the fact that Baylor is an expensive university. Current information from Baylor's school website says that the cost of tuition and room and board for the 2015-2016 academic year is $51,538. For a player on a 25% scholarship, that still leaves a lot of money for a player's family to come up with. The increased regulation on how coaches use scholarship dollars has made this an even greater challenge as well.
Then, of course, there is the increasingly crowded landscape in which any coach in Texas has to compete. The Bears have always had to compete with the likes of Texas A&M, Texas, TCU, and Rice, both on the field and in recruiting battles. But now, any new coach is going to have to deal with the re-emergence of Texas Tech and Houston, along with new players on the scene like Dallas Baptist and Sam Houston State that have established themselves as quality programs year in and year out. That's to say nothing of programs like Oklahoma, Oklahoma State, and the resurgent Tulane, all programs that pull in a lot of talent from the Lone Star State.
Still, the positives far outweigh the negatives here and something tells me that Ian McCaw, Baylor's Athletic Director, is going to have a lot of interest from a lot of fantastic candidates.
If I'm McCaw, my first phone call is Dan Heefner at aforementioned Dallas Baptist, and not just because he comes from another Baptist university, although that could certainly help when it comes to him being a cultural fit.
Heefner has built the DBU program from the ground up. When he took over, DBU was a .500 program still transitioning to Division I as an independent. Building a regional-quality resume is really difficult to do as an independent, but Heefner did it three times, in 2008, 2011, and 2012, and in 2011, he guided his team to their first super regionals appearance. At the same time, he helped move the team from an independent to a member of the Missouri Valley Conference, a quality baseball league, with a one-year stopover in the WAC in 2013.
In 2015, he has his best team yet, as the Patriots are going to be hosting a regional at Horner Ballpark and have aspirations to get all the way to Omaha. And let's be clear about the level of talent he's bringing to Dallas. It's not like he's coaching a team of plucky upstarts getting by on grit and guile. He's bringing legitimate, prospect-level talent to campus, and it's not hard to imagine that some of the talent Heefner has brought to DBU is talent that Smith would have guided to Baylor seven or eight years ago.
Certainly other qualified candidates will emerge, but if I'm McCaw, I give Heefner the right of first refusal on the opening before moving forward.