11. UCLA Bruins
2015 record: 45-16
2015 result: Los Angeles Regional
Outlook: UCLA's ranking here has as much to do with appreciating this coaching staff's ability to continually develop players as it does the talent that UCLA has on the roster. Don't misunderstand, though, the Bruins do have significant talent present. Grant Dyer and Griffin Canning will make for a nice one-two punch in the rotation, and there are worse fates than picking from a litany of highly-touted freshmen to help fill out the rotation and to slot into bullpen roles. Offensively, it's a typical UCLA attack. There are no page-turners or guys with eye-popping numbers, but Luke Persico, Brett Stephens, and Eric Filia have all proven to be quality hitters. This is certainly not the most talented UCLA team we've seen in recent years, but it's premature to expect them to fall off in terms of their results.
12. Oklahoma State Cowboys
2015 record: 38-20
2015 result: Stillwater Regional
Outlook: Under Josh Holliday, the Cowboys have re-emerged as a power in the Big 12, and they appear to be the front-runner in the league in 2016. Offensively, OSU doesn't boast a lineup full of marquee names, but they return a ton of quality contributors from a year ago, including Dustin Williams, Ryan Sluder, Corey Hassel, and perhaps most importantly, Donnie Walton, the team's leading hitter from a year ago who decided to return to Stillwater rather than sign with the Brewers as the team's 23rd-round pick. On the mound, they will be asking some players, such as Trey Cobb and Conor Costello, to step into bigger roles. Remey Reed, a versatile arm who can do a bit of everything, will be the X-factor out of the bullpen.
 13. North Carolina State Wolfpack
2015 record: 36-23
2015 result: Ft. Worth Regional
Outlook: Kudos to NC State head coach Elliott Avent for helping his program find another gear. They had been a solid program for a long time, but it seems that they have really peaked over the last three of four seasons, and that success hasn't simply been the result of having the likes of Carlos Rodon and Trea Turner on the roster. Avent's 2016 squad looks about as good as any he has had. Offensively, they return big-time bats in Andrew Knizner and Preston Palmeiro, along with budding stars such as Joe Dunand and sluggers like Chance Shepard. On the mound, Brian Brown is nothing short of an ace in the rotation and Tommy DeJuneas gives the Pack an electric arm on the back end.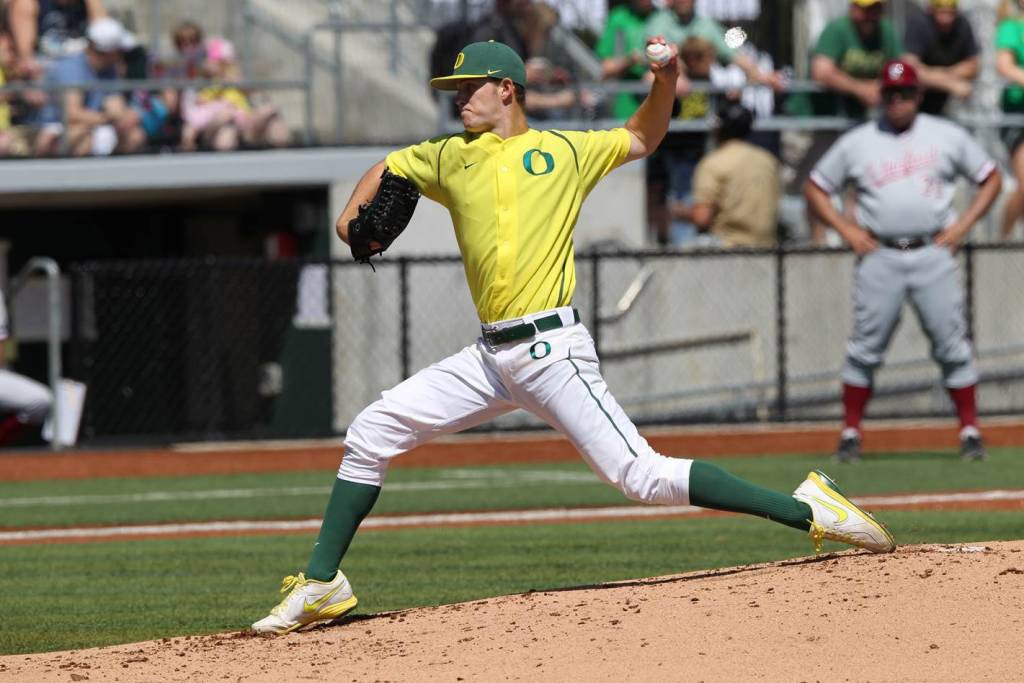 14. Oregon Ducks
2015 record: 38-25
2015 result: Springfield Regional
Outlook: Oregon has been looking to get over the hump and into Omaha for the first time under George Horton and the 2016 club will at least provide them with the talent to get there. Their starting rotation is a nice combination of proven commodities in Cole Irvin and David Peterson and untapped potential in Matt Krook, a lefty who has the raw stuff to absolutely be the best of the bunch after missing all of last season with injury. Offense has often been the question mark for Oregon and that will be no different, at least initially, in 2016. The Ducks return a number of very experienced bats, such as Mark Karaviotis, Austin Grebeck, Nick Catalano, and Phil Craig-St. Louis, but they could really benefit from someone stepping up and taking over a starring role.
15. TCU Horned Frogs
2015 record: 51-15
2015 result: College World Series
Outlook: With as much talent as TCU waved goodbye to after last season, it would be easy to pencil the Frogs in for a rebuilding season, and while expectations might be a tick more modest than they were heading into last season, TCU is still going to be a force. Teams all around the country would love to have Mitchell Traver as a starting pitcher to build a staff around and freshman Luken Baker looks poised to step right into the rotation from day one. Brian Howard has some experience logging starter's innings, and Rex Hill, a transfer from Texas A&M, will be in the mix to start as well. Of course, those guys, save Howard to an extent, are largely unproven commodities, so there is some risk there as well. Offensively, Evan Skoug, Connor Wanhanen, and speedster Nolan Brown will be looked upon to lead the way.