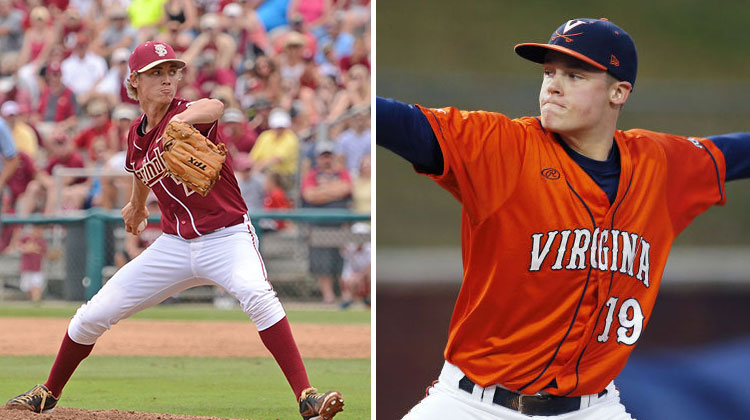 Florida State will play host to the University of Virginia in an ACC matchup of the first place teams in the Atlantic and Coastal Divisions.  UVA holds the No.1 spot in College Baseball Central's latest rankings, while FSU slots in at No. 4. Both teams are 16-5 in conference play.
Friday night's matchup should be special, as it features aces Nathan Kirby and Luke Weaver, two of the best pitchers in the ACC. Kirby headlines a Cavaliers staff that has a staff ERA of 2.08, and has struck out nearly three times as many hitters as they've walked. On the other hand, the Seminoles' offense leads the ACC in on-base percentage and runs, and is averaging six walks per game. This series should be a hard-fought one between two of the best teams in the country.
Maryland and Boston College meet up in Chestnut Hill. After taking two of out of three games from Georgia Tech, the Terps sit at 4th place in the Atlantic Division at 9-11 while Boston College is in 6th at 5-16. Their pitching staff is led by ace Jake Stinnett, who leads the conference in strikeouts and innings pitched.
Virginia Tech and North Carolina will play in Chapel Hill. UNC managed to win the series finale against UVA the past weekend while the Hokies were swept by the Duke Blue Devils
Speaking of Duke, the Blue Devils will play Wake Forest in Winston-Salem. Both teams sit at 12-9 in conference play, which puts them in third place in their respective divisions. Demon Deacon freshman Will Craig leads the conference with eight home runs, while Chris Marconcini of Duke is right behind with seven.
Georgia Tech will go on the road to play N.C. State. While ace Carlos Rodon had a strong outing last Friday, the Wolfpack's woes continued as they dropped two out of three games to the Eagles. Right now they're just 7-14 in conference play. The Yellowjackets dropped their first two games to the Terps last weekend before rebounding to win the final game by a score of 13-6.
Miami travels to Clemson in a key matchup. The Hurricanes had their 14 game winning streak snapped last weekend by the Fighting Irish. They sit at 16-5 in conference play while the Tigers earned a sweep of Pitt, which pushed them to 12-8 and second place in the Atlantic Division. Only FSU has scored more runs than the Tigers.
After this weekend, there will be just two more weekends of ACC play before the conference tournament. The victor of the FSU-UVA series will have a strong claim to the best team in the conference.