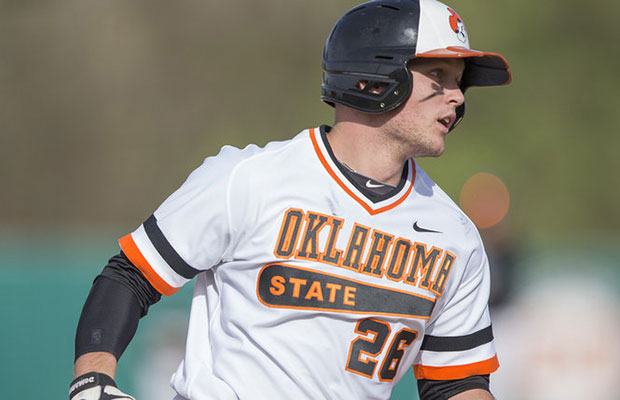 MANHATTAN, Kan. - No. 11 Oklahoma State junior Zach Fish drove in five RBI which included a three-run homer to key a nine-run fifth inning as the Cowboys pounded Kansas State 17-5 to sweep the series and remain atop the Big 12 Conference standings. Fish went 3-for-5 with a pair of singles and a couple runs scored to lead the Oklahoma State offense on a 17 hit day.
In the second inning, Fish singled and then scored on a double by Dustin Williams as the Cowboys rallied for an early 3-0 lead. Williams would go 2-for-4 with scoring three runs with one of his hits being a two-run homer in the fifth. Tanner Krietemeier also had a solid day at the plate with 2-for-4 game with two runs scored and three RBI.
Fish hit a two-run single as Oklahoma State scored three more times in the fourth inning, extending their lead to 7-1 before the nine run fifth inning pushed the lead to 16-1. Gage Green chipped in on the effort reaching base four times, going 3-for-3 with a walk with a run scored and two RBI.
Oklahoma State has won seven straight series and nine straight games to build a one game lead over TCU in the conference race.
Big 12 Action
FORT WORTH, Texas - Tyler Alexander threw eight innings and allowed an earned run on five hits with three strike outs to lead No. 20 Texas Christian to a 9-1 win over Oklahoma to take the series win. Boomer White had a three-run double and Keaton Jones had a three-hit game to lead the Horned Frogs' offense.
LAWRENCE, Kansas - West Virginia's Billy Fleming hits for the cycle but it wasn't enough to keep the Mountaineers from being swept by Kansas in a 9-8 loss on Sunday. Fleming went 4-for-6 and scored three runs with two RBI in the loss.