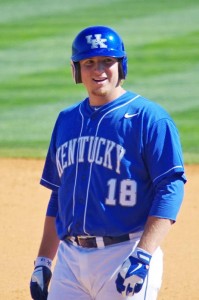 The National Collegiate Baseball Writers Association has released the list of semifinalists for the 2014 Dick Howser Trophy. The award, given to the top player in collegiate baseball, is based on two rounds of national voting, by the NCBWA membership. 
The finalists will be announced on Thursday, June 5 with the winner being announced on Saturday, June 14 at 10 a.m. CT, the opening day of the 2014 College World Series. 
"The Dick Howser Trophy was founded shortly after his death by a few friends of Dick's in the St. Petersburg Area who played, coached and worked with him," said David Feaster of the Howser Trophy Committee." 
"The Dick Howser trophy is now 28 years old and growing stronger," added Feaster.  "It is a true testimony to Dick Howser's ability as a player, coach and gentlemen. I am proud to be associated with it."
This year 28 different schools and 17 different conferences are represented.
Previous winners include David Price, P, Vanderbilt, 2007; Buster Posey, C, Florida State, 2008; Stephen Strasburg, P, San Diego State, 2009; Anthony Rendon, 3B, Rice, 2010; Taylor Jungmann, P, Texas, 2011; Mike Zunino, C, Florida, 2012 and Kris Bryant, 3B, San Diego, 2013. 
2014 Dick Howser Trophy Semifinalists
Caleb Adams, OF, Louisiana-Lafayette
Will Allen, C, Ole Miss
Austin Anderson, 3B, Ole Miss
Casey Bloomquist, SP, Cal Poly
Dylan Bosheers, SS, Tennessee Tech
Aaron Brown, UTL, Pepperdine
Walker Buehler, SP, Vanderbilt
Michael Cederoth, RP, San Diego State
Michael Conforto, OF, Oregon State
Jace Conrad, 2B, Louisiana-Lafayette
Andrew Daniel, 2B, San Diego
Ty Davis, SP, Washington
Paul DeJong, 2B, Illinois State
Brandon Finnegan, SP, TCU
Blake Fox, SP, Rice
Derek Gibson, DH, Southeast Missouri State
Casey Gillaspie, 1B, Wichita State
Mackenzie Handel, DH, Stephen F. Austin
Matt Imhoff, SP, Cal Poly
Michael Katz, OF, William & Mary
Nathan Kirby, SP, Virginia
Mark Mathias, 2B, Cal Poly
Daniel Miles, SS, Tennessee Tech
Sam Moore, RP, UC Irvine
Andrew Morales, SP, UC Irvine
Aaron Nola, SP, LSU
Max Pentecost, C, Kennesaw State
A.J. Reed, UTL, Kentucky
Michael Russell, SS, North Carolina
Joe Seddon, RP, South Carolina
Kyle Schwarber, C, Indiana
Ryan Seiz, 2B, Liberty
D.J. Stewart, OF, Florida State
Cole Sturgeon, UTL, Louisville
Ben Wetzler, SP, Oregon State