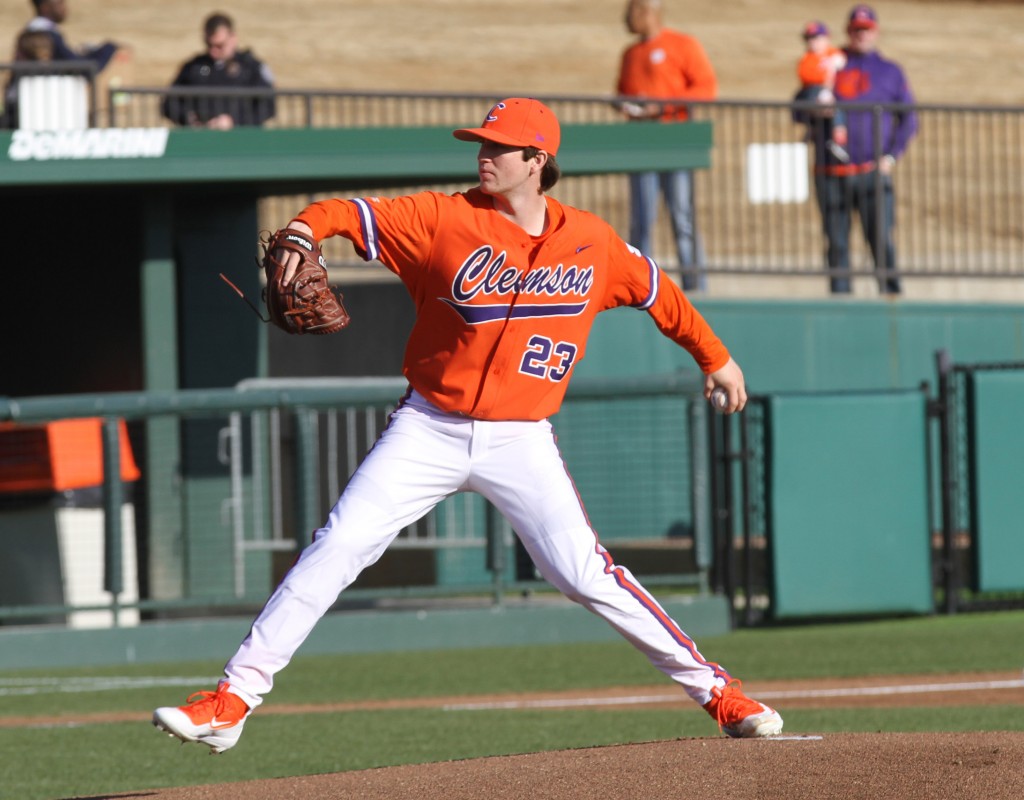 Last week, chaos reigned in college baseball, and while the top portion of our rankings remained largely untouched as a result of that carnage, the middle and back of the top 25 got juggled around a bit.
This week was much quieter on the national scene, with the teams at the top of the rankings taking care of their business for the most part. As a result, once again, the top section of our rankings was mostly untouched. In fact, the top ten teams in our rankings are exactly where they were last week. When the top ten, as a unit, drops a total of four games all week, that's what happens.
There was a little movement in the middle of our rankings, however. After going 3-0 in the Dodger Stadium tournament this weekend with wins over Mississippi State, Oklahoma, and USC, UCLA was our big jumper of the week, going from 20 to 15.
With the Bruins moving up five spots, a few teams, Virginia, Arkansas, Louisiana-Lafayette, and Mississippi State, move down a spot each, even though they had winning weekends as well. They didn't necessarily deserve to move down a spot, but poll mechanics dictated the move.
After winning two of three in their rivalry series with South Carolina, Clemson is our first new entrant of the week; they enter at 20. Joining them in the rankings are the undefeated Georgia Tech Yellow Jackets, checking in at 25.
We didn't have any real precipitous drops this week, but Houston and Maryland fell out of the rankings after both had 2-2 weeks.
1. Florida Gators (12-1)
Last week:1
Results: UCF W 9-5, UCF W 4-0, Dartmouth W 7-0, Dartmouth W 4-3, Dartmouth W 8-6
2. Louisville Cardinals (9-2)
Last week: 2
Results: Morehead State W 9-5, Princeton W 4-2, Princeton W 9-1, Princeton W 11-0
3. Vanderbilt Commodores (10-1)
Last week: 3
Results: Stanford L 4-1, Stanford W 4-1, Stanford W 5-2
4. Texas A&M Aggies (11-1)
Last week: 4
Results: Houston Baptist W 3-2, Yale W 12-5, Yale W 13-0, Yale W 10-2
5. Oregon State Beavers (10-1)
Last week: 5
Results: San Diego W 7-2, San Diego W 5-2, William & Mary W 12-3
6. Miami Hurricanes (9-2)
Last week: 6
Results: Florida Gulf Coast W 6-2, Manhattan W 10-0, Manhattan W 14-4, Manhattan W 7-4
7. North Carolina Tar Heels (9-1)
Last week: 7
Results: Winthrop W 11-6, Fairfield W 4-3, Fairfield W 10-2, Fairfield W 11-0
8. North Carolina State Wolfpack (10-2)
Last week: 8
Results: UNC- Greensboro L 8-4, UNC- Wilmington W 5-2, Niagara W 7-1, Alabama W 2-1, Bucknell W 5-2
9. Oregon Ducks (8-2)
Last week: 9
Results: UC- Santa Barbara W 13-1, UC- Santa Barbara L 1-0, UC- Santa Barbara W 3-1
10. TCU Horned Frogs (9-2)
Last week: 10
Results: UT- Rio Grande Valley W 13-0, Gonzaga L 4-3, Gonzaga W 10-2, Gonzaga W 16-1
11. California Golden Bears (9-3)
Last week: 12
Results: Michigan L 5-0, Texas W 4-1, Texas W 4-3, Texas W 6-0, Texas W 10-7
12. Florida State Seminoles (8-3)
Last week: 11
Results: Jacksonville L 7-3, Villanova W 11-10, St. John's W 16-4, St. John's W 9-2, St. John's L 5-1
13. LSU Tigers (9-2)
Last week: 13
Results: Nicholls State W 9-4, Fordham W 12-1, Fordham W 15-1, Fordham W 10-7
14. Mississippi Rebels (10-1)
Last week: 14
Results: Memphis W 9-7, Ball State W 7-3, Coastal Carolina W 8-2, Cincinnati W 7-1
15. UCLA Bruins (6-5)
Last week: 20
Results: UC- Santa Barbara L 11-6, Mississippi State W 2-1, Oklahoma W 4-2, USC W 5-3
16. Virginia Cavaliers (7-4)
Last week: 15
Results: William & Mary W 16-8, Monmouth W 4-2, Monmouth W 11-10, Monmouth L 6-4
17. Arkansas Razorbacks (10-2)
Last week: 16
Results: Louisiana Tech W 3-2, Eastern Illinois W 5-2, Eastern Illinois L 10-8, Eastern Illinois W 3-2
18. Louisiana-Lafayette Ragin' Cajuns (8-4)
Last week: 17
Results: New Orleans W 7-4, McNeese State L 7-2, Sacred Heart W 8-0, Sacred Heart W 9-3, Sacred Heart W 4-0
19. Mississippi State Bulldogs (8-3-1)
Last week: 18
Results: Alcorn State W 14-0, UCLA L 2-1, USC W 8-7, Oklahoma T 5-5
20. Clemson Tigers (8-2)
Last week: NR
Results: Wofford W 7-0, South Carolina L 8-1, South Carolina W 5-0, South Carolina W 4-1
21. Oklahoma State Cowboys (6-6)
Last week: 21
Results: Incarnate Word W 7-1, Incarnate Word W 3-2, Indiana State W 1-0, Indiana State W 9-2, Indiana State L 2-0
22. Cal State Fullerton Titans (6-4)
Last week: 22
Results: Arizona L 2-0, Texas Tech W 7-3, Texas Tech L 6-5, Texas Tech W 4-1
23. East Carolina Pirates (8-3)
Last week: 23
Results: Elon L 8-7, Southeastern Louisiana W 2-1, Tennessee L 5-2, Maryland W 4-3
24. Coastal Carolina Chanticleers (6-5)
Last week: 19
Results: Ohio State W 3-2, College of Charleston L 9-4, Cincinnati L 10-7, Mississippi L 8-2, Ball State W 12-5
25. Georgia Tech Yellow Jackets (11-0)
Last week: NR
Results: Georgia State W 11-6, Western Carolina W 5-4, Western Carolina W 14-3, Western Carolina W 4-3
Out: Houston (24), Maryland (25)
Others Considered: UNC- Wilmington