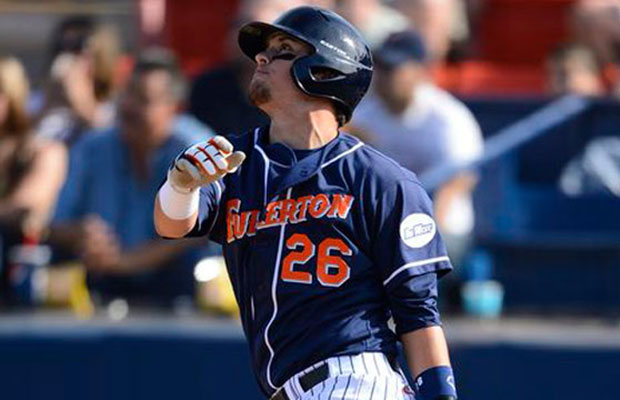 A couple of weeks ago, I put together a list of five teams that I felt needed bounceback seasons in 2015. I limited that list to five teams for the sake of space and time, but there were certainly a few more teams left on the cutting room floor.
Again, a quick disclaimer- teams are included on this list for a variety of reasons. Some find their programs in truly bad shape, not even in shouting distance of the postseason.
For others, they have fallen from among college baseball's elite and now find themselves simply average. In the same way, a bounceback season looks different for everyone. For some teams, seeing development from returning players and getting contributions from newcomers would be enough. For others, nothing short of a return to the upper crust of programs would suffice.
Kansas State Wildcats
I'm not sure that 2014 could have been any stranger for the Kansas State Wildcats. Coming off of an appearance in the super regionals in 2013, with many of their key contributors returning for another go-round, the Wildcats started off the season ranked as high as 22 in several polls.
Once the season got underway, though, nothing went as planned. They started the season off with a sweep at the hands of Cal Poly. Given the season Cal Poly ended up having, that's almost excusable in hindsight. But then, they completed their nightmare swing along the west coast by dropping a midweek game against San Francisco and then losing three games the next weekend to Portland, UC-Davis, and St.
Mary's, three teams that ended up having a combined 50-110 record on the season. Things didn't get any better as conference season got underway, and at one point, they lost 11 straight Big 12 games from April 19 to May 16.
It would be tough to have a worse season in 2015, K-State went 25-30 and 5-19 in conference play, after all, but they are going to experience quite a bit of turnover. Lineup stalwarts Ross Kivett, Austin Fisher, R.J. Santigate, and Mitch Meyer have all departed.
With all of the lineup turnover, it's tough to bet on the Wildcats getting back into the postseason as early as 2015, but with what head coach Brad Hill has accomplished during his tenure in Manhattan, I'm not sure I'd bet against it, either.
Notre Dame Fighting Irish
When the Notre Dame program rolled off seasons of 45 or more wins four years out of five years between 2002 and 2006 under head coach Paul Mainieri, I don't think anyone would have guessed that the 2006 trip to the postseason would be the last for at least the next eight seasons, which is exactly what has happened.
Dave Schrage, Mainieri's successor, led the team to three .500 or better seasons in his four years on the job, but he couldn't get the team back to the postseason. Under Mik Aoki, the team's record improved from 23-29 in 2011 to 31-27 in 2012 to 34-24 in 2013, before falling back to 22-31 in their first season in the ACC in 2014.
Sure, the team had some forces working against them in 2014. For starters, the weather was terrible, which kept them from being able to prepare for the season like they would have preferred. I live just a few hours from South Bend, Indiana and I can vouch for the fact that last winter was brutal. On top of that, they were largely nomads last season.
Because of renovations to Frank Eck Stadium that pushed into the spring, the Irish played home games in Chicago, Gary, Indiana, and at Four Winds Field in South Bend. If those just sound like convenient excuses, note that ND won five of their last six ACC games when they were finally able to play at Eck Stadium late in the season after starting 4-20 in conference play.
With that being said, wins and losses are still the name of the game and if Aoki doesn't add to the win column significantly in 2015, he's going to be feeling the heat. He loses a few key pieces from the pitching staff in Pat Connaughton, Donnie Hissa, and Sean Fitzgerald, but with an offense that returns largely intact, he's not without talent on his roster.
Tennessee Volunteers
The struggles of the Tennessee baseball program have been confounding. After establishing themselves as one of the premier programs in the country in the late-90s and early-00s under head coach Rod Delmonico, the program just kind of fell off of a cliff. Delmonico was let go in 2007,  just two seasons after getting to the College World Series, and Todd Raleigh underwhelmed in his four seasons at the helm, managing just one season above .500 overall. Dave Serrano has been in charge since 2012, and while the program has made great strides in that time, they've yet to get back to the postseason.
For a while, it looked like the streak of missed postseasons would finally end in 2014. The Vols started the season 15-1, including series wins over UNLV and Arizona State. But they just never could establish consistency in SEC play. They had nice series wins against Vanderbilt and Kentucky, both teams bound for the postseason, but when it was all said and done, they finished just 12-18 in league play.
Just looking at what they have coming back on paper, it feels like 2015 might be the year they break through. They will be without offensive spark plugs Will Maddox and Taylor Smart, and pitcher Nick Williams, but they do return several key cogs from 2013, including top hitters Christin Stewart and Nick Senzel and pitchers Hunter Martin, Andy Cox, and Drake Owenby, among others.
For Serrano, that means there is a lot riding on this season. Sure, he was charged with doing a complete overhaul of the Tennessee program, and I think there is still a lot of belief in what he is doing, but if they miss the postseason again in 2015, things might get a little tougher to explain away.
USC Trojans
If the Tennessee faithful looks back at their glory years and wonders what happened, I can only imagine what those around the USC baseball program are thinking at this point. The program hasn't quite been the same since the likes of Mark Prior were on campus, but they did get as far as the super regionals in 2005. Since then, though, they have been through the tumultuous coaching tenures of Chad Kreuter and Frank Cruz. Between the two of them, they brought USC one nepotism accusation, one NCAA violation, and zero winning seasons.
Dan Hubbs has brought some much-needed stability to the program. After a 20-36 record in his first year, he led the team to a 29-24 overall record and 16-14 conference record last year. Both were the first winning records the team has had since that 2005 season.
Hubbs has already earned enough goodwill in just two full years on the job that he will survive next season no matter how poorly it goes, but it has been so long since the USC program has shown consistent improvement that you get the feeling that they need one or two more seasons of forward movement to really get the program back on track.
In 2015, they will have to get that done without a few key pieces from their 2014 pitching staff. Starting pitchers Wyatt Strahan and Bobby Wheatley are pitching in pro ball now, along with bullpen arm Nigel Nootbaar, who pitched in just nine games in 2014. Most key offensive contributors will be back, along with guys like starting pitcher Brent Wheatley and closer Kyle Davis. The talent is there to take another step forward in 2015.
Cal State Fullerton
For a coach to be on the hot seat after winning a conference title two out of three years on the job, along with a trip to Omaha, one of two things has to have happened. Either the play on the field almost completely tanked or an off-the-field issue stirred up controversy around the program. In the case of CSF and head coach Rick Vanderhook, both happened to varying degrees in 2014.
On the field, the Titans looked like anything but a postseason team for most of the season. It wasn't until a late-season sweep over UC-Irvine that they really looked the part. They played pretty well once they got to the postseason, beating a very good Nebraska team twice in the Stillwater regional, but they dropped two games to host and eventual regional champion Oklahoma State to keep them from advancing. Maybe that doesn't sounds like such a bad season, but when you are a program with the history of CSF and you started the season as the number one team in the nation, it's disappointing.
Off the field, Vanderhook was placed on administrative leave on April 17 under somewhat mysterious circumstances. Later, we found out that he was being investigated for being verbally abusive toward his players. He returned to the team about a month later, but for many that were already doubting his ability to do the job thanks to the struggles on the field, it just added fuel to the fire.
It's shaping up to be a potentially tough 2015 for Vanderhook. He is already in a position where he is going to have to prove himself as a coach all over again thanks to his suspension and the poor play of the team in 2014. On top of that, the team lost its two best hitters, J.D. Davis and Matt Chapman, two solid offensive contributors, Austin Diemer and Clay Williamson, and catcher Jared Deacon, all to pro ball. On the mound, they lost staff co-ace Grahamm Wiest and Koby Gauna, a reliable bullpen arm. They also lost their closer, as J.D. Davis pulled double-duty. As if that weren't enough, Phil Bickford, a first-round pick from 2013 who the Titans got to campus, announced this offseason that he would be transferring to Community College of Southern Nevada, in large part so that he will be eligible for the 2015 draft.
There have been whispers among the CSF faithful that the incoming talent hasn't quite been the same over the last couple of years. According to College Baseball Newspaper, the 2014 recruiting class coming to Fullerton is a top-ten class, so perhaps that talk is overblown. Only time will tell. Vanderhook's contract runs through 2018, but CSF is a very proud program and if 2015 is more like 2014 than seasons prior, the calls to replace him may become deafening.