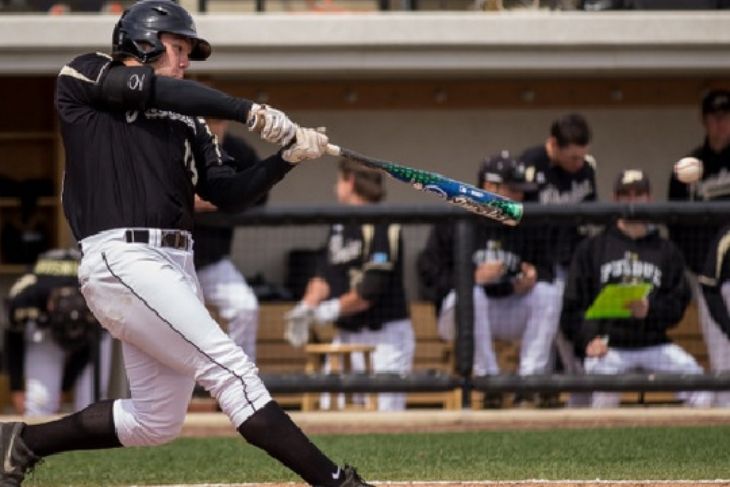 TAMPA, Fla. (CBC) – Big Ten Player of the Week honors have been announced by league officials, and Purdue University redshirt-junior two-way threat Kyle Wood (Orland Park, Ill./St. Laurence) is this week's honoree.
Wood posted a .818 batting average (9-for-11) by means of seven RBI, along with an .846 on-base percentage and a 1.455 slugging percentage during a three-game series at Oklahoma.
Wood, who led the team in 2014 with a .302 batting average, started the series with a three-hit outing, together with a home run and a three-run double, while recording four hits in the final contest with his second home run of the weekend, adding three runs scored.
This is his first career Big Ten Player of the Week award.
The last Purdue Big Ten Player of the Week went to Joe Haase on May 14, 2012.
Pitcher of the Week honors were bestowed upon the Fighting Illini's junior lefty Tyler Jay (Lemont, Ill./Lemont).
Jay hurled a combined 7.2 shutout frames versus Coastal Carolina and No. 10 Oklahoma State, logging the save against the Cowboys during the first match of the series and regestering the win in the last game versus Oklahoma State.
The talented star pitcher fanned eight hitters and gave up just three hits, together with maintaining a 0.00 ERA. He also has not permit a single earned run in 20.1 innings pitched this year.
This is Jay's first career Big Ten Pitcher of the Week honor.
The last Illinois Big Ten Pitcher of the Week was Rob McDonnell on Feb. 16, 2015.
Indiana's outfielder Logan Sowers (Lafayette, Ind./McCutcheon), and Michigan State's lefty Alex Troop (Batavia, Ill./Marmion Academy) split the rag garnering Co Freshman of the Week honors.
Sowers led Indiana to a 4-0 week, batting .467 (7-of-15) with a home run and five RBI, while Opening the Snowbird Baseball Classic with his first career home run versus Villanova, and scoring two runs.
The back-to-back Freshman of the Week recipient also registered multiple hits in two games, together with three hits and a stolen base in the victory over Dartmouth.
This is his second Big Ten Freshman of the Week award
The last Indiana Big Ten Freshman of the Week was Logan Sowers on March 3, 2015.
Troop commanded MSU to a 3-1 victory over UMBC, fanning three batters in 6.0 innings pitched, while not permitting a single run, and giving up only three hits and two base-on-balls.
This is his first Big Ten Freshman of the Week award.