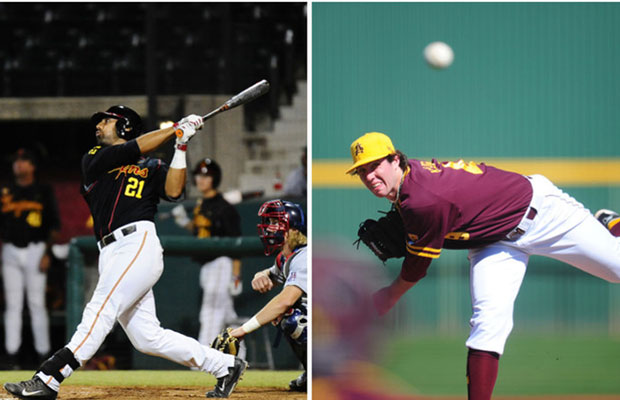 Rivalry weekend in the Pac-12 Conference over the weekend led to big games and even bigger performances from University of Southern California's senior first baseman Jake Hernandez and Arizona State University's sophomore pitcher Ryan Kellogg. This is the second consecutive week that a Trojan has been honored with a weekly award and the first time this season for the Sun Devils. USC has earned 57 all-time weekly selections while ASU has 63 overall. This is Hernandez's first career selection and the second in Kellogg's two-year college career.
Hernandez, from Rancho Cucamonga, Calif., led USC to a huge 4-0 week and extended the Trojans' win streak to nine games. The eight-game conference win streak has also propelled the Trojans into a third-place tie in the Pac-12 with Arizona State with 12-9 records. Hernandez hit 10-of-18 over the week including 7-of-13 against cross-town rival and defending national champion, UCLA.
Hernandez knocked in five RBI over the week and didn't strikeout in his 18 at-bats. He leads all Trojans in batting average with .367 and moved into third place in the conference behind Oregon State's Michael Conforto and Washington's Brian Wolfe. His 10 hits moved Hernandez into first place on the Trojans in slugging percentage (.414) and second in hits with 47, just three behind team leader Kevin Swick.
The Trojans host a hot UC Irvine team out of the Big West Conference on Tuesday before traveling to take on Washington State in Pullman. The 'Eaters have won three straight and seven of its last 10 are are ranked No. 20 in the latest poll released by Collegiate Baseball newspaper, the same poll ranks USC at No. 24.
Arizona State's sophomore stud had an epic performance against in-state rival on Saturday night hurling his second-career shutout and the first against Arizona, in Tucson, since May 11, 1972.  Kellogg is no stranger to big-game shutouts as he notched a no-hitter at No. 3 Oregon State last season as a freshman.
Kellogg (6-2) has won three straight games and has recorded three career starts without allowing a run. Shutting out Arizona is a huge accomplishment not only because it clinched the series and garnered a point in the all-sport Territorial Cup Series, but also since the Wildcats lead the Pac-12 in several offensive categories.
Arizona leads the conference in team batting average (.285), hits (415), triples (20), total bases (540) and 49 stolen bases. Individually, the top three hitters in the conference all hail from Arizona with Trent Gilbert and Zach Gibbons tied for first with 58 hits and Kevin Newman in second with 56.
Kellogg struck out a conference career-high eight batters on Saturday night and allowed only two walks over nine innings. Kellogg leads the Sun Devils with six victories in 11 starts and has issued the fewest walks among the starting rotation. He also places second on the team with 46 strikeouts.
Kellogg is now 17-3 in his short career and has four starts remaining in the 2014 regular season including at No. 16 Oklahoma State this weekend and hosting No. 10 Oregon the following weekend.
Arizona State hosts New Mexico State on Tuesday night before traveling to Stillwater, Okla., for a weekend set against the Cowboys. The teams met earlier in the season at the Sanderson Ford College Baseball Classic in Surprise, Ariz., with Arizona State winning 6-1 and Kellogg earning his first win of the season.