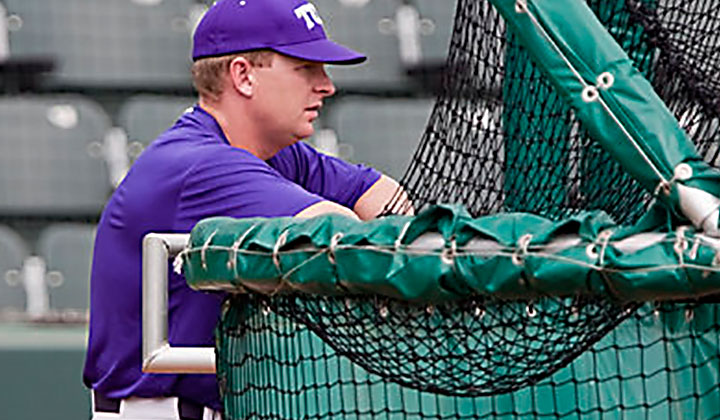 TCU is known for its strong ability to recruit premier young talent and this year's crop of recruits is no exception. The same can be said in regards to the Horned Frogs' signing of 11 commits (13 player commitments in total) on Wednesday, a talented group of prep players who will commence their senior years of high school this coming spring.
Among the commitments to TCU include the likes of Tyler Kolek, a Top-5 nationally ranked right-handed pitcher from Shepherd, Texas, and Justin Twine, one of the top middle-infield prospects in the country.
"I knew I would get a little attention, but I didn't think I would get this much," Kolek said. "My phone hasn't stopped ringing."
That attention followed Kolek through each of his appearances at summer showcases around the country this summer and will without a doubt follow him throughout his senior year and into draft season.
Kolek has a large, powerful frame (6-5, 250) and possesses solid athleticism, which has allowed him to become one of, if not the top flamethrowers in the country. Kolek has already garnered comparisons to Jonathan Gray (third-overall draft pick in 2013) due to his ability to consistently reach the upper-90s and even triple-digits on occasion, while maintaining that power within starts.
"He is a plus athlete for how big he is because he has control of his entire body, which is rare for a high school guy his size," a National League scout said.
While sitting in the mid to upper-90s, Kolek is able to effectively mix pitch speed with his changeup, fastball, and slider offerings, all of which he commands with ease.
A curveball offering accompanies his already diverse arsenal, a pitch which he is still developing and for which he is getting a solid feel.
"The curveball has good shape but is lacking power right now, which will come," an American League scout said. "The slider is the better pitch. I wouldn't have a hard time throwing a future 70 on the slider and a 60 on the curveball (on the 20-80 scouting scale)."
Throughout the summer months, Kolek was able to establish himself not only as the best high school arm, but perhaps also the best prep player in the country. Simply put, Kolek is the premier right-hander in the country.
However, the primary concern for TCU is whether he will ever step onto the field as a member of the Horned Frogs, given the fact that he projects to be a Top-5 draft pick in next year's MLB First-Year Player Draft.
Premier talent came in the form of not only Kolek, but another Texas prep star who has made headlines across the state for his dual sport athleticism.
Up until this year, Justin Twine excelled at both baseball and football in high school. Twine was a standout in football, becoming such a powerful force at running back that he garnered the attention of Division I programs, as Baylor displayed heavy interest in his talents.
However, Twine declined the offer from Baylor and has since declared his primary focus on baseball for his senior year, much to the elation of TCU and presumably professional scouts.
Twine has outstanding defensive instincts at shortstop, as he possesses strong hands, fluid footwork, and solid range. At the plate he wields a big bat, as he possesses good gap power due in part to outstanding bat speed and the ability to square up on the ball.
His advanced plate approach and strong bat, coupled with his high level of athleticism in the field may allow him to profile as a third baseman in college and further along at the professional level.
As is the case with Kolek, whether or not TCU will see Twine on the field is yet to be determined, as Twine is a sure bet to rise up most professional team's draft boards come this spring.
Whichever the case may be, the Horned Frogs will hope for the best as they continue on with normal baseball operations this fall, ultimately preparing for the season ahead and for a chance at their first College World Series appearance since 2010.