Fans were given a dose of drama as the Super Regionals drew to a close with Virginia, TCU and Ole Miss grabbing the final tickets to Omaha to round out the College World Series Field. Virginia defeated Maryland 11-2, TCU beat Pepperdine 6-5 and Ole Miss outlasted Louisiana 10-4 to clinch the finals bids, survive and advance.
Kenny Towns had another three hit day, this time driving in four RBI, to lead Virginia's Charlottesville Regional clinching 11-2 win over Maryland. The junior got the Cavaliers' offense kick-started as they scored six runs in the first three innings to build a 6-0 lead. Towns slapped a two-run triple to left in the first inning and then drove a two-run single to left in the second to help Virginia build an early lead.
Josh Sborz threw seven scoreless innings with nine strike outs in a solid outing coming through in a clutch moment to help the Cavaliers into the College World Series. Virginia will make its' third trip to Omaha and will open against Ole Miss.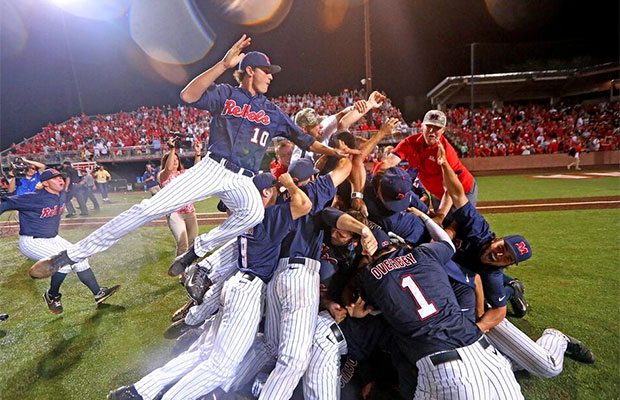 The Rebels dug deep in a challenging series against Louisiana and won a battle of pitching attrition as the difference in the game was bullpen depth as Ole Miss took a 10-4 win, scoring seven runs against eight Cajuns relievers. On the other side, Ole Miss got solid relief appearances out of Scott Weathersby and Josh Laxer who allowed only an unearned run over five and one-third innings pitched against the nation's top offense while allowing a hit and two walks with five strike outs.
The Rebels opened with a two-home run salvo in the fourth as Austin Anderson hit a two-run homer and Sikes Orvis followed with a solo shot. Braxton Lee became the offensive generator scoring a run in each the fifth and sixth and then drove in a run with a sac fly in the eighth as the Rebels built a 6-4 lead. Holt Perdzock broke things open in the ninth with a bases-loaded double, coupled with an error, that emptied the bases and extended the lead to 9-4. Ole Miss is headed to Omaha for the first time in 42 years and the fifth time overall.
The Horned Frogs received late-inning heroics as Dylan Fitzgerald hit a ninth-inning double that scored the game-tying run and moved the game-winning run only 90 feet away with no outs. Kyle Bacak would drive in Jerrick Suiter by laying down a suicide squeeze for the go-ahead run, which was his second RBI on the day. Kevin Cron hit a solo homer and an RBI double to lead the offense.
TCU allowed more than two runs in back-to-back games for the first time in two months but Riley Ferrell was solid, striking out the final batter with runners on the corners to clinch the win that sends the Horned Frogs to Omaha. TCU will face a familiar foe in its' second College World Series appearance in Big 12 rival Texas Tech.