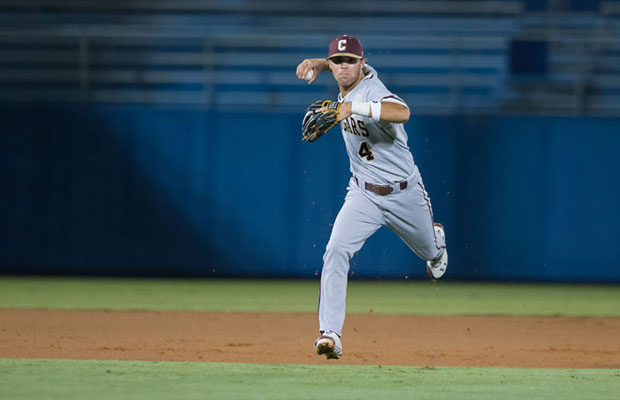 LUBBOCK, Texas – Texas Tech finished fourth in the Big 12 and battled its' way through to the NCAA Super Regionals and will have the unexpected opportunity to host against surprise opponent College of Charleston from the Colonial Athletic Conference. The Red Raiders are 31-4 at Rip Griffin Park this season but only 5-3 in the park against teams that qualified for the NCAA Tournament.
Texas Tech allowed four runs in the entire Coral Gables Regional beginning with a 3-2 win over Columbia then defeating host Miami 2-out-of-3 to capture the Regional crown. The Red Raiders shut out Miami twice in the three games en route to advancing to the Super Regionals. Dylan Dusek threw eight scoreless innings in the first win over the Hurricanes and Cameron Smith hurled a complete game shutout in the second win.
After finishing a half game behind William & Mary in the Colonial after dropping 2-of-3 to the Tribe down the stretch. The Cougars took the conference crown by winning two straight over William & Mary in the conference tournament.
College of Charleston enters the Super Regionals on a six-game winning streak having arrived on a similar path to the Red Raiders, riding solid pitching through the Gainesville Regional, which was one of the toughest Regional draws this season. College of Charleston threw three hurlers at the Gators in knocking of the Regional Host to start their run in Gainesville. Then Baily Ober and Tyler Thornton held Long Beach State in check in back-to-back outings with Thornton clinching the Regional Final with a complete game.
NCAA Super Regional Preview – Lubbock
Texas Tech (43-19)
Texas Tech got through the Big 12 averaging just over six runs a game behind the bats of Eric Gutierrez and Big 12 Newcomer of the Year Adam Kirsch. Gutierrez is hitting .312 with 46 runs scored, 58 RBI, 12 home runs, a .554 slugging percentage and a .409 on base percentage. Kirsch is not far behind Gutierrez' pace with a .300 average, 37 runs, 50 RBI, 10 homers, .557 slugging and .393 on base percentages.
Louisville Slugger Freshman All-American Stephen Smith adds the on-base, run-scorer to the lineup with a .420 on base percentage and 40 runs scored. Tyler Nelsony is a semifinalist for the Gregg Olson Breakout Player of the Year hitting .393 with 31 runs scored with a .614 slugging and .476 on base percentages in just 39 starts and 41 games total.
Another Louisville Slugger All-American Dylan Dusek (7-0, 2.08 ERA, 36 K, 13 BB, .238 OBA) is the No. 1 starter on the staff averaging five and one-third innings a start. Chris Sadberry (4-3, 3.49 ERA, 52 K, 23 BB, .273 OBA) is the teams' No. 2 and has been relatively solid on the year. The Red Raiders don't tend to rely on long starts but on the bullpen that is led by Jonny Drozd (7-0, 2.08 ERA, 3 SV, 46 K, 15 BB, .237 OBA) who has thrown 69 innings of relief which is nearly three innings an outing.
Because of this tendency Texas Tech has a more closer-by-committee approach to closing the game and often the starter will go five to six innings and a reliever will throw three to four innings. Cameron Smith (8-2, 2.86 ERA, 1 CG, 1 SV, 41 K, 28 BB, .209 OBA) has four starts and 19 relief appearances on the year but just threw a complete game shutout to close out the Coral Gables Regional which is the only Red Raiders' complete game on the season.
Dominic Moreno (4-5, 3.17 ERA, 2 SV, 56 K, 24 BB, .269) is a capable starter/reliever as well. Corey Taylor (5-3, 2.62 ERA, 2 SV, 32 K, 8 BB, .268 OBA) and Ryan Moseley (1-2, 3.32 ERA, 3 SV, 35 K, 22 BB, .209) are generally used for shorter relief outings but have long relief capability.
College of Charleston (44-17)
The Cougars are led by their pitching staff with a pair of 10 game winners, Louisville Slugger Freshman All-American Bailey Ober (10-2, 1.55 ERA, 2 CG, 81 K, 19 BB, .190 OBA) and Gregg Olson Breakout Player of the Year Semifinalist Taylor Clark (10-3, 2.62 ERA, 89 K, 30 BB, .218 OBA). College of Charleston has a staff ERA of 2.78. College of Charleston is solid in its' third starter Tyler Thornton (7-5, 3.03 ERA, 1 CG, 71 K, 17 BB, .222 OBA) who just fired a complete game to close out the Gainesville Regional.
Nathan Helvey (3-4, 3.78 ERA, 54 K, 19 BB, .287 OBA) has been good in both starting and relief roles and was used in relief in Gainesville. Chase Henry (2-0, 2.31 ERA, 2 SV, 51 K, 13 BB, .222 OBA), Eric Bauer (6-2, 2.09 ERA, 27 K, 8 BB, .238 OBA) and Hunter Rice (1-0, 4.15 ERA, 17 K, 14 BB, .269 OBA) work out of the pen with the goal of keeping the leads the starters usually hand them over to their closer Michael Hanzlik (2-1, 3.35 ERA, 16 SV, 37 K, 13 BB, .174 OBA) who can put the brakes on any comeback.
The issue for the Cougars has been getting enough offense which hasn't been a problem as they've won 40 games this season and are in the Super Regionals, but makes for a lot of close ball games. Gunnar Heidt is a solid all-around offensive player leading the team with a .335 average while scoring 39 runs and driving in 30 while sitting above .400 in on base and slugging percentages and leads the team with 15 steals, yet didn't play in the Gainesville Regional and missed a lot of games late in the season with an injury.
Without him the offense relies on pesky lead-off man Blake Butler who has scored 48 runs on the season. Brandon Murray and Nick Pappas provide the power in the lineup led by Murray's six homers and isolated slugging percentage of .221 with a raw slugging percentage at .496.
Saturday: 1:00 p.m. (ESPNU)
Sunday: 3:00 p.m. (ESPNU)
Monday: 1:00 p.m. (ESPN2) (if necessary)
My Pick:
I think Texas Tech will keep doing as they've done against tough competition at home this season and will win in three. The Cougars pitching staff is a match for any staff in the country at the top but my hunch is that the Red Raiders bats will find a way to pull this one out at home.