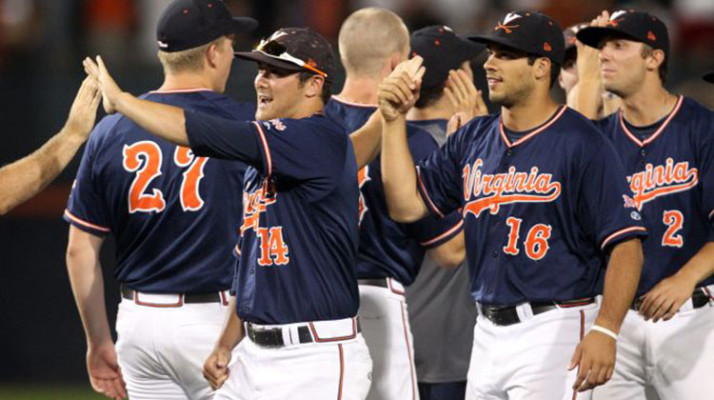 CHARLOTTESVILLE, Virginia- What we have in Charlottesville is a tale of two programs. In one corner, we have the Virginia Cavaliers. They have been one of the most consistent programs in major Division I college baseball under head coach Brian O'Connor.
They came into this season on the short list of favorites to win the national championship and they backed it up with their play during the season. Although they haven't been quite as dominating as some expected them to be, they spent a lot of time ranked number one in the nation and nothing has changed to make anyone think they are anything but the national title contender that they are.
Saying they cruised through their home regional last weekend would be a bit of an understatement. They opened with a 10-1 win over Bucknell, led by Artie Lewicki's seven shutout innings and three-hit days from Mike Papi and John LaPrise. The score was just 3-0 heading into the bottom of the sixth, but a seven-run inning for the Cavaliers blew it wide open.
On Saturday, they handled Arkansas by the score of 3-0. Although the scoreline would indicate that this was a close game, it was never in doubt. UVA was leading 3-0 after three and they never looked back. Starter Nathan Kirby threw eight shutout innings, giving up just one hit and Nick Howard came in to shut the door in the ninth.
On Sunday, the Cavaliers advanced to the super regionals with another convincing win over Arkansas, this time by a 9-2 score. John LaPrise had another three-hit game and Derek Fisher drove in four runs.
In the other corner, we have the Maryland Terrapins. Coming into this season, the Terps hadn't been to the postseason since 1971. And unlike the Cavaliers, most didn't think much of John Szefc's bunch at the start of 2014. Truthfully, most still didn't think much of their team halfway through conference play, either. But Maryland got hot at the right time to end the regular season, made a nice run to the finals in the ACC Tournament, and found themselves in the regionals as a two seed in Columbia, South Carolina.
All they did when they got there is go 3-0, including two wins over the host Gamecocks.
Their regional appearance did get off to a rough start, though. In their opener, they trailed Old Dominion 3-0 heading to the bottom of the eighth inning and 3-1 heading into the bottom of the ninth. But they rallied for three runs in the ninth, the last two scoring on bases-loaded hit by pitches, to walk off with the win.
From there, they beat South Carolina on Saturday night 4-3. They scored four runs off of Gamecocks starter Jack Wynkoop to chase him early, and their own Mike Shawaryn threw 6.1 innings, giving up 3 runs. Bobby Ruse and Kevin Mooney combined to throw the final 2.2 innings to finish off the win.
On Sunday, they beat South Carolina in much more convincing fashion, 10-1. The Terps scored five runs off of staring pitcher Joel Seddon, South Carolina's usual closer, and that was enough, although they added insurance later. All but one Maryland starter had at least one hit and Charlie White led the way with three.
NCAA Super Regional Preview – Charlottesville
Virginia Cavaliers (47-13)
Coming into the season, there was talk that Virginia could have one of the better offenses we've seen in this BBCOR era of college baseball. They ended up having a pretty solid offense, but it was the pitching that carried the load for the Cavaliers.
Nathan Kirby has been everything they could have ever expected in a staff ace. Coming into this super regional, he is 9-1 with a 1.36 ERA. In 99.1 innings, he has struck out 102 and walked just 24. Opposing batters are hitting just .170 against him. Brandon Waddell (8-3, 2.73), Artie Lewicki (6-1, 1.72), and Josh Sborz (4-4, 3.38) give them great depth in the rotation.
In the bullpen, Whit Mayberry and Nick Howard have both been close to unhittable. In 46.2 innings, Mayberry has a 1.74 ERA and a .178 batting average against him. Howard has a 2.15 ERA and 18 saves.
That's not to say that they don't do anything offensively. With a .303 average, 6 homers, 45 RBI, and 11 steals, Joe McCarthy is a do-it-all player in their lineup. Mike Papi provides much of their power. He has 11 home runs and 51 RBI on the season.
Maryland Terrapins (39-21)
The secret to Maryland's success this season isn't much of a secret. It's pitching, pitching, and more pitching.
Jake Stinnett might be the most dominating pitcher you haven't heard much about. He sports a 7-6 record with a 2.65 ERA, but that's not what's impressive. What's impressive is that in 112 innings, he has struck out 130, walked just 27, and batters are hitting just .192 off of him. Behind him, Jake Drossner (4-1, 2.45) and Mike Shawaryn (11-3, 2.81) give the Terps two other solid starting options.
Once they turn things over to the bullpen, they lean heavily on Bobby Ruse. In 60 innings spread over 29 appearances, Ruse has a 2.70 ERA and a .210 batting average against him. Their primary closer is Kevin Mooney, who has 45 strikeouts in 33.1 innings and 12 saves.
On offense, you don't expect them to blow anyone out, but they do have some nice pieces. Brandon Lowe leads the team with a .339 batting average, .462 on-base percentage, and three triples. He is second on the team with 39 RBI. They don't feature a ton of pop in their lineup, but Jose Cuas gives them some. He leads the team with five home runs and 42 RBI.
If we've learned anything about this Maryland squad during their postseason run it's that they punch above their weight and fight for everything. Even if they can't overcome the Cavaliers, it won't be easy for the favorite.
Charlottesville Super Regional Schedule
Game 1: 12:00 p.m. (ESPN2)
Game 2: 12:00 p.m. (ESPN2)
Game 3: 4:00 p.m. (ESPN2)