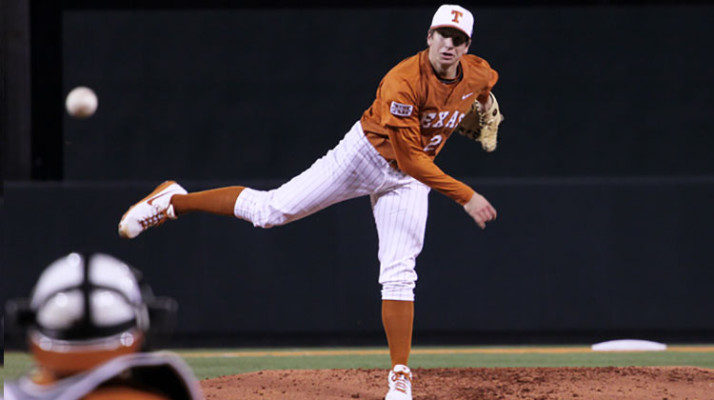 AUSTIN, Texas – When was the last time the Texas Longhorns hosted a Super Regional after advancing through a regional they had not hosted? The answer to that question will take you back 14 years to the first year of the millennium, as the Longhorns upended Arizona State in the Tempe Regional to become the host of the Austin Super Regional. Texas would go on to sweep Penn State in two games and make their 28th trip to Omaha, but the Longhorns never made it out of the first round, dropping two straight to Louisiana State and Florida State.
Six College World Series appearances, two national championships, and a pair of runner-up showings later, the Longhorns are set to host their first Super Regional since 2011 against an ever-hungry Houston club that hasn't had a taste of Super Regional play since 2003 and has yet to return to Omaha since the Johnson Administration in 1967. Despite the appetite of the Cougars, the Longhorns have much to desire in their own right, particularly in the wake of back-to-back mediocre seasons that saw them miss the NCAA Tournament and turn in an aggregate 57-46 record, arguably one of their worst two-year stints in recent memory.
This season the Longhorns have improved in almost all aspects of their game and as such own a solid 41-19 record heading into their matchup against Houston. But the road leading up to the NCAA Tournament had its fair share of bumps along the way, particularly throughout the last month of the regular season.
After sweeping weekend series' against Baylor and Oklahoma in early April, Texas responded by dropping three straight weekend sets before taking two of three from a diminished Kansas State club prior to the Big 12 Tournament. The Longhorns started the tournament with a pair of rather easy victories against Texas Tech and Oklahoma State, but the Cowboys responded with two straight against Austin's finest to finish runner-up to Texas Christian in the tournament finals.
The Longhorns took the No. 2 seed for the Houston Regional and went straight to work in avenging their late-season inconsistencies, taking their regional opener against Texas A&M by a score of 8-1 behind seven strong innings from starter Nathan Thornhill. Parker French went toe to toe with Rice starter Blake Fox in Saturday's winner's bracket contest that was pushed into extras, only to be settled on Brooks Marlow's go-ahead RBI single in the top of the 11th to seal Texas' 3-2 victory. The Aggies' Tyler Stubblefield held the Longhorns at bay in a 3-2 win for Texas A&M on Sunday, but the Longhorns fired back on Monday to grab the Houston Regional behind a dazzling outing from Chad Hollingsworth.
As for Houston, the Cougars turned in a highly successful season after joining the American Athletic Conference (AAC) for its inaugural season. Heading into the American Tournament, the Cougars were riding a stretch having won seven of eight games, turning that momentum into a 3-1 showing at the tournament and a tournament championship over Louisville.
Narrowly missing out on the chance to host their own regional, Houston advanced to the Baton Rouge Regional as one of the stronger No. 2 seeds in the country. The Cougars proceeded to open regional play against NEC Tournament champion Bryant, a 10-inning affair that saw a thin Cougars offense pull out the 3-2 walk-off victory. Houston's offense failed to get going on Saturday against Aaron Nola, as Louisiana State took the 5-1 victory, but the Cougars bounced back against Southeastern Louisiana with a 9-5 victory to stay alive. Houston took it to the Tigers in the regional final on Sunday, winning 5-4 in extras to force a second game on Monday, which they won in dominant fashion – a 12-2 rout behind an impressive relief performance from Jared Robinson.
Both Texas-based schools are intent upon a successful showing in Super Regional play, and for good reason, as both are in the process of overcoming their own respective droughts and past performance to punch their ticket to Omaha. In chronicling the journey that each team has experienced up to this point in the NCAA Tournament, we should have a feel of what to expect from each team, which is detailed in the below brief assessments of what both teams bring to the table at this point in the postseason.
NCAA Super Regional Preview – Austin
Texas (41-19)
As mentioned earlier, this year's ball club has improved in almost all aspects of their game as compared to each of the two previous seasons that fielded teams that were far cries from the preeminent status the Longhorns had perennially held with a firm grip. Key returners, one of the stronger recruiting classes, renewed confidence, and a successful display of what has been hailed as "Augie ball," or small-ball, have all served as prime variables in this club's success in 2014.
Senior outfielder Mark Payton was selected in the 16th round (471 overall) in last year's MLB Draft, but decided to stay and help jump start this program, and has been a key catalyst all season, boasting a .318/.460/.447 batting slash and has reached base safely in 99 consecutive games. The Longhorns are by no means flashy on offense, as not a single player has driven in over 40 runs and only one (Ben Johnson, 43) has scored over 40 runs, but they do in fact lead the nation with 94 sacrifices and have stolen 72 bags, demonstrating their ability to get on base and effectively employ small-ball play.
On the mound, Texas is sitting rather pretty with a strong one-two tandem of Nathan Thornhill and Parker French at the front of the rotation and with Dillon Peters' absence from the postseason, the recent success of Chad Hollingsworth's move from the bullpen to the rotation should sustain the Longhorns the rest of the way.
It can be argued that having a pair of right-handers at the top of the rotation may be dangerous against a Houston lineup that has been rather strong against right-handers this season, but having Hollingsworth in the picture along with a bullpen that is strong at long-relief should relieve some pressure. Speaking of that bullpen, in 9.0 innings of work over four regional games, they surrendered just one earned run, the majority of which was comprised of long-relief stints from Travis Duke and John Curtiss. Both Thornhill and Hollingsworth worked complete-games, giving the bullpen limited action across regional play, relieving pressure off a relief core that is already rather stout.
Houston (48-16)
Much like their in-state rival, Houston has utilized more of a small-ball approach, as their offense does all of the right things at the plate. They are a patient bunch that knows how to work counts, ranking among the top ten programs in the nation in walks (288), and while they may not flash the big bats, they sure know how to hit – while only one player has driven in more than 40, three have scored more than 40 runs and70 hits, and four have double-digit stolen base totals.
Casey Grayson has stepped up as the leader on offense, leading the team in long balls, RBI, walks, and batting, while both Frankie Ratcliff and Kyle Survance are a pair of aggressive hitters who have combined to steal 48 bags, as Survance can flash pop and knows how to drive the gap with the best of them. The Houston offense looked suspect in their first two regional games before turning things around against Southeastern Louisiana and Louisiana State – as such, the Cougars must come out of the gates swinging against a talented Texas pitching staff.
On the mound, the Cougars have been one of the premier teams in the country, boasting top five ranked team-ERA and WHIP. At the front of the rotation is a pair of talented right-handers in Jake Lemoine and Aaron Garza, both of who are workhorses and boast a diverse pitch arsenal.
However, both were a little off in their respective regional starts, leaving a decent amount of the spotlight to be placed upon a bullpen that proved to be the lockdown factor in their ability to capture the Baton Rouge Regional. Jared Robinson worked 13.0 innings of relief and surrendered just a single run, while Chase Wellbrock turned in 5.1 innings of his own, including a key performance on Sunday to force a Monday final against the Tigers.
The bullpen has been heavily leaned upon, as the rotation must bounce back against a crafty Longhorns lineup that knows how to get on base and make you pay for mistakes.
Austin Super Regional Schedule
Game 1: 3:00 p.m. (ESPN2)
Game 2: 1:00 p.m. (ESPN2)
Game 3: 1:00 p.m. (ESPN) (if necessary)