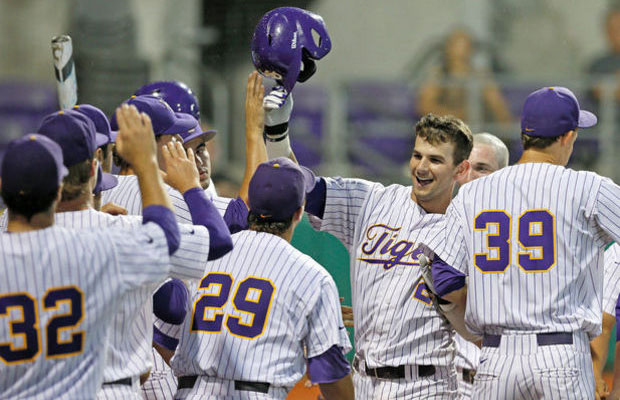 The race for National Seeds is heating up and No. 9 Louisiana State is crashing the party having won seven consecutive games while outscoring opponents 85-8 which includes a 3-0 mark in the Southeastern Conference Tournament outscoring its' opponents 29-4. LSU beat No. 18 Vanderbilt 11-1 before defeating Arkansas twice, 7-2 and 11-1 and will play No. 14 Florida for the SEC Title.
Not long ago speculation was whether the Tigers would be able to do enough to be a Regional Host with a potential visit to No. 1 Louisiana Lafayette in a Super Regional. LSU seems to have wanted nothing to do with that scenario and have played their best baseball of the year the last couple of weeks.
LSU could still fall back into a regional host if they lose the title game depending on what happens with teams like No. 17 Rice, No. 13 Houston, No. 19 Texas Christian and No. 7 Oklahoma State. I fully expect the Tigers, with an RPI at 9, to grab a National Seed if they beat Florida (RPI 1) on Sunday.
I also expect that the winner of today's Big 12 Championship between TCU and Oklahoma State is a strong candidate for the other National Seed. The Horned Frogs are the better fit with an RPI of 12 but the Cowboys make a strong argument not so much from their RPI of 18 but instead their regular season Big 12 title and post-season conference crown with a Sunday win.
The top six National Seeds appear to be wrapped up with Florida, Oregon State, Virginia, Indiana, Florida State and Louisiana Lafayette holding those spots. The Cajuns appear to be in the weakest position but will play for the Sun Belt Title on the heels of a nine-game winning streak with a 52-7 overall record and a 22-2 road mark and will be a hard team to deny even if they falter in the Title game.
Rice has an RPI of 9 and coming out of Conference USA with another title helps but I just don't feel they've got enough resume to get a National Seed when compared to other teams in the race. Houston is in the same boat with an RPI of 11 and an opportunity to beat Louisville who has a 19 RPI in the American Athletic Conference Championship that can improve their resume in the hopes of LSU losing to Florida and TCU losing to Oklahoma State.
Regional Hosts as of today would be the eight National Seeds (Florida, Oregon State, Virginia, Indiana, Florida State, Louisiana Lafayette, LSU and TCU) plus Vanderbilt, Rice, Texas, Houston, Ole Miss, Miami, Cal Poly, Washington. I put Washington in because looking back the NCAA Regionals have gone with three western Regionals every year that I can find. If the Selection Committee bucks the trend I believe the last host would be Oklahoma State.
However, these scenarios are all so fluid at this point until the last games are completed today. I want to congratulate yesterday's automatic bid winners. George Mason (Atlantic Sun), College of Charleston (Colonial), Youngstown State (Horizon), Dallas Baptist (Missouri Valley), Bryant (Northeastern), Oregon State (Pacific 12), Southeastern Louisiana (Southland), North Dakota State (Summit), and Pepperdine (West Coast).
These join Cal Poly (Big West), Columbia (Ivy), Bethune-Cookman (Mid-Eastern), Bucknell (Patriot), and Jacksonville State (Southwestern Athletic) who have punched their tickets to the NCAA Regionals.
Dallas Baptist and Pepperdine would both have made the NCAA Regionals anyway but their wins open up at large spots whereas Sam Houston State will have an at large but their loss in the Southland Tournament turns it from a one to a two bid league taking an at large spot away. Liberty's loss in the Big South Tournament takes another at large bid in the same manner as SHSU's.
Rice, San Diego State and Louisiana Lafayette all face opponents that must win to get in the Regionals so their match-ups will be closely watched for teams on the bubble. However, San Diego State may not be in the Regionals with a loss because they would effectively be a team on the bubble trying to play their way in.