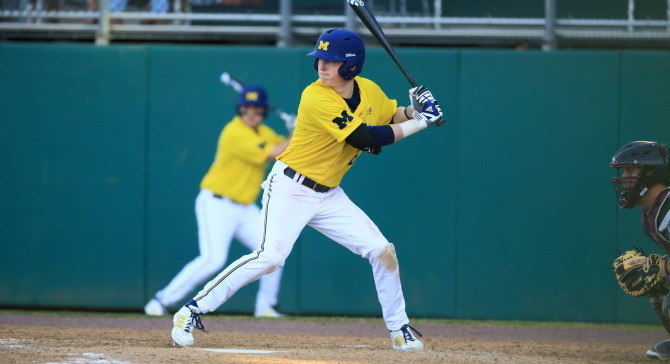 CHARLESTON, S.C. — The College of Charleston Tournament was witness to a comeback win by the University of Michigan Wolverines baseball team Sunday morning (March 16) at Patriots Point. Michigan plated two runs in the bottom of the seventh frame to defeat Kent State 3-2 on the last day of the prestigious tournament.
The young guys were an intricate part of the Wolverines success – and early – as Michigan drew first blood in the bottom of the second frame. Freshman Jackson Lamb smacked a base hit through the left gap, then stole second, and rambled to third on freshman Ramsey Romano's groundout, to eventually score, thanks to freshman Harrison Wenson's sacrifice fly to left.
Ben Ballantine, a fifth-year senior pitched a gem only permitting one hit through six innings, but then again gave up two runs in the seventh on RBI hits from Zarley Zalewski and TJ Sutton. In the bottom of the seventh however, Michigan countered with a pair of RBIs of their own. Romano led off the frame with a base hit. Then a well-placed bunt by Wenson caused Kent State's Brian Clark to make an errant throw to second base. Sophomore Travis Maezes knotted the game at two with his knock that brought Romano to the plate.
The winning run crossed home plate when Sophomore Jacob Cronenworth scored freshman pinch runner Johnny Slater with a sacrifice fly to right.
This was the second win of the year for Ballantine, who struck out six, while giving up four hits and two runs, during seven innings of crafty pitching. Cronenworth converted his fourth save of the young season, striking out two and getting two important batters to groundout after opening up the ninth inning with a double.
Michigan's offensive leader was Maezes, who racked up two hits and tied Wenson and Cronenworth with runs batted in.
Michigan starts Big Ten competition this Friday (March 21) at Indiana. First pitch at Bart Kauffman Field in Bloomington, Ind., is scheduled for 4:05 p.m.