HOUSTON, TX- The Houston Cougars came into Friday night's series opener against South Florida in desperate need of a win. After a sweep at the hands of Connecticut last weekend, they found themselves at 67 in the RPI and sitting at 3-6 in the league play.
And on Friday night, they got one in the form a 5-1 win over the Bulls. Sure, a series-opening win over a USF team ranked 187 in the RPI and now 3-7 in conference play isn't a cure-all or a sure-fire sign that a corner has been turned, but it sure looked like a step in the right direction.
Andrew Lantrip was his usual self, taking advantage of a strikeout-prone USF lineup that featured seven freshman on this night. He threw eight-plus innings, giving up six hits and one unearned run with no walks and nine strikeouts.
Offensively, the Cougars got to Phoenix Sanders early and often, chasing him after 5.1 innings of work, having collected five runs (four earned) on 11 hits. The top three hitters in the UH lineup, Connor Wong, Michael Pyeatt, and Joe Davis, did much of the damage, as they had eight hits combined.
For a group with a .262 team batting average (after Friday's game), that type of production had to be a sight for sore eyes.
Houston knows what they are going to get from Andrew Lantrip every Friday night and from Seth Romero every Saturday. For that matter, freshman Mitch Ullom has been very good on Sundays as well. If they can get quality offensive production like they got on Friday night, combined with that type of starting rotation, the Cougars can be very dangerous in a regional. They just have to make sure they get there first.
Rebuilt Pitching Staff Leads Young Bulls
It's tough to overstate just how young USF is this season. The Bulls are so young (say it with me…how young are they?) that it would be more appropriate if they were called the USF Calves.
On Friday night, the Bulls featured almost exclusively players who are new to their program, and that's not really out of the ordinary for this group this season. Not surprisingly, the steep learning curve as those players adjust to Division I baseball has created some bumps in the road.
"Regardless of who we put on the field, we expect to win that day, so that will never change," said USF head coach Mark Kingston. "That being said, when you have 11 new players to your program playing on a given night like tonight, you have to understand there are going to be some growing pains. We're going through some growing paints right now, but we're going to continue to build the culture of our program and make sure that guys are learning what it takes to be successful at this level."
In particular, the USF offense (which, it bears repeating, featured seven freshmen on Friday night) has had it's share of ups and downs.
"We have a young offense that needs to learn how to score runs, and that's going to come through more consistent quality at-bats against really tough pitching," Kingston said.
You really have to give credit, however, to the Bulls' pitching staff. Perhaps that unit isn't as young in a traditional sense as the offense is, but it was also a group that underwent quite a makeover in the offseason.
Staff ace Jimmy Herget, reliable starter Casey Mulholland, and closer Tommy Peterson all departed after the 2015 season, and Ryan Valdes, who was 5-4 with a 3.47 ERA last year, has been limited to just one appearance on the season, he being just one of several pitchers expected to be big contributors who have not been able to take the mound much this season.
And yet, with a 3.69 team ERA and a .240 opponent batting average, USF is fielding quite the effective staff.
"Our pitching has given us a chance to win on most nights," Kingston said. "That's been the least of our worries. Despite all of the injuries we've had, pitching has been the least of our worries for most of the season."
For Kingston, much of that credit has to be given to pitching coach Billy Mohl.
"Billy and I have been together since 2002," he said. "I trust him as much as anybody I've ever been with. He does a tremendous job. He will always get the most out of every pitcher he has."
It requires nothing further than comparing last year's stat sheet to this year's to see that his last point is absolutely true.
Last season, Tommy Eveld was a reliever with some command issues. He walked 21 batters in 28 innings of work, which was a big reason his ERA was 6.11 when it was all said and done. This season, Eveld has a 1.65 ERA and a 42/12 strikeout-to-walk ratio in 32.2 innings.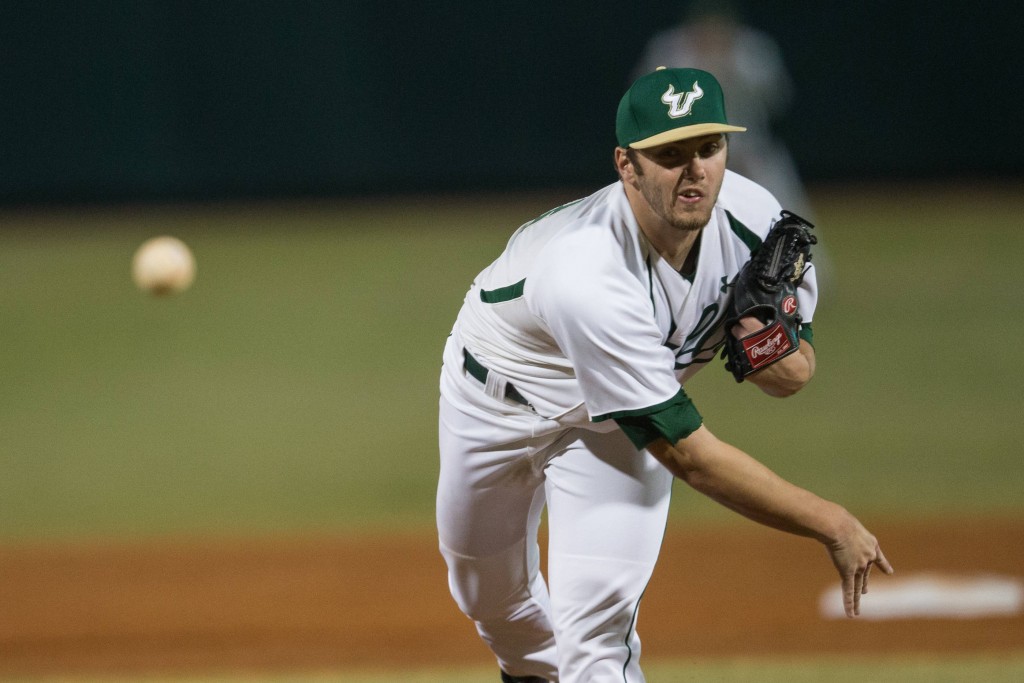 Then there's the case of Brandon Lawson. Last season, he appeared in 15 games, with seven of those being starts. In 45.1 innings, he had a 6.35 ERA, which was due in large part to his penchant for surrendering extra-base hits, 21 of them in total. This season, with eight of his nine appearances coming as a starter, he has a 2.25 ERA, a 73/18 strikeout-to-walk ratio in 60 innings, and a .213 opponent batting average. He has already thrown nearly 15 innings more this season than he did all of last season, and yet, he has only given up 13 extra-base hits.
Joe Cavallaro is yet another example. Last year, he held down a role as a swingman for the Bulls, putting up solid numbers- a 4.12 ERA and a .230 opponent batting average in 54.2 innings. This year, though, he's taken a step forward, sporting a 2.89 ERA and a minuscule .185 opponent batting average as a full-time starter.
The future is very bright for this USF program. That everyday lineup is not going to be young forever, after all. But even right now, with the type of pitching that Kingston, Mohl, and the rest of the staff are getting, if they can get their offense rolling, they're  already dangerous.