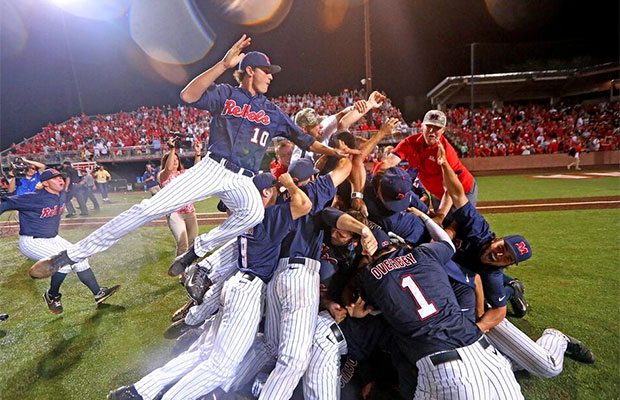 LAFAYETTE, La. – Ole Miss ended its' 40-plus year drought without a College World Series appearance with a 10-4 win over Louisiana in the Lafayette Super Regional to clinch a trip to Omaha. Austin Anderson and Sikes Orvis each homered in the in the fourth to take the lead and then the Rebels' offense continued to dig into the shallow Cajuns' pen for seven runs scored against eight relievers to win a war of attrition.
Louisiana would strike first as senior Rylan Leonards led off the third with a double and would later score on a sac fly by Tyler Girouard for a 1-0 lead. However, Cajuns' starter Cody Boutte would run into a wall in the fourth inning that began with a hard hit double to deep center by Auston Bousfield.
Before the Ragin' Cajuns could bat an eye the southpaw had given up a two-run homer to Anderson and a solo shot to Orvis as Ole Miss took a 3-1 lead. Boutte would surrender a single and a walk before getting out of the inning on an Errol Robinson pop out.
Louisiana would respond offensively as they had all season as Chase Compton scored on a Michael Strentz groundout after getting hit by a pitch and advancing to third on Dylan Butler's double. Butler would score on Leonards' second double of the game to knot things up at three apiece.
Then the Rebels took their turn at scoring in multiple ways as Braxton Lee scored on a passed ball in the fifth to retake the Rebels' lead and then scored again in the sixth on a double to the corner in left by Bousfield to extend Ole Miss lead to 5-3.
Louisiana would get a run back and nearly tie the game in the seventh as Seth Harrison blasted  a double to left with Girouard on second and Adams on first. Girouard scored easily on the double but Adams was thrown out at home trying to score on an excellent relay throw from Robinson to end the inning with the Cajuns down 5-4.
Lee would strike again in the eighth with a sac fly that scored J.B. Woodman to push the lead back to two runs. The Ragin' Cajuns pitching would finally run out in the ninth as Louisiana relievers loaded the bases on a hit batsman, a single and a walk when Holt Perdzock drove a base-clearing double deep into the gap in right and would move to third on an error by Butler.
Perdzock would score on a sac fly by Woodman to make the score 10-4. Josh Laxer came back out for his third full inning of work and retired the Cajuns in order to seal the victory for the Rebels and end Louisiana's amazing run two wins shy of 60.