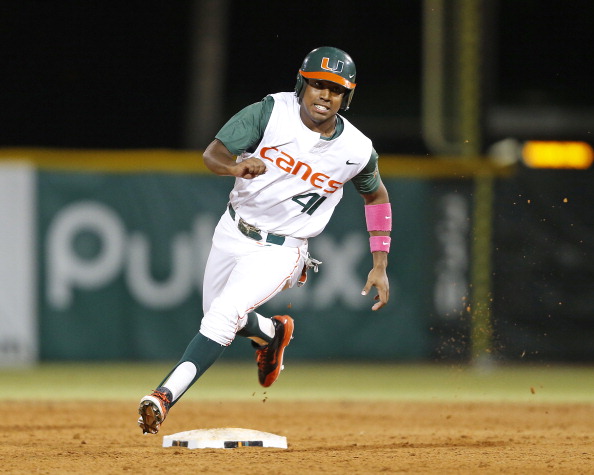 After the first game of the double header didn't go their way, you had to wonder what the mindset of the Miami Hurricanes was going to be in the second game.
Turns it, it was to hit, hit and then hit some more. The Hurricanes picked up where they left off, jumping out ahead by lighting up the Louisville Cardinal's starting pitcher – chasing Anthony Kidston after just 4+ innings.
Another late-inning rally by the Cardinals, which included a four-run sixth inning that saw the home team bat around and bring the tying run to the plate wasn't enough to dig themselves out of the early hole.
The bottom of the order for the Hurricanes came alive after being mostly a pushover in the first game, with all three of the 7-through-9 hitters scoring a run – Garrett Kennedy scoring twice. Brandon Lopez had one of the costly throwing errors in game one but redeemed himself by driving in three runs for the Hurricanes by ways of two separate doubles.
Enrique Sosa pitched well out of the gate only to see him lose control of his fastball, putting the Cardinals in position to make a comeback.
Cooper Hammond and Bryan Garcia came in and closed the door for the Hurricanes after Sosa and two other relievers were unable to get out of trouble. Garcia, who saved 15 games last season, picked up his fourth save of the season with two perfect innings.
A costly error that allowed the Cardinals to take lead may overshadow his weekend, but George Iskerderian has had himself a weekend. After collecting three hits in the first game, the junior added three more and scored another two runs.
He also made a few great plays in the field to redeem himself for the game one mishap. With two outs in the bottom of the sixth, Iskerderian picked up a grounder from Corey Ray that shortstop Lopez looked ready to play and fired it to first for the out.
A closer look at the play showed that Ray was likely safe but with no instant review, the play went in the favor of the Hurricanes and they never looked back.
The Hurricanes and Cardinals will play game three on Sunday, with the winner taking the series overall. For Louisville, a win would be their first series win in the ACC and for the Hurricanes it would be a great finish to a series after they threw away the opener.