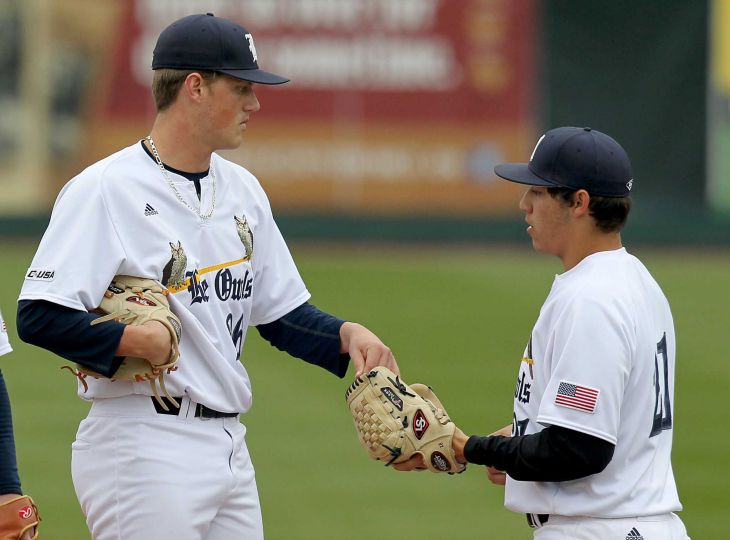 Interestingly, neither Florida Atlantic nor Rice currently sit in first place in Conference USA. That distinction goes to the Blue Raiders of Middle Tennessee State, who lead both teams by one game in the standings. In spite of that, though, most would agree that FAU and Rice are the two best teams in the league. This weekend in Boca Raton, these two different brands of Owls will take the field in what could turn out to be the deciding series in Conference USA.
Each season is a unique event, of course, but it's hard not to think of Rice as something of the incumbent in Conference USA. After all, they've largely dominated the league ever since moving to the conference after their reign of terror in the WAC came to an end in 2005.
But it hasn't been smooth sailing for these Owls all season. They began their campaign with hard-fought four-game splits against Texas and Stanford sandwiched around a series win on the road against Arizona. At the time, they were lauded for weathering a difficult schedule. While those performances still aren't anything to sneeze at, necessarily, they aren't nearly as impressive as they were at the time, as all three of those teams have since fallen on hard times. They've also suffered disappointing series losses in conference play to Old Dominion and UAB.
And yet, you look up now and Rice is 30-16 overall, 17-7 in league play, and looks the part of the Conference USA favorite once again.
After moving some pieces around early in the season, the Rice pitching staff is beginning to really round into form.
After missing early action while recovering from injury, and then being worked back up to strength through the bullpen, Jordan Stephens (5-3, 3.46) is starting to look like his old self. In his most recent start against Western Kentucky, he gave up one earned run and struck out seven in five innings of work. With 52 strikeouts in 39 innings this season, he clearly isn't lacking for stuff.
Blake Fox (6-2, 3.82), a starter with a sub-2.00 ERA last season, has hit his stride of late, and Kevin McCanna (5-3, 3.39) has been the team's most consistent weekend starter this season. In the bullpen, Austin Solecitto (1.80) has emerged as an effective matchup lefty, Glenn Otto (1.93) has shown plus stuff and composure beyond his years as a freshman, swingman Austin Orewiler (2.25) has been a Swiss army knife-type of pitcher who can do a little bit of everything, and Matt Ditman (2.82, 7 SV) brings a ton of experience to the closer's role.
Offensively, they don't really jump off the page at you, but as shown by their .306 team batting average, they feature a deep lineup full of quality college hitters.
John Clay Reeves (.340/7/48) makes them go, but he has been far from alone in the Rice lineup. Kirby Taylor (.361), Charlie Warren (.338), and Ford Stainback (.337) have also had outstanding seasons. Ryan Chandler (.301) cooled a little bit after a scalding hot start to the season, but he has been a revelation as a spark plug at the top of the order.
The offense has been good enough that they don't really need anyone else to get going, but it would be a huge boost if veteran Leon Byrd (.249) could get things rolling at the plate. In the preseason, he was pegged as a potential breakout candidate, but it's been a trying season for him thus far. Strikeouts, in particular, have been an issue for him. His 41 total strikeouts are nine more than anyone else on the team.
Rice isn't going to blow you out with home runs, as Reeves has half of the team's 14 total round-trippers, but with the line drive machines they have up and down the order, they can certainly beat you by putting a ton of baserunners on and getting them in.
Perhaps the most frightening thing for the opposition is that Rice's finals are over. Historically, Rice teams under Wayne Graham have come on strong late in the season, once finals are in their rear-view mirror. With that being the case now, don't be shocked if these Owls sprint to the finish.
The Florida Atlantic Owls got off to a quick start this season and they really haven't looked back on their way to a 36-11 overall record and 17-7 mark in league play. Their one slip-up this season was a series loss to Middle Tennessee State, a series that has helped propel MTSU to the top of the standings.
Offensively, their .310 average is just a bit higher than Rice's, but they also feature more power. Leading the way is the dynamic Brandon Sanger. He has a slash line of .374/.489/.583 to go along with 17 doubles, six home runs, 42 RBI, and 21/44 strikeout-to-walk ratio. Around him, C.J. Chatham (.348/2/39), Ricky Santiago (.335/6/38), Esteban Puerta (.322/4/29), Stephen Kerr (.318, 13 SB), Roman Collins (.305/6/47), and Christian Dicks (.287/7/35) have provided him with ample support.
On the mound, FAU has gotten pretty good, if not overpowering, starting pitching from Kyle Miller (5-2, 3.97) and Brandon Rhodes (3-0, 2.92). This weekend, however, they will be joined by the returning Drew Jackson (5-1, 2.03), who hasn't started a game since the Florida International series April 10-12. It remains to be seen if Jackson will be able to go right back to being himself, but in any event, that's a huge pick-me-up for FAU. With a .196 batting average against him, he was far and away FAU's toughest starting pitcher prior to missing the better part of the last month.
One potential X-factor in the series is defense. Neither team has been particularly clean this season fielding the ball, as evidenced by fielding percentages of .964 (Rice) and .961 (FAU). Those figures put both teams outside the top 175 in the nation.
The series taking place in Boca Raton is an advantage for FAU, but it's so tough to bet against Rice in this league. Until proven otherwise, they have to be considered the favorites to make a late run and win Conference USA, and more to the point, they have to be favorites to take this All-Owls showdown.