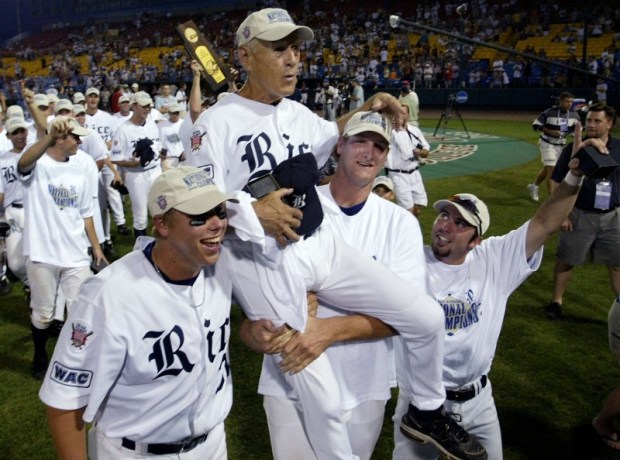 As a writer, I try to keep myself out of the pieces I write. After all, the story is about the players and the teams, not myself. This, however, will not be one of those times. But hey, it's the offseason and this topic has been bouncing around in my head for the last several days, so cut me some slack.
For some reason, I've spent a lot of time lately thinking about the college baseball teams that shaped me as a fan and the ones that have stuck with me several years later. Some of these teams are here because they were in the right place at the right time i.e. they were prominent during my formative years as a college baseball fan. In the case of other teams on list, I just happened to gravitate to certain players on the roster or certain storylines surrounding the team at that time.
What all of these teams have in common, though, is that they are collectively what keeps me so enthralled by college baseball. Every year, I come into the season hoping for teams that I will look back on and remember years from now.
Note that I have only been following college baseball like I do now since 2003, so my list is going to exclusively feature teams from that point on. My apologies in advance for not being older.
Without further ado, here are my favorite college baseball teams of all time.
2003 Rice Owls
For me, this was the team that started it all. I had first started to casually follow college baseball at the end of the previous season when Rice made it to the College World Series. With quite a bit of talent returning in 2003, they were intriguing to me. You also can't downplay how integral a factor it was that the Astros weren't very good in 2002 and 2003. I had been following the Astros closely for several years prior during my formative years as a sports fan, but with the team kind of floundering around, I needed a late-spring and early-summer diversion.
I knew the team was going to be a lot of fun to follow and I knew they would be pretty good, but I had no idea at the time that I would be following an eventual national champion. And I certainly didn't have any idea that following this team would kick start my love affair with the college game.
Beyond being talented, the team was just a lot of fun. They were led by a sparkplug table-setter in center fielder Chris Kolkhorst whose primary goal on the field appeared to be getting his jersey as dirty as possible and completely exhausting himself. He also had more or less perfected the Craig Biggio maneuver of leaning into pitches to try to coax a hit by pitch. His .483 on-base percentage in 2003 hints at the effectiveness of that strategy.
Behind him, the Owls featured future big leaguer Paul Janish, who often showed flashes of being the great gloveman that he would become, and Craig Stansberry, who had three separate cups of coffee with the San Diego Padres. Other than that, though, the lineup was largely made up of players that never made it past the mid-levels of the minor leagues (at best), but at the time were very, very effective college players.
First baseman Vincent Sinisi (.338 BA, .429 OBP, 15 doubles, 10 HR, 59 RBI) and second baseman Enrique Cruz (.352 BA, .458 OBP, 18 doubles, 10 HR, 57 RBI) provided power bats in the middle of the order. They were supported by the likes of Dane Bubela (.302 BA, .411 OBP, 15 doubles, 7 HR, 41 RBI), Jeff Jorgensen (.314 BA, 30 RBI), and my personal favorite, Austin Davis (.344 BA, .438 OBP, 24 doubles, 6 HR, 63 RBI), who wasn't even drafted despite those gaudy numbers. In hindsight, the fact that the lineup featured just two future big leaguers (and those guys weren't even the runaway stars of the team) has made me remember this team even more fondly.
The pitching, as it so often has been with Rice, was sick. The starting pitching quartet of Jeff Niemann (17-0, 1.70 ERA, 0.95 WHIP, 10.22 K/9), Philip Humber (11-3, 3.30 ERA, 1.10 WHIP, 9.70 K/9), Wade Townsend (11-2, 2.20 ERA, 1.06 WHIP, 12.44 K/9), and Josh Baker (8-0, 3.22 ERA) were as good as anyone in the nation and closer David Aardsma (2.97 ERA, 12 saves) was nails. You know the pitching staff is stacked when you have a pitcher like Steven Herce, who went 13-3 with a 2.80 ERA in the previous season, go 1-2 with a 5.85 ERA and it's not that big a deal.
Perhaps nostalgia has clouded my judgment on this one, but I don't know that I've ever seen a more balanced team since I've been following the sport.
2007 Sam Houston State Bearkats
This team gets bonus points not just because this is my alma mater, but also because this was the baseball team from my freshman year. There's always an extra layer of nostalgia when it comes to your freshman year of college.
This wasn't the best team from my years at SHSU and it certainly wasn't the most talented group, but this was easily the most fun team to watch during my time in Huntsville.
After all, what's more fun than a team that hits .321 as a group with a .399 on-base percentage? And whereas Rice had a ton of good college hitters that ended up washing out in the minor leagues, this lineup was exclusively made up of good college hitters that either washed out in the low minor leagues or never even got their shot to begin with.
Keith Stein, a Texas A&M transfer that followed head coach Mark Johnson to Huntsville, led the team with a .404 batting average on the season. More impressively, though, he only struck 18 times in 255 at-bats. Not far behind was Bobby Verbick, who may have hit the ball harder in that season than any college hitter I've ever seen. All he did was hit .370 with a .460 on-base percentage, 23 doubles, five triples, 14 home runs, and 81 RBI.
Karl Krailo, a senior who had survived through nothing but losing seasons to that point, put up a nice performance for a career finale with a .362 batting average, .433 on-base percentage, 17 doubles, six home runs, and 50 RBI. The rest of the lineup was filled with on-base machines like Clint Mann (.403 OBP), Austin Boggs (.401 OBP), Heath Pugh (.382 OBP), Jeremy Holzbach (.371 OBP), and Todd Sebek (.365 OBP). You know it was a good offense when sophomore Nick Zaleski hit .286 with four home runs and 31 RBI and he was a role player. Just two years later, he would hit .419 with a .512 OBP, 22 doubles, nine home runs and 57 RBI.
On the mound, they basically only had four guys they could lean on. They were right-handed starting pitcher Jacob Howard (11-6, 2.70 ERA), lefty starter Jesse Marshall (8-3, 3.71 ERA), closer Luke Prihoda (1.61 ERA, 0.89 WHIP, 18 saves), and reliever Stephen Price (2.43 ERA, 1.21 WHIP). When these four guys pitched and pitched well, the Bearkats were tough to beat. When they didn't, well, the team played in some wild shootouts.
I remember telling the friends I went to games with that if the team could just get hot in the Southland Conference tournament and get into the regionals, they could make some noise. Of course, that's exactly what they did. They swept their games in the conference tournament and went on to play in the Oxford regional. Once there, they eliminated both Troy and Southern Mississippi before dropping the regional final game to Ole Miss 21-13.
The SHSU baseball program continues to grow, but no matter what heights they reach from here, I'm confident in saying I'll never feel as strongly about any team as I did about the group from 2007.
2007 Arizona State Sun Devils
This Sun Devils team is one that falls under the category of being in the right place at the right time for me to take to them. Growing up in Houston, I attended (and still attend, even though I live in the Midwest now) the Houston College Classic each year. In 2007, this ASU team rolled into town.
Scouting types like to use the term "physical" to describe college hitters that show a higher level of maturity than most or appear to exhibit greater power potential than their counterparts. It's also the word I would use to describe this whole team. Basically the entire lineup had some pop, save for maybe Andrew Romine, and he was a disruptive force in a whole different way.
During the course of their weekend in Houston, I witnessed Matt Spencer hit the most impressive foul ball I've ever seen into the third deck in right field at Minute Maid Park. Undeterred, he hit the next pitch fair for a home run. In the same weekend, I also saw Ike Davis hit a ball over the center fielder's head and onto the hill some 430 feet away on a bat that sounded like it was cracked. I saw Brett Wallace put on a show as the most unlikely leadoff hitter of all time and it wasn't all about offense, as I also saw a star being born in the person of Mike Leake, who was great in relief.
In their middle game of the tournament, the Sun Devils took on Vanderbilt and I feel lucky to have witnessed so much top-flight talent on the field at one time. Between those two teams, 11 future big leaguers were featured- Wallace, Davis, Romine, Leake, Eric Sogard, Ryan Flaherty, Pedro Alvarez, Mike Minor, David Price, Nick Christiani, and Josh Zeid.
By the time the 2015 Houston College Classic rolls around, it will have been eight years since that tournament, but I guarantee that I will tell someone sitting around me the story of that game and that ASU team, just like I do every year.
2008 Houston Cougars
This Cougar team makes the list because there really wasn't any reason for this team to be as good as they ended up being. By the time the season was done, they had gone 42-24, won the Conference USA tournament, and advanced to the "if necessary" game in their regional against the heavily-favored Texas A&M Aggies.
There was talent on this team, to be sure, but there were also a good number of events that are tough to explain, even in hindsight. Consider that UH's two leading hitters in 2008 were Bryan Pounds and Jake Stewart. Pounds hit .354 with a .427 on-base percentage, 18 doubles, ten home runs, and 67 RBI. He did all that after hitting no higher than .279 with more than 7 doubles, two home runs, or 28 RBI in any of his other three seasons, which he had split between pitching and playing in the field. Stewart had always been a consistent contributor for the Cougars when he was healthy. And that was the key, after he had missed just about all of the 2007 season with an injury. On top of that, he didn't just return healthy, but he had careers highs in batting average (.332), on-base percentage (.449), doubles (24), home runs (14), RBI (53), steals (25), and walks (42).
They also got breakout performances from freshman at positions in which you don't normally see freshman succeed like shortstop with Blake Kelso (.288 BA, .391 OBP, 15 doubles, 35 RBI, 18 SB) and catcher with Chris Wallace (.318 BA, .418 OBP, 34 RBI).
On the mound, they were led by a freshman All-American closer in Chase Dempsay (2.53 ERA, 11 saves) who had ERAs of 5.00, 4.01, and 5.47 in the following three seasons, as his appearances and role on the staff declined. They also got a nice performance from swingman John Touchton (4.18 ERA in 12 relief appearances and ten starts), who had a 7.04 ERA in his previous season and left the program altogether just a few games into the next season after putting up a 14.09 ERA in his six appearances.
Perhaps the biggest anomaly was simply their performance when compared to the seasons surrounding this fleeting success. They finished at or around .500 in three of the previous four seasons and they went 27-30 and 25-32 in the following two seasons, ultimately costing long-time head coach Rayner Noble his job.
But I came here to praise this team, not to bury them. It was just such a fun season to witness because it began with such modest expectations and just continued to get better. First, it became clear that this team was at least going to battle. Then, they showed that they could compete with the best teams on the schedule. Then, they looked like a regional team before leaving no doubt when they got hot and won the Conference USA tournament. Finally, they took everyone by surprise by advancing to the College Station regional final and putting a scare into Texas A&M. Little did we know at the time that it would be the last quality UH team for several years.
So there you have it. Those are my favorite college baseball teams of all time. Years later, I still can't help but go back and think about those teams when I think about my formative years as a college baseball junkie.
I know that everyone has their own list of favorites, so let's hear it. Who makes your list?