OMAHA, Neb. – On a 2-and-0 pitch from UC Irvine's starter Evan Manarino Texas' short stop C.J. Hinojosa broke through turning on a pitch on the inside of the plate and knocking it outside of the playing field for the 2014 College World Series' first home run in Game 9 on Wednesday night. The Longhorns defeated the Anteaters 1-0 as Chad Hollingsworth hurled a scoreless, 8.1 inning gem in which he extended his NCAA Tournament streak of innings pitched without allowing an earned run to 17.1.
Manarino was having a good night for UC Irvine having allowed three two-out singles and a two-out walk through five and hadn't allowed a baserunner to reach scoring position. Ben Johnson seemed to have ended that run with a one-out double down the line in left field that he was able to reach third on a misplay by Anteater left fielder Adam Alacantra.
However, UC Irvine noticed the stumble Johnson made rounding first and appealed to first and he was ruled out for having missed first base which would be key since center fielder Mark Payton blooped a single to center field in the next at bat.
This prompted Texas head coach Augie Garrido to announce his practice plans, "[Thursday] we're doing base running. How to touch the bases. Get back to some of the simple fundamentals."
UC Irvine's southpaw then allowed the solo home run to Hinojosa to lead off the seventh which was the first home run in a College World Series game at TD Ameritrade Park since Mississippi State's Hunter Renfroe hit a three-run homer against Oregon State in Game 11 of the 2013 College World Series on June 21st, 2013 that sent the Bulldogs to a match-up in the national final against UCLA.
Nearly 12 games passed before another CWS homer would be hit on Wednesday night. Hinojosa isn't known as a power bat in the lineup with only one home run on the season coming into Game 9.
"I didn't think it was very good odds," said Hin0josa, "I was just trying to see a good pitch. I was battling all night. I've seen it good, and I tried to put a good swing on it and it flew out."
Garrido found humor in the Longhorn's reactions to the big fly, "Four players fainted. I had a mild heart attack."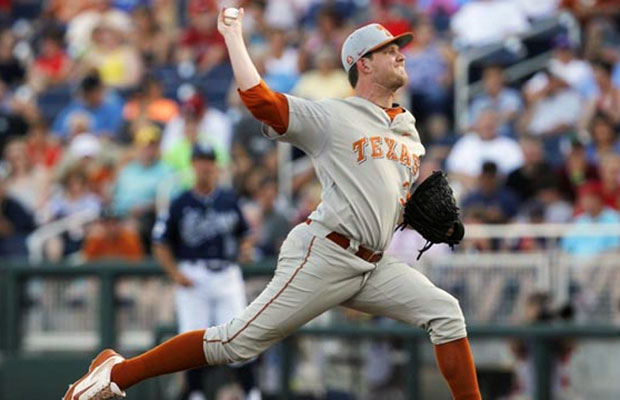 Not to be lost in the first homer of the CWS was the amazing performance turned in by Texas starter Chad Hollingsworth who didn't allow a runner into scoring position until the sixth when Chris Robago reached on a rare throwing error by Hinojosa and then advanced to second on a wild pitch.
Alacantra would be hit by a pitch to start the eighth and would reach second on a sacrifice but Hollingsworth retired the next two Anteaters to end that threat as well.
The sophomore hurler allowed a lead-off single to Connor Spencer in the ninth and would leave the game after getting Jerry McClanahan to fly out.
Hollingsworth, in two tournament appearances, has been brilliant with opponents hitting .103 (6-for-58) against him with no earned runs over 17.1 innings of work with a complete game. The right-hander has eight strike outs against five walks for a 0.634 WHIP in the tournament.
"I thought we were kind of saving his arm for a more important time," said Garrido of Hollingsworth's first two starts of the season coming in the tournament, "We finished fifth in the conference and made our sacrifices there and decided that we wouldn't really unveil our secret weapon until a later date. The Super Regional, of course, was kind of risky, waiting that long – but it's paid off."
Hollingsworth rightfully credits his defense for its' part in his success, "It's not that hard when you have probably the best defense in the country. I mean, you really just throw to the mitt. I'm not up there striking people out every time. I'm not one of those guys that's going to get 10 Ks. I just throw the mitt."

Mark Payton made one of the defensive plays of the tournament with a diving catch on a ball hit deep to the gap in right field with a runner on base in the third inning. ""We kind of made an adjustment [Wednesday] by playing [UCI's Taylor] Sparks deeper than in the first game; he burned us in left field," said Payton, "So just got a good jump, took a good route and made the catch."
Payton has been a gem for the Longhorns all season both on defense and offense and thanks to his run-saving catch Texas will live to play another game Friday afternoon against Vanderbilt.