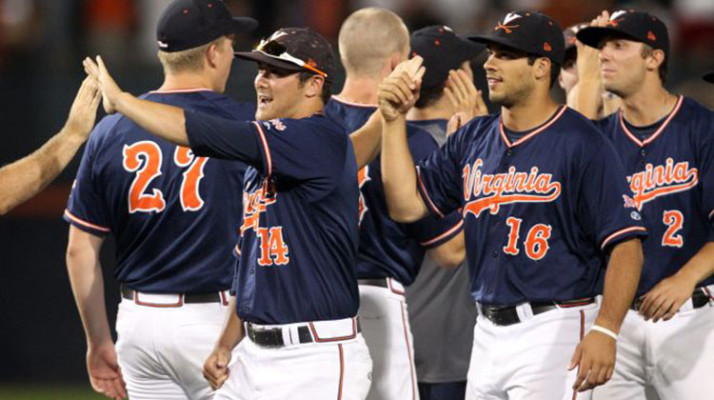 As has been the case for the past four weeks, the Virginia Cavaliers sit atop College Baseball Central's Top 25 rankings for a fifth consecutive week of college baseball after posting a perfect 4-0 record on the week, comprised of a midweek victory over Liberty on Wednesday and a three-game sweep of Georgia Tech this past weekend.
Louisiana-Lafayette remains in the No. 2 slot after grabbing a three-game sweep at South Alabama over the weekend, whereas the Oregon State Beavers follow in close pursuit in the No. 3 slot, having grabbed a midweek victory at Oregon on Tuesday and sweeping the UCLA Bruins at home over the weekend.
Florida State comes in at No. 4 after taking their weekend series two games to three over North Carolina, while the Cal Poly Mustangs round out the Top 5 after taking a three-game sweep of Bethune-Cookman at home.
The biggest forward movers this week are Oklahoma State and Miami. The Cowboys moved three spots from No. 11 to the No. 8 slot after grabbing a three-game sweep at Kansas State over the weekend, while the Hurricanes moved three slots from No. 13 to No. 10 after besting Florida Gulf Coast 7-3 in a midweek contest on Wednesday and a three-game sweep at Duke over the weekend.
The biggest backward mover this week is Oregon, as the Ducks slipped seven spots from No. 9 to the No. 16 slot after dropping three of five games over the week, which included a weekend series loss at Arizona State.
New to the rankings this week are the Arkansas Razorbacks (No. 25), who took two of three against Texas A&M over the weekend to move into our rankings for the first time since week 2.
The staff of College Baseball Central determines the NCAA Division I College Baseball Top 25 rankings based on team performance, future outlook based on talent level and projection, and the difficulty level of opponents.
College Baseball Central Top 25
| Team | Win-Loss | Last Week | Previous |
| --- | --- | --- | --- |
| 1. Virginia | 41-9 | 4-0 | 1 |
| 2. Louisiana-Lafayette | 46-7 | 3-0 | 2 |
| 3. Oregon State | 38-8 | 4-0 | 3 |
| 4. Florida State | 39-12 | 3-1 | 4 |
| 5. Cal Poly | 41-10 | 3-1 | 5 |
| 6. Louisville | 40-12 | 3-1 | 6 |
| 7. Washington | 36-11 | 4-0 | 7 |
| 8. Oklahoma State | 38-13 | 3-0 | 11 |
| 9. Louisiana State | 36-14 | 1-1 | 8 |
| 10. Miami | 38-14 | 4-0 | 13 |
| 11. South Carolina | 39-13 | 4-0 | 12 |
| 12. Houston | 39-13 | 4-0 | 14 |
| 13. Mississippi | 37-15 | 2-1 | 15 |
| 14. Florida | 34-18 | 1-3 | 10 |
| 15. Vanderbilt | 38-14 | 2-2 | 16 |
| 16. Oregon | 36-16 | 2-3 | 9 |
| 17. Rice | 34-16 | 3-1 | 18 |
| 18. Indiana | 35-12 | 3-0 | 19 |
| 19. Texas Christian | 36-14 | 2-1 | 20 |
| 20. Texas | 34-15 | 0-0 | 17 |
| 21. Alabama | 32-19 | 2-1 | 23 |
| 22. Liberty | 38-11 | 3-1 | 24 |
| 23. Mississippi State | 35-19 | 2-1 | 25 |
| 24. UC Irvine | 34-16 | 2-2 | 21 |
| 25. Arkansas | 32-21 | 2-1 | NR |
| Other teams receiving consideration: Clemson, Nebraska, Pepperdine, Sam Houston State, Texas Tech | | | |