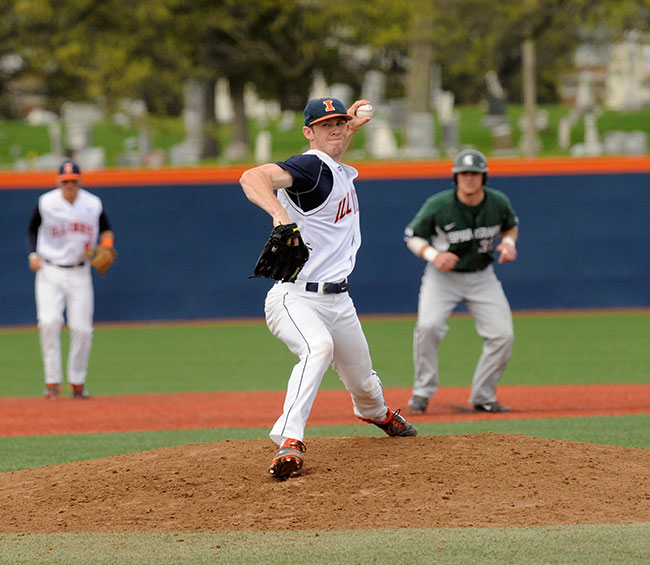 The first weekend of the college baseball season is in the books and, by now, you're well aware of the big storylines of the weekend. Texas and Rice played a fantastically entertaining four-game series that ended in a split. Arizona State took two of three from Oklahoma State.
A bunch of teams at the top of the rankings blew out inferior competition. And in the most exciting news of the weekend, it appears that the new lower-seam baseball has re-introduced the home run to the college game.
But there are probably a lot of things that happened around the country that you missed for one reason or another. Perhaps you missed something because it happened in a game late at night. Maybe it was because it was something that happened between two small conference teams you didn't even know existed.
It could be that it just wasn't a headline-grabbing performance on a national scale. Or maybe it was just because you had other things going on over the weekend. I'm told that there is life outside of college baseball during the spring, but I refuse to believe that.
Whatever the reason, I'm here to get you caught up on some of the notable things that happened a little off of the beaten path in college baseball this past weekend.
Illinois' Pitching Staff
The Fighting Illini had a great weekend overall. They went 4-0 at the Cardinal Classic in Beaumont, Texas, with 5-1 and 4-2 wins over New Mexico State and 8-1 and 9-3 wins over Lamar. The Illini offense obviously carried their own weight in those wins, but the pitching was the star of the show.
All told, the Illini pitching staff allowed just six earned runs, issued just six walks, and struck out 35 batters over the course of the entire weekend. The starting pitching was almost unfair, as each of Drasen Johnson (6.2 IP, 2 H, 0 R, 2 BB, 5 K), Rob McDonnell (7 IP, 2 H, 0 R, 1 BB, 10 K), John Kravetz (7.2 IP, 2 H, 1 ER, 0 BB, 4 K), and closer-turned-starter Tyler Jay (5 IP, 2 H, 0 R, 0 BB, 2 K) put together fantastic outings.
The Illini have been a popular sleeper pick to surprise in the Big Ten, and if they can continue to get pitching anywhere close to as good as they got this past weekend, they have a great shot to fulfill those expectations.
Luke Gillingham Strikes Out Almost Everyone

Speaking of dominant pitching, perhaps no one turned in a better performance this past weekend than Navy's Luke Gillingham.
Gillingham threw seven innings in an 8-1 Midshipmen win over North Carolina A&T, giving up just one hit and no runs, with no walks and 16, yes 16, strikeouts. As unbelievable as it is, though, those numbers don't quite do justice to how completely dominant he was.
After all, Gillingham struck out the first 12 batters that stepped to the plate against him. Let me repeat that one more time. GILLINGHAM STRUCK OUT THE FIRST 12 BATTERS THAT STEPPED TO THE PLATE AGAINST HIM. Obviously, this performance is in the pole position for the pitching performance of the season, and I'm not sure anything is going to top it.
Austin Byler's Hot Start

Austin Byler might be the best player who spurned pro ball to return for his senior season in 2015, and this past weekend, he showcased why the Wolfpack are so excited to have him back.
Over the course of their three-game sweep against Abilene Christian, Byler hit two home runs, drove in seven, and drew three walks. He makes everything in the Nevada offense go, and that goes beyond what he does at the dish himself. No matter what you believe about how a marquee hitter in a lineup affects everyone around him, you can't dispute that the hitter directly behind him in all three games, Ryan Howell, had a great series, going 6-for-12 with a home run, two doubles, and four RBI.
Ohio Bobcats Sweep
Kudos are due for the Ohio Bobcats sweep of UNC-Asheville. Sure, the Bulldogs are no juggernaut, but any sweep is big when you are coming off an 11-40 season, as the Bobcats are.
The Ohio offense led the way in the series, as they scored 40 runs in the three games, with each game featuring a different player taking a turn as the key catalyst in the attack. In Friday's 16-9 win, right fielder Tyler Wells went 3-for-3 with two walks, two runs, and two RBI. In the first half of Saturday's doubleheader, a 14-12 win, third baseman John Adryan went 4-for-5 with three runs scored and two RBI. In their 10-3 win in the second game of the doubleheader, catcher Cody Gaertner went 3-for-5 with two runs and two RBI.
Morehead State Wins Series at San Diego
San Diego has been one of the more consistent programs on the west coast, and a perennial contender in the West Coast Conference, for quite a while now. Morehead State, on the other hand, has been, at its peak of late, a middle-of-the-pack team in the Ohio Valley Conference. So it stands to reason that when the two took the field for a four-game series over the weekend that the Toreros would be met with little resistance, right?
As a wise college football analyst has often said, "not so fast, my friend." The Eagles of Morehead State came out and took three of four from San Diego, winning by scores of 10-3, 8-5, and 4-2 before dropping the finale by the slimmest of margins, 6-5.
Shout out to Morehead State starting pitcher Aaron Goe, who set the tone for the weekend. In his start on Friday night, he threw 6.2 innings, giving up five hits and one run with no walks and three strikeouts. The win had to be particularly satisfying to Goe, as he was forced to miss each of the last two full seasons due to injury immediately following a successful freshman campaign where he went 6-5 with a 4.20 ERA and a 63/17 strikeout-to-walk ratio as a full-time weekend starter for the Eagles.
Missouri State Sweeps Tournament
Like the aforementioned Illini, the Missouri State Bears have been discussed as a potential surprise conference champion, and after their performance in the SFA tournament in Nacogdoches, Texas, it's easy to see why.
MSU swept their way through the field, beating UT-Arlington 7-2, Stephen F. Austin 5-4, and Washington State 12-0.
The stars led the way for the Bears, as Tate Matheny (6-for-13) and Eric Cheray (5-for-9, 5 BB) had big weekends on offense, and the starting trio of Jon Harris (5 IP, 5 H, 2 R, 1 ER, 4 BB, 5 K), Matt Hall (7 IP, 6 H, 3 R, 2 ER, 3 BB, 9 K), and Andy Cheray (7 IP, 2 H, 0 R, 1 BB, 4 K) all turned in solid or better starts. To top it off, they also got great bullpen work, as five different relievers combined to give up just one run in eight innings of work over the course of the series.