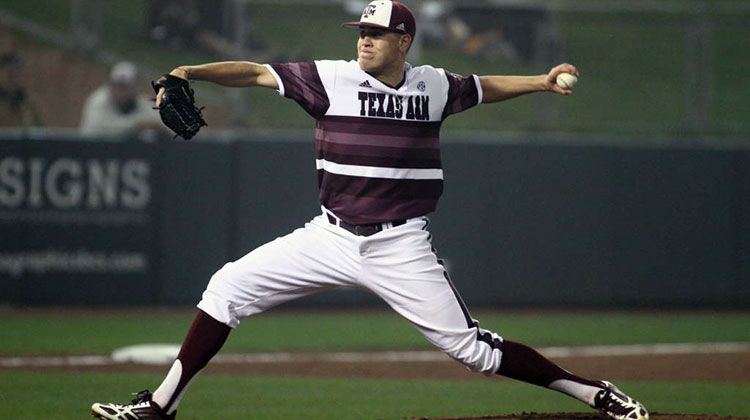 Although it ended short of Omaha, the Texas A&M Aggies enjoyed an incredible 2015 season. They won 50 games overall, had a very good 18-10 record in the rough and tumble SEC, and they absolutely dominated non-conference games, going 32-4.
A big part of that was a pitching staff that was equal parts versatile, deep, and dominant. Considering they didn't get much out of A.J. Minter or Tyler Stubblefield, two guys they expected to play key roles, due to injury, the overall performance of the pitching staff was outstanding.
In a bit of great news for the Aggies heading into 2016, despite Minter and 2015 workhorses Grayson Long and Matt Kent moving on to pro ball, the staff will have plenty of firepower left over.
The return of a healthy Stubblefield is as good a reason for optimism as any right out of the gate. Two seasons ago, he was 4-2 with a 3.81 ERA while doing a bit of starting and relieving, and heading into last season, he was expected to slot into the rotation from day one. It might be a season late, but perhaps a successful 2016 season will help him make up for the time lost a year ago.
Ryan Hendrix also profiles as a starter alongside Stubblefield. Last year, Hendrix was primarily a reliever and one of a handful of guys head coach Rob Childress had closing games during the course of the campaign, but as the season wore on, he was being stretched out more and more often. In game two of the College Station Regional, against Cal, he threw 6.2 innings in relief, and although he gave up the eventual winning run and took the loss, just about everyone came away impressed with the gutsy 12-strikeout performance. His eventual 3.66 ERA in 2015, while solid, doesn't accurately depict how dominant Hendrix was at times, and how massive his potential is as a full-time starter in 2016.
The race for other spots in the rotation seems to be a little more up in the air, but Childress and staff certainly aren't without options. Turner Larkins (5-1, 3.96) is something of a proven commodity, as he started 12 games last season as the team's primary midweek starter. Brigham Hill appeared in just seven games (three starts) and had a 5.30 ERA, but with 23 strikeouts in 18.1 innings of work, he certainly showed the ability to baffle hitters.
According to Kendall Rogers's report from A&M fall practice, Corbin Martin has emerged as a contender for a rotation spot as well. Last season, Martin appeared in 14 games, all in relief, but he had a great summer up in Alaska, and looks ready to step into a larger role this time around.
In the bullpen, there are few trios in the country better than A&M's returning trio of Andrew Vinson, Kyle Simonds, and Mark Ecker. Vinson, the workhorse of the group, had a 2.12 ERA last season and five saves. In 63.2 innings across 35 appearances, he struck out 64, walked 14, and opposing batters hit just .217 against him. Simonds had a 2.39 ERA and two saves. He threw 52.2 innings in 22 appearances, with opposing batters hitting .242 off of him. Ecker, who was more of a traditional closer when compared to the other two, had a 2.45 ERA and eight saves. He struck out 36 in 33 innings of work, and opposing batters hit a minuscule .195 against him.
With those three at the back end of the bullpen, A&M really can turn every game into a five or six-inning game.
Even if no one other than the aforementioned pitchers steps forward in a big way in 2016, they're in good shape, but it's unlikely that happens. Others are bound to step up. For example, the Aggies have two freshman pitchers, Stephen Kolek and Tyler Ivey, who are among Perfect Game's top 350 incoming freshmen for 2016. The staff is crowded already, but those are just two new faces that we could be seeing a lot of.
With the A&M offense returning a similarly large swath of contributing players, there is little reason that A&M can't put up a season similar to the last, with an opportunity to take their postseason one step further this time.